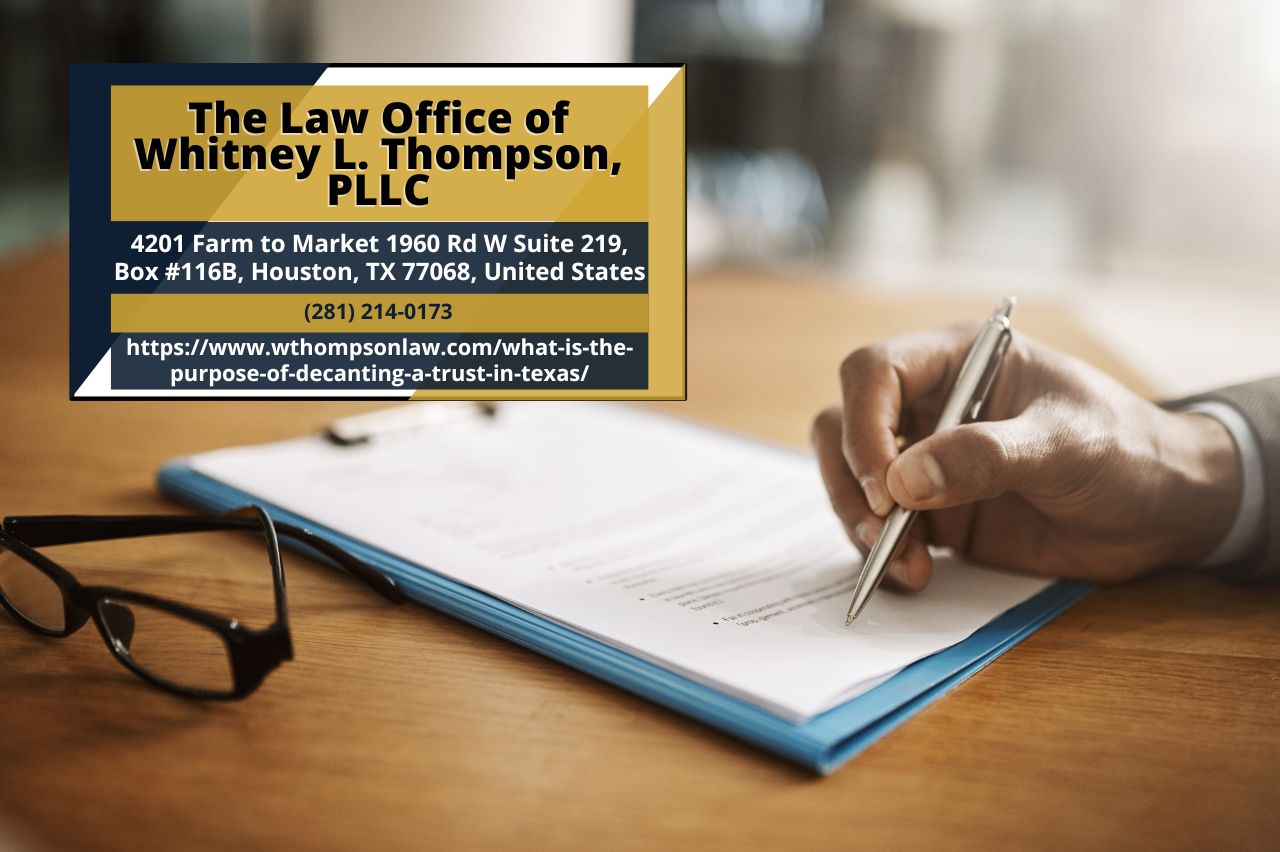 Houston estate planning lawyer Whitney L. Thompson (https://www.wthompsonlaw.com/what-is-the-purpose-of-decanting-a-trust-in-texas/) from The Law Office of Whitney L. Thompson has recently published an in-depth article titled 'What is the Purpose of Decanting a Trust?'. The comprehensive guide provides detailed insights into a crucial, yet often misunderstood, aspect of estate planning – trust decanting.
Whitney L. Thompson, an esteemed Houston estate planning lawyer, compares the process of trust decanting to decanting a fine wine. She elaborates on how assets from an old trust can be transferred to a newly established one, allowing for modifications that can benefit the trust beneficiaries. The process offers a way to alter the terms of an irrevocable trust, adapting to changes in laws or beneficiaries' circumstances, correcting drafting errors, or achieving more favorable tax outcomes.
"Understanding the purpose and implications of trust decanting can help individuals and families make more informed estate planning decisions," said Houston estate planning lawyer Whitney L. Thompson.
The article is a valuable resource for anyone interested in the complexities of trust decanting, including the legal definitions under the Texas Property Code, the reasons for decanting a trust in Texas, and the legal aspects of trust decanting in the state. It provides a clear guide on the process of trust decanting in Texas, covering everything from initiating the decanting process to filing and approval.
The Houston estate planning lawyer dissects the intricate steps involved in trust decanting. She also outlines the Texas Trust Laws and Regulations, the eligibility and requirements for trust decanting, and the process of notification to beneficiaries and interested parties.
"Decanting a trust in Texas can offer numerous benefits in navigating complex estate planning scenarios. It's a flexible tool that allows trustees to adapt an irrevocable trust to changing circumstances without court intervention," Thompson further explained.
The article encourages readers to seek advice from an experienced estate planning lawyer, emphasizing the importance of professional guidance in navigating the intricate landscape of trust decanting. It underscores the potential long-lasting impacts of a misstep and the benefits of making informed decisions that align with estate planning goals and protect beneficiaries' interests.
For those looking to delve deeper into the world of trust decanting and estate planning, Whitney L. Thompson's article is a must-read. It offers a wealth of knowledge from years of legal practice in the field, providing readers with a comprehensive understanding of trust decanting and its vital role in estate planning.
Readers can find the full article on the official website of The Law Office of Whitney L. Thompson.
About The Law Office of Whitney L. Thompson:
The Law Office of Whitney L. Thompson is a trusted legal firm based in Houston, Texas, offering a range of services centered around estate planning. Headed by Whitney L. Thompson, the firm is committed to providing tailored advice and solutions to its clients, helping them navigate the intricacies of estate planning, trust decanting, and more. The Law Office of Whitney L. Thompson prides itself on its team's depth of knowledge, dedication to client service, and ability to adapt to the changing legal landscape.
Embeds:
Youtube Video: https://www.youtube.com/watch?v=X7Bpm3kghJk
GMB: https://www.google.com/maps?cid=9428708165305469162
Email and website
Email: info@wthompsonlaw.com
Website: https://www.wthompsonlaw.com/
Media Contact
Company Name: The Law Office of Whitney L. Thompson, PLLC
Contact Person: Whitney L. Thompson
Email: Send Email
Phone: (281) 214-0173
Address:4201 Farm to Market 1960 Rd W Suite 219, Box #116B
City: Houston
State: Texas 77068
Country: United States
Website: https://www.wthompsonlaw.com/