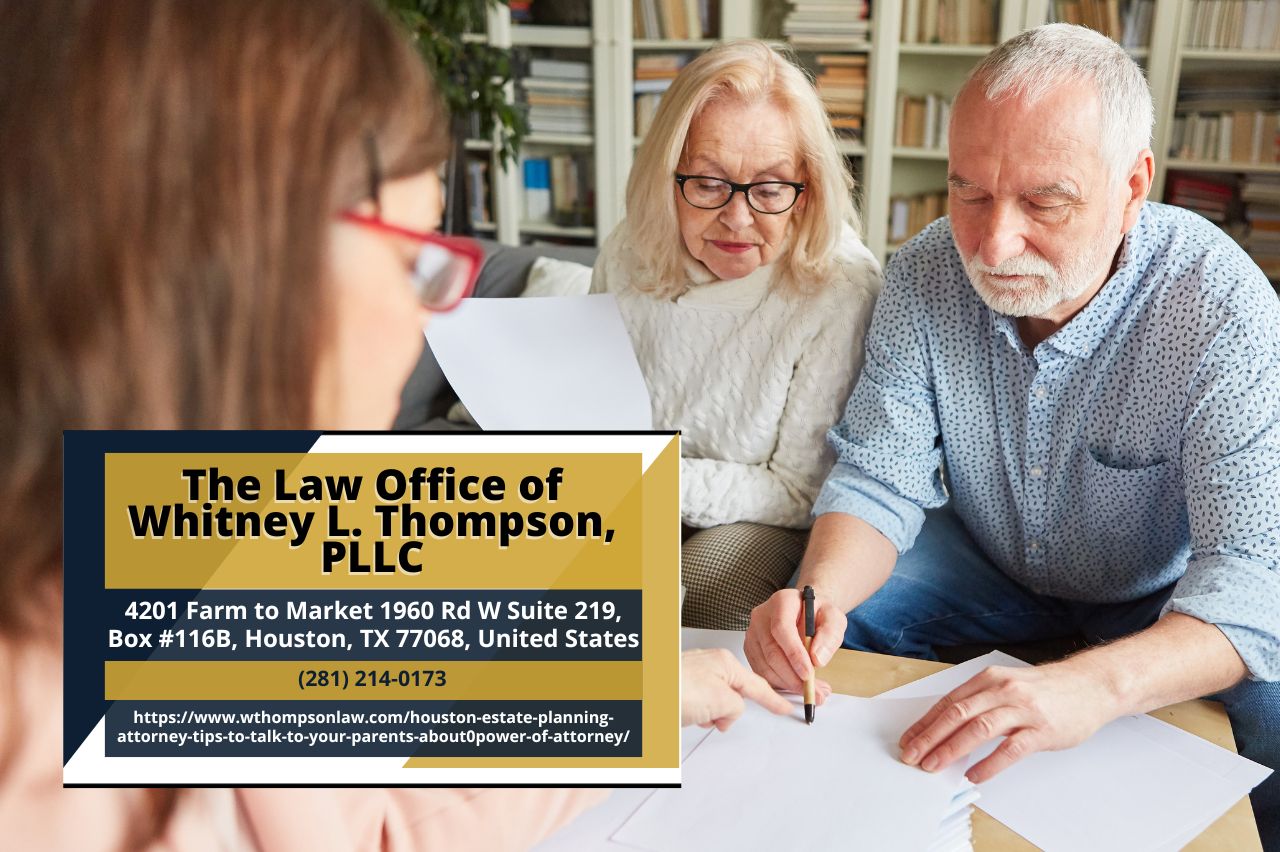 Houston estate planning attorney Whitney L. Thompson (https://www.wthompsonlaw.com/houston-estate-planning-attorney-tips-to-talk-to-your-parents-about0power-of-attorney/) has just published a comprehensive article on a subject critical to many families: how to talk to parents about power of attorney. Titled "How to Talk to Your Parents about Power of Attorney," the piece provides a detailed guide and important insights into this often challenging and sensitive topic.
Whitney L. Thompson, a noted Houston estate planning attorney, emphasizes the vital importance of having a power of attorney in place as part of estate and end-of-life planning. This legal document grants a designated individual the authority to make legally binding decisions about a parent's property, medical care, and financial responsibilities should they become unable to do so themselves.
"Having medical and statutory durable power of attorney over your parents' affairs is a critical part of estate and end-of-life planning," Houston estate planning attorney Whitney L. Thompson states. "Navigating the conversation about power of attorney with your parents can be a crucial step in ensuring their future well-being."
The Houston estate planning attorney goes on to elaborate on the various scenarios in which a power of attorney becomes indispensable. These include financial challenges, dementia diagnosis, upcoming surgeries, planned travel, terminal medical diagnoses, and unstable family dynamics. Thompson underscores the importance of establishing a power of attorney to uphold a senior's wishes, protect their financial interests, and safeguard their overall well-being.
"The right balance must be found between respecting their independence while safeguarding them from the impact of potential mental or physical health issues," Thompson explains. "A power of attorney is a crucial tool in guaranteeing that your loved one's desires will be prioritized, irrespective of what lies ahead."
Whitney L. Thompson's article also offers practical advice on initiating the conversation about estate planning with parents. The Houston estate planning attorney advises individuals to listen more than they talk and to assist their parents in their research if they have not yet established an estate plan.
"Even if your parents are still young, it's best to be prepared for the unexpected," Thompson advises. "As uncomfortable as it feels to discuss the possibility that your parents could be in an accident that leaves them incapacitated, it is worth the discomfort to know that you can be there to make the decisions that need to be made."
As a culmination of the essential information provided, readers are encouraged to consult with a Houston estate planning attorney to ensure their parents' future security and well-being. "Are your parents ready to discuss their estate planning needs? I am here to help," Thompson assures. "Get in touch with me today so that we can sit down together to come up with a plan that fits their situation."
Our society increasingly recognizes the importance of planning for the unexpected. Whitney L. Thompson's timely article provides a valuable road map for those ready to embark on the journey, illuminating the path to securing their loved ones' future.
About The Law Office of Whitney L. Thompson:
The Law Office of Whitney L. Thompson, located in Houston, Texas, offers personalized legal solutions and support for estate and end-of-life planning. The firm's dedicated and compassionate attorneys guide clients through complex topics, ensuring their loved ones' wishes are respected and their future is protected. With a focus on power of attorney, the firm offers comprehensive guidance to protect the financial interests, healthcare decisions, and overall well-being of elderly individuals.
Embeds:
Youtube Video: https://www.youtube.com/watch?v=qR_AhK9y95o
GMB: https://www.google.com/maps?cid=9428708165305469162
Email and website
Email: info@wthompsonlaw.com
Website: https://www.wthompsonlaw.com/
Media Contact
Company Name: The Law Office of Whitney L. Thompson, PLLC
Contact Person: Whitney L. Thompson
Email: Send Email
Phone: (281) 214-0173
Address:4201 Farm to Market 1960 Rd W Suite 219, Box #116B
City: Houston
State: Texas 77068
Country: United States
Website: https://www.wthompsonlaw.com/