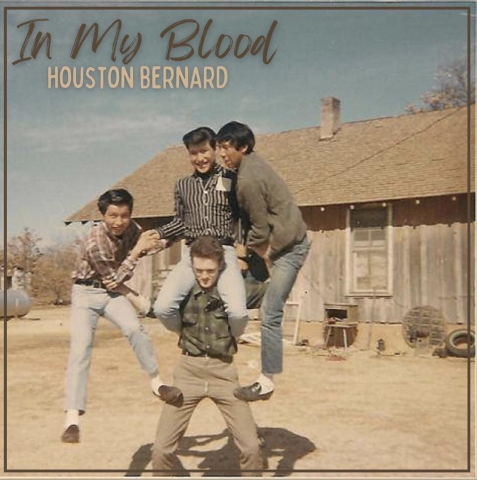 NORMAN, OK – Right or wrong, the apple doesn't fall far from the tree, "In My Blood" – Houston Bernard might walk the line now, but the result of how he got there is brutal honesty.
Truth in storytelling is the foundation that country music was built on, and Bernard bares all to narrate the story of his family tree in his September 8th single, "In My Blood." Some of that story includes an absent father, an enlistment, and a great great grandfather who was a famous outlaw THE EAGLES wrote a song about.
"'In My Blood' is by far one of the most personal songs I've ever written and definitely one of the tracks I'm most proud of," confesses Bernard. "Some of the greatest country songs of all time have a 'storytelling' aspect that resonates with you and that's something I wanted to include. This song is about my family and my journey to learn more about where I come from,and in turn learn more about who I am."
Houston Bernard showed himself as one to watch in the country music community with the release of his debut EP Songs For The People, showcasing a vast array of musical talent. The tracks received several Spotify editorial playlist adds, including the all-genre TEXAS MUSIC NOW, and highlights by SAVING COUNTRY MUSIC, CMT, COUNTRY REBEL, TULSA MAGAZINE and more. The EP also gained over 1 million streams on Spotify alone.
About Houston Bernard
Houston Bernard's country roots run deep with a family tree that includes songwriters, touring musicians and an outlaw gunfighter nicknamed "Bitter Creek" who The Eagles recorded a song about Desperado. Born in Oklahoma, raised in Alaska, he's also an Army veteran who has now comfortably settled into life as a professional and popular independent country music recording artist, touring throughout the United States. With musical inspirations that range from Bruce Springsteen to Dolly Parton, Houston draws upon his family's rich country and rockabilly musical roots by bringing upbeat and relatable music with powerhouse vocals. He's shared bills with many country superstars like Luke Bryan, Old Dominion, Granger Smith, Michael Ray, Montgomery Gentry, Marshall Tucker Band, and Clint Black.
Following the critically-acclaimed Songs For The People EP, "In My Blood" – available now to listen – impacted all platforms September 8th. For more on Houston Bernard and to view Songs For The People tour dates, visit www.houstonbernard.com and follow him on social media @houstonbernardmusic.
Media Contact
Company Name: The Lyric Press
Contact Person: Kimberley Patterson
Email: Send Email
Country: United States
Website: www.houstonbernard.com