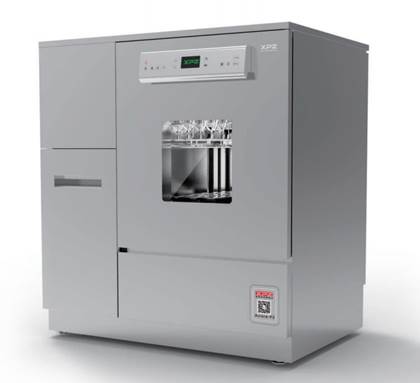 How to select cleaning detergent for the automatic glassware washers? Many laboratories equipped with many advanced testing equipment have found that household cleaning detergent are used to clean delicate glassware instruments. It is more common to prepare their own acid or use unverified acid to clean glassware. The failure of many experimental results often requires repeated experiments, and the reasons for the residue of the cleaning agent on the glassware are often ignored when looking for the cause.
Problems with household detergent:
With the design concept of "safety first", household cleaning detergent usually has a neutral PH, no alkaline hydrolysis, limited cleaning capacity, and can not effectively remove some stubborn experimental residues.
Secondly, the high content of surfactant in household cleaning detergent leads to the formation of a large number of foam, which is difficult to rinse and its residue is also easy to lead to secondary pollution.
In addition, spices and dyes are often added to household cleaning detergent to meet users' sensory needs, and their residues are also likely to lead to secondary pollution.
Also. Household detergent are added with various oils and skin care ingredients, and these residues are more difficult to remove during cleaning.
Glassware cleaned with household detergent may cause erroneous results even with sophisticated instruments. It may also affect the results of chemical organic synthesis. The remaining oil-based skin care ingredients may affect the growth process of microorganisms or cause cross-contamination.
Therefore, household detergent cannot be used in the laboratory.
The rinsing process of manual cleaning cannot be standardized, so the residue of household detergent will affect your requirements for the clean surface. Must Choose professional cleaning detergent.
XPZ is a leading manufacture of laboratory glassware washer, located in Hangzhou city,Zhejiang Province, China. XPZ specializes in research, production and trade the automatic glassware washer which is applied to Bio-pharma, Medical health, Quality inspection environment, Food monitoring, and Petrochemical field.
With the development , Xipingzhe became a professional team who have innovate development ability in laboratory, medical treatment, electronics, industrial cleaning fields, and constantly pay attention to the new standards and instruments on food, environment, pharmacutical, electronics' detection. Our Laboratory Washer is committed to help solve all kinds of cleaning problems. Xipingzhe are the main supplier to Chinese inspection authorities and chemical enterprises, meanwhile, Our Lab Washing Machine has been spread to many other countries, like India, UK, Russia, South Korea, Uganda, the Philippines etc., XPZ provides integrated solutions based on customized demand, including product selection, installation and operate training etc.
Xipingzhe will gather more enterprise advantage to provide innovative Lab glassware washer with high quality and excellent service, to keep our long-term friendship.
Media Contact
Company Name: Hangzhou Xipingzhe Instruments Technology Co., Ltd.
Contact Person: Media Relations
Email: Send Email
Phone: +86 17767179895
Country: China
Website: https://www.laboratorywasher.com/