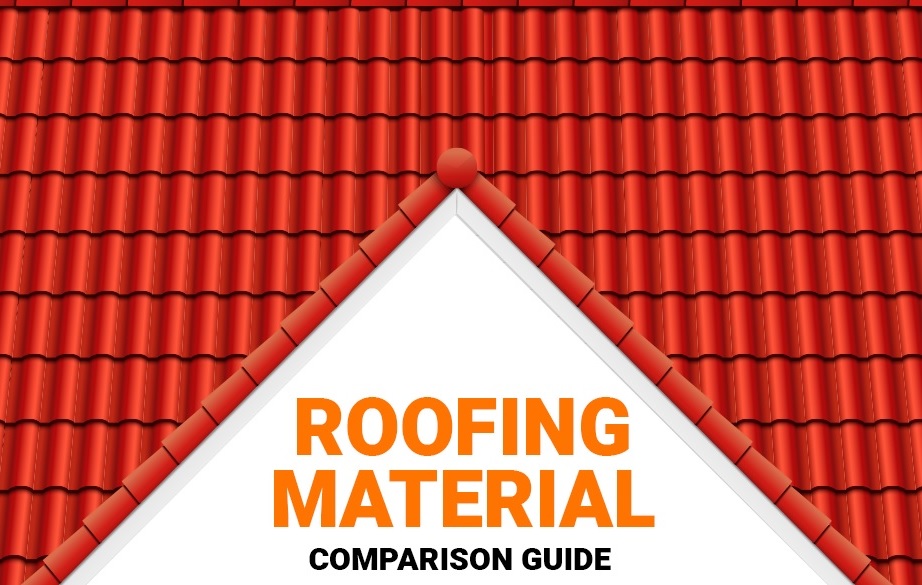 Homeowners have several options for roofing materials. Here is an evaluation of the most common types: asphalt, metal, wood, tile and rubber roofing.
Keeping up on roof maintenance and repair is essential to protecting your home from the elements. If you need a new roof, your home could be susceptible to water damage. Roofers recommend replacing the damaged or compromised roof as soon as possible.
Homeowners have several options when it comes to roofing materials. Here is an evaluation of the most common types: asphalt, metal, wood, tile and rubber roofing.

Asphalt Roofing
Pros: Asphalt is popular and the most affordable option. It's durable, can last up to 25 years with proper installation and comes in a range of colours and styles.
Cons: Asphalt absorbs the suns heat, is not as efficient as other roofing types and will curl and detach from the roof from sun exposure.
Cost: $3 – $7 per sq. ft. installed.

Metal Roofing
Pros: Longest lifespan of all roofing types, 50 years or longer. It's resistant to weather, UV, pests, moisture and rot. It's virtually maintenance free.
Cons: It's expensive.
Cost: $5 – $13 per sq. ft. installed.

Wood Roofing
Pros: Wood is a natural insulator, is an efficient and eco-friendly option. It can last 5 to 10 years longer than asphalt.
Cons: It's more expensive and requires maintenance to keep it looking good. Wood is also susceptible to moss and algae in humid or rainy climates.
Cost: $5.50 to $9.00 per sq. ft. installed.

Tile Roofing
Pros: Has a sophisticated, high-end look with a range of tile types, colours, textures and styles. It's strong, durable and long-lasting, resistant to rot, pests and fire.
Cons: It's the most expensive option, requires specific skills to install and because of it's weight, your roof might need extra framing to support it.
Cost: $9 – $22 per sq. ft. depending on the type of tile.

Rubber Roofing
Pros: It can be made of 100% recyclable materials and last 30 plus years. It's waterproof, reflects heat and is energy efficient.
Cons: Rubber roofing requires installation from an expert contractor. If not sealed properly, it can leak around the chimney's and vents.
Cost: $4 – $5.50 per sq. ft. installed.

Infographic – ROOFING MATERIAL COMPARISON GUIDE
RenovationFind.com is a free online directory of trades, contractors and renovation companies that have passed a stringent screening and accreditation process. All companies listed on RenovationFind's directory have been vetted and are continually monitored on seven important criteria including legal background checks, credit background checks, Better Business Bureau (BBB) membership, business license, business insurance and Workers Compensation Board (WCB) Coverage.
RenovationFind INC
#201, 11037 9 Avenue NW
Edmonton, Alberta T6J5R9
Canada
info@renovationfind.com
https://www.renovationfind.com
Media Contact
Company Name: RenovationFind INC
Contact Person: Keith Riley
Email: Send Email
Phone: 7802184541
Address:#201, 11037 9 Avenue NW
City: Edmonton
State: Alberta
Country: Canada
Website: https://www.renovationfind.com/