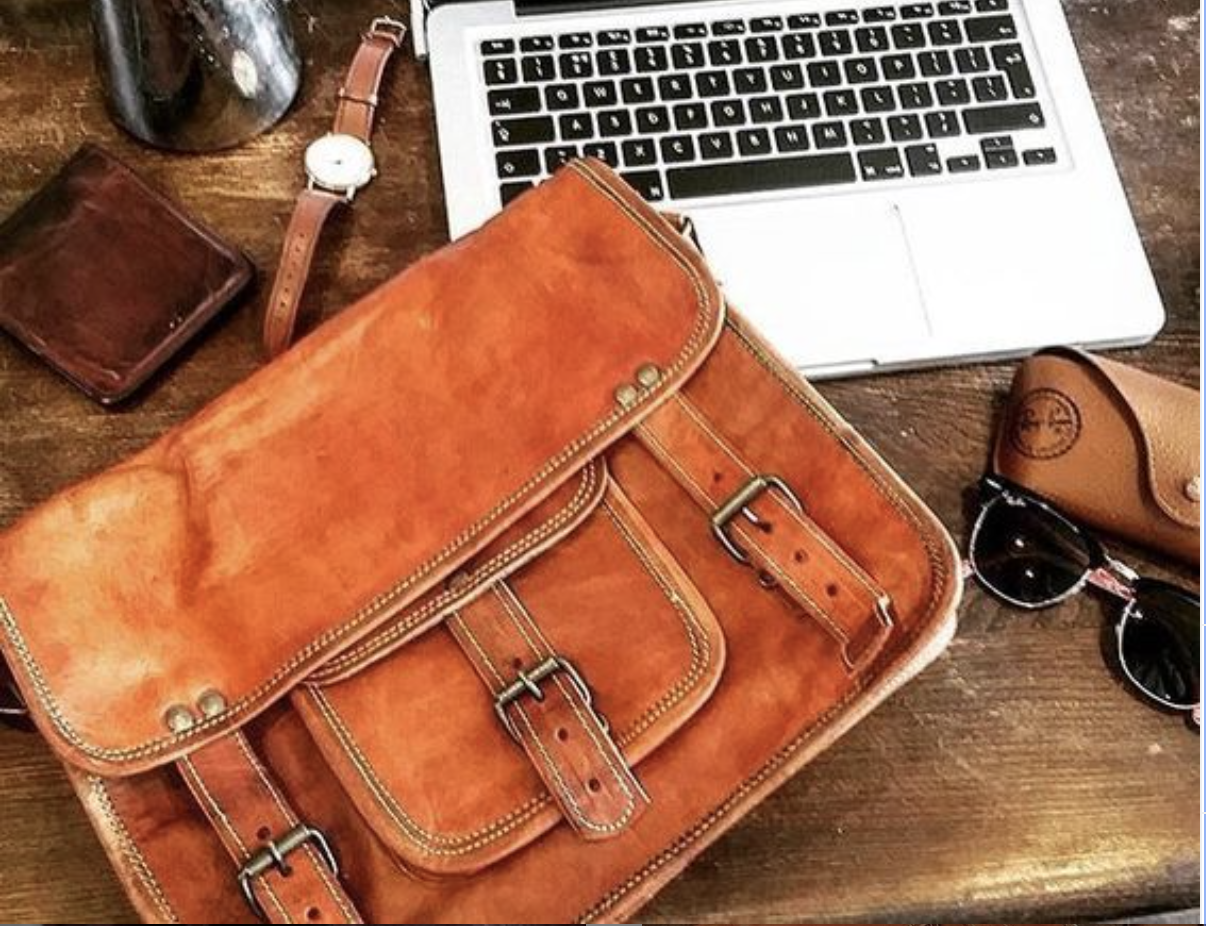 Buying a casual leather bag is one of the best decisions you can make. You want a versatile bag with the grit to handle even the most challenging hike, and the looks to be admired everywhere. High On Leather leaves every other type of leather in the dust – being 100% full-grain natural cowhide that has been specifically treated to be the toughest, most robust, most resilient leather available.
To create one of their backpacks, High On Leather starts with the highest quality, 100% natural cowhide. They treat this choice leather with unique natural wax, then buff and polish it to perfection. This produces an exceptionally durable leather with a unique ability. High On Leather bags are made by skilled craftsmen using only the finest quality natural leather. High On Leather's rich full-grain cowhide is treated to create a water-resistant leather that is beautiful, durable, and buttery-soft to the touch.
Every High On Leather bag is designed to be tough enough to survive even the most rugged terrains while retaining their timeless beauty. Thus, if you are looking for attractive leather backpacks or briefcases, here are some of the popular options available.
Saddle Leather Briefcases for Men:
Designed to adapt to either business or casual settings, this leather briefcase is a perfect investment. This bag is a must-have for men who are always on-the-move and need a quite spacious bag to place their accessories, clothes, and laptop. The bag has a roomy main compartment that helps you to arrange your stuff neatly. The timeless yet more casual design of the Saddle Leather Briefcases for Men means that it will be by your side whatever the occasion.
Brown Leather Satchel Bag
Brown Leather Satchel is a sophisticated yet practical bag that is perfect for work or school. You can keep your notebooks, laptop, and other accessories in the bag. Men will look great and impress most of the girls around while carrying this bag onto their shoulders to the workplace. The Brown Leather Satchel Bag will go well your black suit and will let will make you noticeable among the crowd.
Full Grain Leather Briefcase
Similar to the brown leather satchel, a full-grain leather briefcase doesn't have as many closure buckles as a brown leather satchel. The bag is manufactured using High On Leather's durable and stylish leather. This bag has a retro vintage look and will add charm to your personality.
Leather Satchel Backpack
If you're an adventurer and admire versatile bags, leather satchel is a bag you're looking for. The bag is highly versatile. It can turn a bag, a briefcase, and a backpack as required. This leather satchel backpack will take you back to school days while making you look classy and trendy when carried in hand or hung onto the shoulder.
Black Leather Briefcase
For your everyday office use, this bag is a must-have in your wardrobe. The black leather briefcase has a routine look along a strap, which can be hung onto the shoulder. Let this bag boost your looks among the crowd. Include this in your kitty today.
"We use full-grain leather, the strongest and most durable leather available, to create stunning products that only get better with age. We recently launched some amazing premium cowhide leather products, which will compete in any market when it comes to style, feel of the leather, and durability. For each bag a customer purchases, we plant five trees in collaboration with Cauvery Calling to reduce the carbon footprint of leather," says High On Leather CEO, Ishmeet Singh.
High On Leather, one of the largest market places and manufacturers for all kinds of authentic leather bags, with different prices and different quality leather. People interested in High On Leather's beautifully crafted bags can check their collection on highonleather.com or their Instagram page.
Media Contact
Company Name: High On Leather
Contact Person: Ishmeet Singh
Email: Send Email
Country: United States
Website: www.highonleather.com