Ningbo Hexing Packaging Co., Ltd. is proud to announce the successful participation in the Global Sources Lifestyle Show held at the Asia World-Expo in Hong Kong SAR from October 18th to 10th, 2023. As a leading manufacturer of environmentally friendly recyclable corrugated boxes, white UV non-coated printed boxes, and creative display racks, we were thrilled to receive immense trust and appreciation from buyers and product exhibitors during this prestigious event.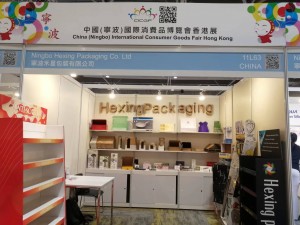 The exhibition provided us with an excellent opportunity to showcase the innovative packaging solutions to a global audience. Environmentally friendly recyclable corrugated boxes offer a sustainable alternative to conventional packaging materials without compromising on durability and functionality. With increasing environmental awareness among consumers, these boxes were greatly appreciated by both buyers and exhibitors, garnering widespread interest and praise. In addition to recyclable corrugated boxes, the white UV non-coated printed boxes also garnered significant attention at the show. These boxes not only provide a sleek and professional look but also protect the contents from external factors. The crisp and clear printing on these boxes allows for effective branding and product communication, enhancing the overall presentation on store shelves.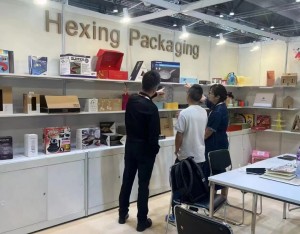 Furthermore, Hexing Packaging's creative display racks were highly sought after by both exhibitors and buyers. These racks are designed to effectively showcase products, ensuring maximum visibility and impact. With Hexing Packaging's customizable options, exhibitors were able to personalize the display racks according to their specific branding requirements. The creative and versatile nature of Hexing Packaging's display racks resonated well with the attendees and contributed to the overall success of participation.
Throughout the exhibition, we were privileged to meet and interact with buyers from various countries. These interactions allowed us to understand their specific needs and requirements, enabling us to provide tailored quotations and develop strong business relationships. The Global Sources Lifestyle Show provided us with a platform to explore new markets, expand Hexing Packaging's clientele, and reinforce position as a trusted packaging solution provider.
Overall, Hexing Packaging's participation in the Global Sources Lifestyle Show was a resounding success. The positive reception and high level of interest in environmentally friendly recyclable corrugated boxes, white UV non-coated printed boxes, and creative display racks further validate commitment to delivering exceptional packaging solutions. We look forward to continued growth and innovation as we strive to meet the evolving demands of the global market.
Media Contact
Company Name: Ningbo Hexing Packaging Co., Ltd.
Email: Send Email
Country: China
Website: https://www.hexingpackaging.com/