Dallas-based Hero Pro Tools reveals a game-changing strategy to rank on Google 3-Pack through NAP Consistency, boosting local business visibility.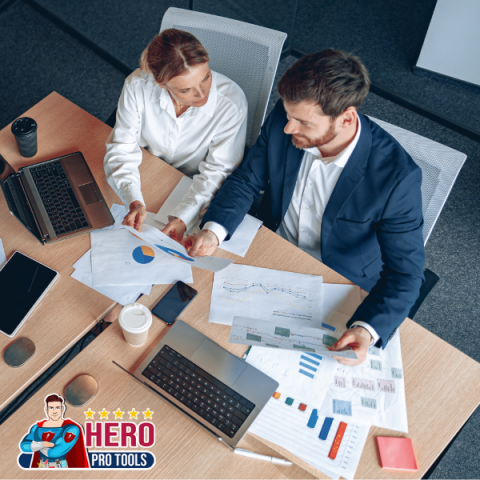 In a move that promises to revolutionize the digital marketing landscape, Hero Pro Tools, a leading Dallas-based digital marketing agency, has unveiled a groundbreaking strategy aimed at catapulting local businesses to the top of the search results: Achieving NAP Consistency to rank on Google 3-Pack.
In today's hyper-connected world, being prominently featured in local search results is paramount for businesses aiming to attract customers in their vicinity. Google's 3-Pack, the coveted top section of local search results, can make or break a business's online visibility. Hero Pro Tools understands local businesses' challenges in standing out among the crowd, and their newly disclosed strategy seeks to address this by emphasizing NAP consistency.
NAP Consistency: A Game-Changing Approach
NAP, which stands for Name, Address, and Phone Number, is pivotal in local SEO. Hero Pro Tools' strategy ensures this critical information is consistent across all online platforms, directories, and listings. This seemingly simple step can yield significant benefits. When search engines encounter consistent NAP information, they are more likely to consider the business legitimate and credible. This, in turn, enhances the chances of ranking higher in the Google 3-Pack.
Strategic Implementation and Benefits
The strategy doesn't stop at updating NAP information; it's a meticulous process of analyzing, correcting, and optimizing the business's presence across various online platforms. Hero Pro Tools' team of experts meticulously audits and adjusts NAP information to ensure it aligns perfectly across the digital landscape. The result is a cohesive online presence that resonates with search engines and potential customers.
The benefits are clear: businesses that successfully achieve NAP consistency are more likely to appear in the Google 3-Pack, increasing their visibility to local customers actively searching for their services. This can lead to higher targeted website traffic, foot traffic to physical locations, and, ultimately, increased revenue.
Hero Pro Tools: Pioneering Excellence in Dallas
Hero Pro Tools' cutting-edge strategy represents a new dawn in local SEO. With a firm belief in the power of innovation and adaptability, the agency is proud to be at the forefront of helping Dallas businesses achieve NAP consistency and rank on the Google 3-Pack.
Steven Lloyd, the spokesperson of Hero Pro Tools, emphasized the agency's commitment to local businesses in Dallas: "We understand the challenges businesses face in navigating the intricacies of local SEO. Our strategy is a result of extensive research and hands-on experience. We are excited to offer this game-changing solution to our clients, enabling them to achieve the online visibility they deserve."
Learn more about Hero Pro Tools at: https://heroprotools.com
About Hero Pro Tools
Hero Pro Tools is a Dallas-based digital marketing agency specializing in local SEO, online advertising, web design, and other essential digital marketing services. With a team of experts passionate about staying ahead of industry trends, the agency is committed to helping businesses maximize their online presence and reach their full potential in the digital landscape.
For media inquiries, please contact Steven Lloyd at steven@stevenlloyd.com or call (972) 360-9237
Please visit their official website for more information about Hero Pro Tools and their groundbreaking strategy for achieving NAP consistency to rank on the Google 3-Pack.
Media Contact
Company Name: Hero Pro Tools
Contact Person: Steven Lloyd
Email: Send Email
City: Dallas
State: Texas
Country: United States
Website: heroprotools.com