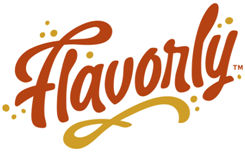 New brand identity signals a shift of focus towards an international menu
Houston, Texas – Nov 10, 2020 – Healthy Gourmet Your Way, a producer and distributor of chef-prepared, gourmet frozen meals, announced today their official rebranding to Flavorly. The change includes both its visual identity and corporate mission and comes as the culmination of a series of recent changes in the meal provider marketplace as well as a shift in interest among their target demographic from "diet-specific" meals to a more "culinary experience" focused decision-making paradigm.
Coinciding with the unveiling of the new brand, Flavorly launched an updated corporate website (www.eatflavorly.com) which focuses on a menu selection and browsing experience that highlights the cultural diversity of both domestic and international cuisines. The rebrand solidifies the company's position as an industry innovator offering a premium culinary experience through the convenience of online meal ordering.
"A spirit of adventure and culinary exploration has always been the DNA of our company," said Flavorly CEO Brian Altman, "this rebrand is simply the natural realignment of our branding with who we are and what we do. Our mission is to 'spread joy through a passion for global flavors' and our new name and visual identity truly embody that idea in a really authentic way. Our commitment to serving our customers and providing truly excellent food in a way that's both convenient and exciting remains unchanged – we're confident that this new identity is the first step in what will be a significant marketplace shift for meal provider services."
The new Flavorly branding and website are accompanied by the introduction of a new brand mascot, "Chef F." Portrayed in marketing materials and video productions by Flavorly's President, Co-Founder, and Head Chef Barry Fourie, Chef F is the embodiment of the culinary authority, adventurous spirit, and enthusiastic customer service that the new Flavorly branding represents. A new video commercial featuring Chef F is being released across digital media in conjunction with the official rebrand.
ABOUT FLAVORLY:
Flavorly brings a world of flavors to your table by creating chef-prepared gourmet meals, ordered on demand, and delivered straight to your door. Founded in 2018 by father and son team Julius and Barry Fourie, Flavorly believes that convenient food experiences should be amazing food experiences. Designed for convenience without sacrificing quality, Flavorly's meals arrive frozen and are ready to heat and eat in minutes. With a mission to spread joy through a passion for global flavor and an ever-expanding menu that places an emphasis on cuisines from across the globe, Flavorly is more than just food, it's a culinary world tour for your senses.
Visit EatFlavorly.com
Media Contact
Company Name: FLAVORLY
Contact Person: Media Relations
Email: Send Email
City: Houston
State: Texas
Country: United States
Website: EatFlavorly.com