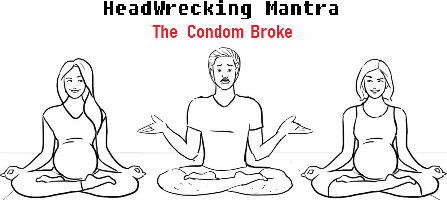 HeadWrecking Mantra is on a mission to save the world with their songs, or so they say. They have made an exciting new entry into the music industry with their song The Condom Broke, a super fun song that describes the delicate pitfalls that can ruin a romance.
Talking about what inspired this song, Fid from HeadWrecking Mantra says, "Our first song The Condom Broke was in part inspired by Nev our bass player who was telling us the sad story about how when he was seventeen, he met the girl of his dreams in a club but he was too short to reach up to the condom machine in the toilets and too embarrassed to ask for help so he missed the opportunity of his life and he never really recovered from this. It was this story that reminded me of my own "near misses" with these "things" and I felt that this subject should not be hidden and indeed should be brought to the fore to help educate the world."
HeadWrecking Mantra is formed by five talented musicians Izzy, Nev, Yak, Ally, and Fid, who escaped from Dublin to a small isolated cottage located on the west coast of Ireland to create music to save the world. Much like their debut song, the story behind how the band was formed is absolutely amusing. Fid was fired from the law firm he worked in, for accidentally sending an e-mail cursing his obnoxious boss to all the employees and company clients. He put out a call on twitter looking for like-minded artists who were sick of the nine to five drudgery and three days later HeadWrecking Mantra was born.
Now Izzy, Nev, Yak, Ally, and Fid write songs to save the world in the one hundred and fifty-year-old cottage. They are not pretending that it's all joy and happiness living in a small cottage away from the city. Ally who is more into her Gucci sunglasses said it was "a vile rat-infested, filthy, medieval shit hole in the middle of nowhere." But even Ally admits that the magic that happens when they all get together to play music is just "The best feeling ever!"
Listen to their debut song "The Condom Broke" HERE or watch the music video on YouTube.com.
Media Contact
Company Name: HeadWrecking Mantra
Contact Person: Fid
Email: Send Email
Country: Ireland
Website: www.headwreckingmantra.com