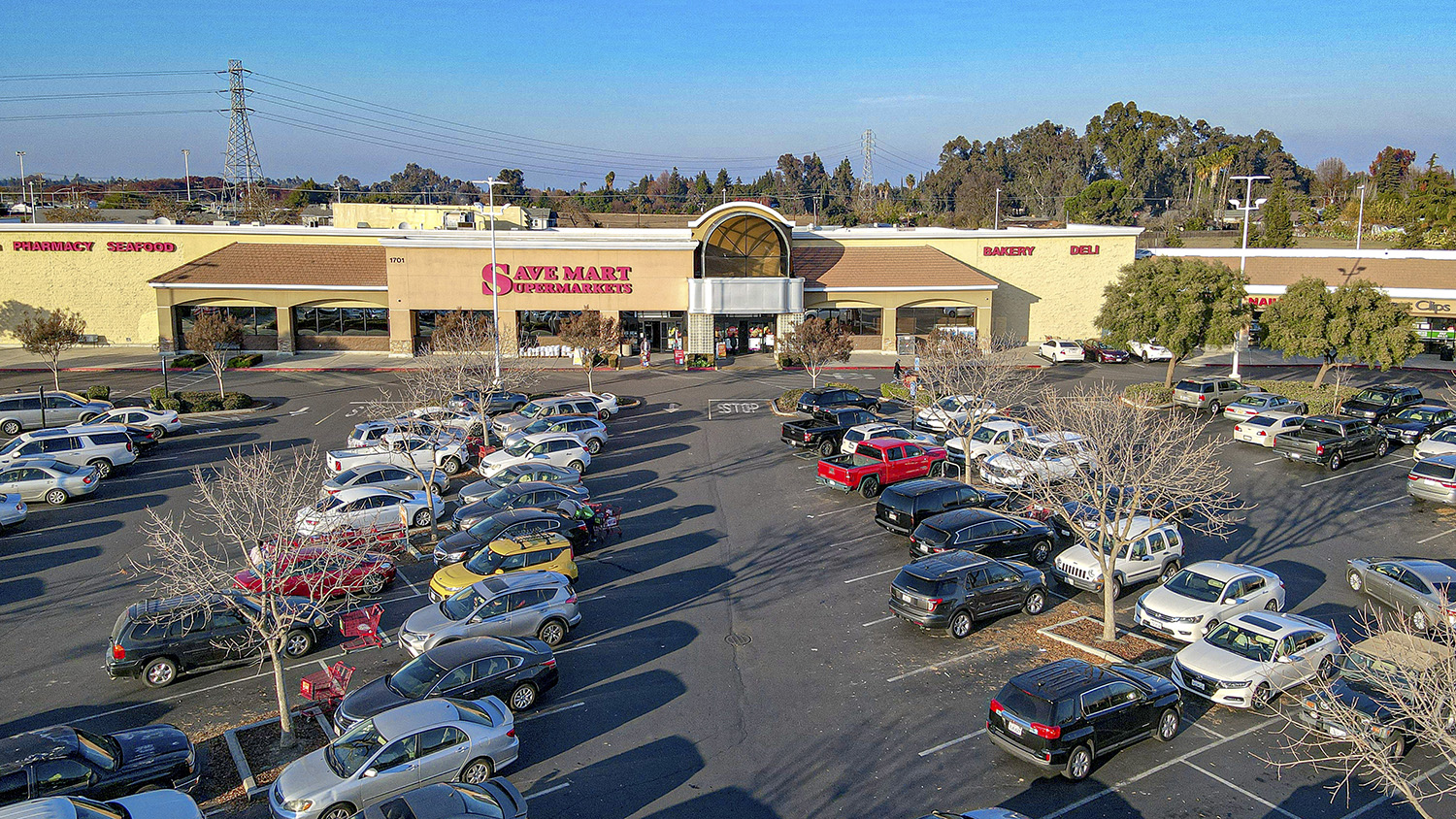 ATWATER, Calif. – Hanley Investment Group Real Estate Advisors, a nationally recognized real estate brokerage and advisory firm specializing in retail property sales, announced today that the firm has arranged the sale of Atwater Marketplace, a 100%-occupied, 96,224-square-foot shopping center anchored by Save Mart Supermarkets and CVS Pharmacy in Merced County, California. The purchase price could not be disclosed.
Hanley Investment Group's Executive Vice Presidents Kevin Fryman and Eric Wohl represented the seller, Phillips Edison & Company, Inc. of Cincinnati, Ohio. The buyer was a private investor based in Los Angeles and was represented by Brett Visintainer of Visintainer Group of Fresno, California.
According to Fryman, Atwater Marketplace is an institutionally developed and operated, fully occupied, grocery-anchored shopping center with long-term, historical occupancy featuring 88% national and regional tenants.
"We generated a bidding war with nine qualified offers and maximized the sale price by selecting a buyer who was attracted to the fact the center was 100% occupied by a mix of essential, daily needs, service and restaurant tenants," said Fryman. "The buyer completed due diligence while negotiating the purchase sale agreement and opened escrow nonrefundable."
Built in 2007, Atwater Marketplace is located at 1601-1853 Bellevue Road in the city of Atwater, in close proximity to Highway 99, one of California's primary north/south highways. There are 56,000 residents with an average household income of $73,000 within a five-mile radius of the shopping center. The city of Atwater is within a two-hour drive of San Francisco, Monterey, Napa Valley and Yosemite National Park.
In addition to tenants Save Mart and CVS Pharmacy, Atwater Marketplace tenants include Ace Cash Express, Baskin Robbins, Chase, Chinese Kitchen, Freeway Insurance, GameStop, Great Clips, Merco Credit Union, Rabobank, RE/MAX, Roundtable Pizza and Sourdough & Company.
Save Mart is the largest family-owned grocer in California and has successfully operated at the center since it was built in 2007. The Save Mart Companies operates 204 traditional and price impact stores under the banners of Save Mart, Lucky, Lucky California, FoodMaxx, and Maxx Value Foods. CVS Pharmacy, the retail division of CVS Health, is America's leading retail pharmacy with nearly 10,000 locations, including over 1,700 pharmacies inside of Target and Schnucks grocery stores. CVS has also operated at the center since the shopping center was built.
This is the third institutional quality, grocery-anchored shopping center sale that Hanley Investment Group has arranged in the last 60 days for a total consideration of more than $61 million. Hanley Investment Group represented the buyer in the purchase of Alpharetta Commons, a 94,500-square-foot shopping center anchored by Publix in the Atlanta metro area. The seller was an institutional real estate owner, operator and developer of a national portfolio. Hanley Investment Group also represented the buyer in the purchase of Cofer Crossing, a fully leased 136,139-square-foot shopping center anchored by Kroger and HomeGoods and shadowed by Walmart located in the Atlanta-area community of Tucker, Georgia. The seller was a partnership between SITE Centers Corp. and Madison International Realty.
"We are working with owners of multi-tenant anchored and unanchored properties across the country," said Fryman. "Many institutional and private sellers are looking to redeploy their capital into other retail assets as investors evaluate their portfolios and before the potential of higher capital gains could impact future selling decisions. Low inventory has put pressure on pricing, which makes this an attractive time for sellers of high-quality retail assets."
About Hanley Investment Group

Hanley Investment Group Real Estate Advisors is a real estate brokerage and advisory services company with an $8.2 billion transaction track record that specializes in the sale of retail properties nationwide. Our expertise, proven track record, and unwavering dedication to putting clients' needs first, sets us apart in the industry. Hanley Investment Group creates value by delivering exceptional results through the use of property-specific marketing strategies, cutting-edge technology, and local market knowledge. Our nationwide relationships with investors, developers, institutions, franchisees, brokers, and 1031 exchange buyers are unparalleled in the industry, translating into maximum exposure and pricing for each property. With unmatched service, Hanley Investment Group has redefined the experience of selling retail investment properties.
For more information, visit www.hanleyinvestment.com.
Media Contact
Company Name: Hanley Investment Group Real Estate Advisors
Contact Person: Kevin Fryman, Executive Vice President
Email: Send Email
Phone: 949.585.7674
Address:3500 East Coast Highway, Suite 100
City: Corona del Mar
State: California
Country: United States
Website: https://hanleyinvestmentgroup.com/