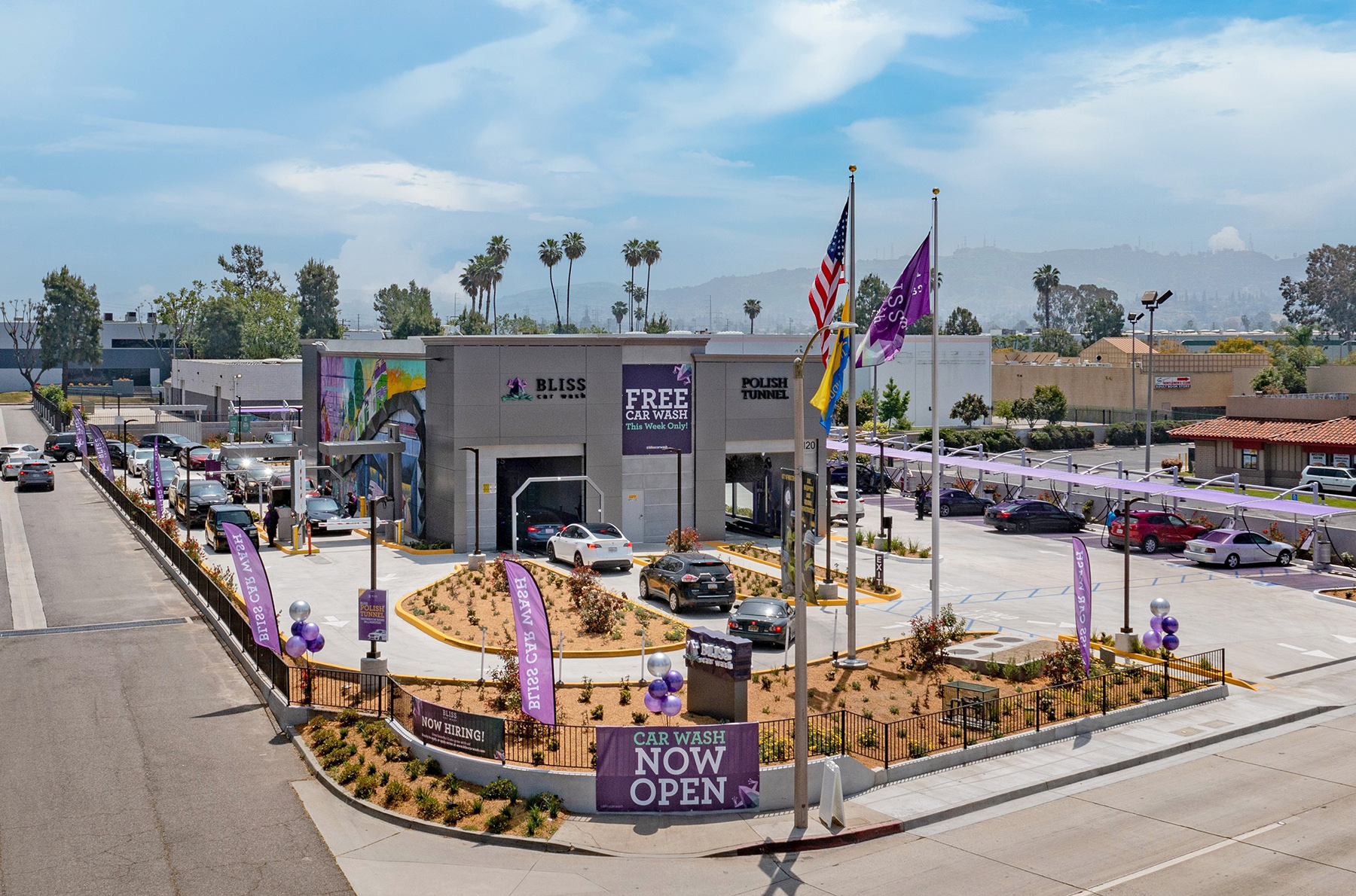 This is Hanley Investment Group's 4th property sale at the shopping center, totaling $13.84 million.
VALENCIA, Calif. – Hanley Investment Group Real Estate Advisors, a nationally recognized real estate brokerage and advisory firm specializing in retail property sales, announced today that the firm arranged the pre-sale of a new BLISS Car Wash in Valencia, California. The sale price was $3.72 million for the absolute triple-net ground lease. This sale marks Hanley Investment Group's fourth property sale at this development, now totaling $13.84 million.
Hanley Investment Group's Executive Vice Presidents Bill Asher and Jeff Lefko represented the developer and seller, Fountainhead Development of Newport Beach, California. The buyer, a private investor based in Los Angeles, was represented by Jenny Eng at CBRE in Glendale, California.
"We procured a 1031 exchange buyer through an industry relationship and successfully closed escrow executing a pre-sale marketing strategy," said Asher. "We structured a short due-diligence period and closed escrow in seven days, prior to the completion of construction and before the tenant opened for business. BLISS was formally paying rent at closing."
Asher noted, "This sale represents the first BLISS Car Wash to trade as a leased investment."
Asher adds, "The car wash business, which is service-based and internet-resistant, is over a $15 billion industry growing at 3.2% annually. Advances in technology, including the introduction of mobile apps, on-demand services, and subscription packages, have increased efficiency and convenience, and have substantially increased the demand for express car washing."
The new 2023-construction BLISS Car Wash is located at the southwest quadrant of the signalized, high-traffic intersection of Copper Hill Drive and Rio Norte Drive (36,000 cars per day). The 4,263-square-foot building, which sits on 1.26 acres, is scheduled to open in the first quarter of 2024. BLISS Car Wash presently has 10 locations operating and seven more will be opening soon across southern California, including the Valencia site.
"BLISS Car Wash signed a new long-term absolute triple-net ground lease," Asher noted. "The Southern California-based self-serve, fully automated car wash chain is one of the top 100 conveyor car washes nationwide, according to Commercial Plus (2022). BLISS Car Wash's founder, David Delrahim, has 30 years of industry experience and established the chain in 2019."
BLISS' cutting-edge water reclamation systems play a pivotal role, enabling the chain to reclaim and reuse a remarkable 70% of the water the car wash operation utilizes. While a traditional car wash may use up to 80 gallons of fresh water per wash, and a home car wash may squander as much as 100 gallons, BLISS Car Wash stands out by utilizing fewer than 24 gallons. BLISS' "Smart Meter" technology further elevates their conservation efforts, enabling real-time monitoring of water usage and facilitating efficient consumption management.
"Through biodegradable products, water reclamation, energy-efficient equipment, and a dedication to responsible environmental practices, BLISS Car Wash is a leader in the car wash industry," Asher said.
"Express car washes are one of the most profitable tenants in the net-lease sector and, therefore, we expect that this segment will continue to experience steady demand from investors," continues Asher. "With margins between 50% and 60%, the average location can be very profitable and withstand potential future economic challenges. In certain markets, top-performing car washes have been backfilling vacant pads, former shop buildings and junior box spaces and are becoming quasi 'anchors' to a shopping center. These car washes can bring tens of thousands of cars to shopping centers annually. Based on the recent expansion of numerous car wash operators, we expect a significant increase in single-tenant net-lease car wash properties for sale over the next six to 12 months."
Valencia is one of the fastest-growing communities in the region. There are 152,959 residents within a five-mile radius and an average household income of $168,118 within a one-mile radius of the car wash site.
Hanley Investment Group previously sold two new, single-tenant ground-leased pads, one leased to El Pollo Loco Drive-Thru and the other leased to Circle K in addition to a new, single-tenant net-leased investment Havana Savannah Coffee Drive-Thru, within the same development at the intersection of Copper Hill Drive and Rio Norte Drive. All three properties were sold to three separate private buyers at record-low cap rates.
About Hanley Investment Group

Hanley Investment Group Real Estate Advisors is a real estate brokerage and advisory services company with over a $10.5 billion transaction track record that specializes in the sale of retail properties nationwide. Our expertise, proven track record, and unwavering dedication to putting clients' needs first set us apart in the industry. Hanley Investment Group creates value by delivering exceptional results through the use of property-specific marketing strategies, cutting-edge technology, and local market knowledge. Our nationwide relationships with investors, developers, institutions, franchisees, brokers, and 1031 exchange buyers are unparalleled in the industry, translating into maximum exposure and pricing for each property. With unmatched service, Hanley Investment Group has redefined the experience of selling retail investment properties.
For more information, visit www.hanleyinvestment.com.
Media Contact
Company Name: Hanley Investment Group Real Estate Advisors
Contact Person: Bill Asher, Executive Vice President
Email: Send Email
Phone: 949.585.7684
Address:3500 East Coast Highway, Suite 100
City: Corona del Mar
State: California
Country: United States
Website: https://hanleyinvestmentgroup.com/