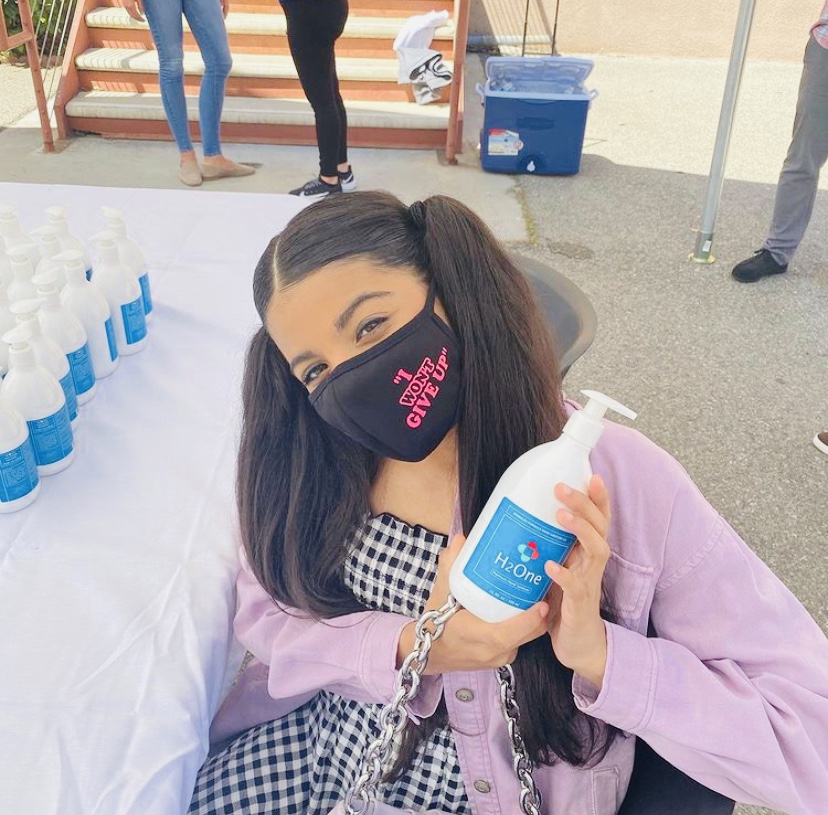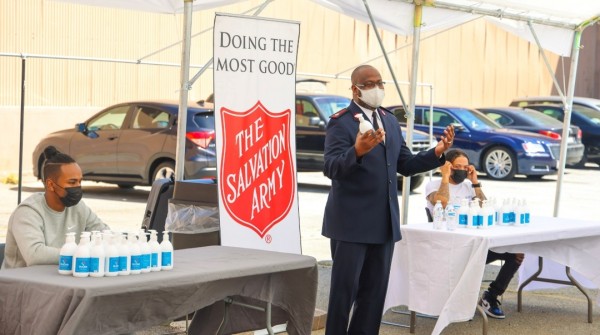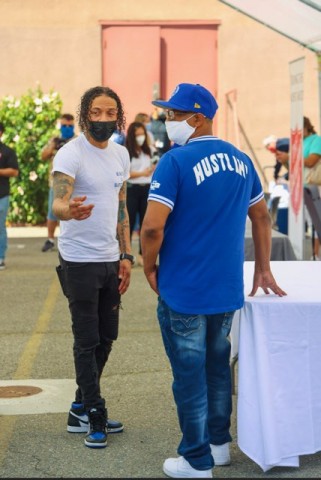 Los Angeles CA – Stars came out to The Salvation Army's Bell Shelter yesterday, located at 5600 Rickenbacker Road, Suite #2A, City of Bell, to take part in H2One, the socially good hand sanitizer's, give back event with Grammy Award winning Music Publisher for Ed Sheeran's "Shape Of You" TLC's "No Scrubs," and former manager for Tiffany Haddish, Tony Mercedes.
Tony Mercedes & H2One donated 2,000 bottles of H2One Hand Sanitizer to The Salvation Army based on their H2One for One Promise where for every bottle purchased online one is given to a community in need.
Tony Mercedes is a 30-year music veteran and military brat who saw his father in every veteran that attended yesterday's event. Although his father passed over 25 years ago, his spirit lives on in his heart forever. Tony explained, "Today is not about hit records or Grammy's, but about honor and respect for those who wore a U.S. military uniform and fought so that I could have a future. I did the giveaway to honor my father, Army Staff Sergeant David Johnson, and personally say thank you to these brave men and women for their service." When Tony heard about the H2One One for One Promise, he was honored to join in a partnership with them and other celebrities, such as New York Yankees third baseman Gio Urshela.
The Music Give Back Event featured Music Artists Chef Sean, Kylie Marshall and Elidjah Diallo. Together, the music legends came out to The Salvation Army's Bell Shelter to hand out H2One Hand Sanitizers to the more than 300 Veterans and people experiencing housing instability who currently reside there. The celebrities signed autographs, took photos and supplied The Salvation Army with hundreds of bottles of H2One hand sanitizer.
About H2One
H2One Hand Sanitizer is Safe, Effective, Premium – FDA registered and SGS Fairfield third party safety tested, 75% ethyl alcohol balanced with essential oils and aloe. This creates a high- quality product that is effective at killing germs while moisturizing hands. Our testing and QC is managed by a former FDA executive to ensure safety and consistency. Products are available at Home Goods, Marshalls, Amazon Prime, H2One.com, Loop & Tie, Wish, NewEgg,Verishop and more.
Every online purchase of our H20ne provides a bottle to one in need. We are widening the circle of care with our H2One for One Promise. A portion of our Business Direct sales will be donated to charity through our: H2One Clean Hands initiative.
H2One donates hand sanitizer to +375 schools in the US to keep children and teachers safe, to include: Yankees, NYC Public Schools, San Francisco Marin Food Bank and Kips Bay Boys & Girls Club, and more! From day one, the H2One mission has been to help support global health initiatives with donations to communities through non-profits organizations, food banks, churches, synagogues, etc., especially in low-income communities.
For more information about H2One Hand Sanitizer and their Giving Back Program, visit https://h2one.com.
About The Salvation Army
The Salvation Army annually helps more than 23 million Americans overcome poverty, addiction, and economic hardships through a range of social services. By providing food for the hungry, emergency relief for disaster survivors, rehabilitation for those suffering from drug and alcohol abuse, and clothing and shelter for people in need, The Salvation Army is doing the most good at 7,600 centers of operation around the country. In the first-ever listing of "America's Favorite Charities" by The Chronicle of Philanthropy, The Salvation Army ranked as the country's largest privately funded, direct-service nonprofit.
For more information, visit calsouth.salvationarmy.org and follow us on social media at @salarmycalsouth
About Chef Sean
Chicago-native Chef Sean has released the official music video for his new single "No Name," featuring Jeremih. The new song contains a sample of Alicia Keys' classic "You Don't Know My Name" and is produced by Grammy Award Winner Harmony Samuels, while the music video was shot out in California. Chef Sean has previously charted on Billboard, performed at Rolling Loud along with acting in movies and on TV. The new video for "No Name" is out now on YouTube and the audio is available on all streaming platforms.
About Kylie Marshall
Kylie Marshall, America's new tween sweetheart, flew in from Atlanta, GA, after recording her debut single "I Won't Give Up" with veteran songwriter and vocal producer Makeba Woods, who has songwriting credits of the likes of Beyoncé, Rihanna, J-Lo and Tamar Braxton just to name a few, laser focused on doing her part to help a nation in need of healing, as Kylie puts it, "I may not be able to solve the homeless problem, but it does not stop me from trying to keep them safe from Covid."
About Elidjah Diallo
20-year old Elidjah Diallo relocated from Paris, France, touching down in Los Angeles, CA, views the homeless as what his life could have been like if his mother did not relocate him after a school bombing not far from his residence. He was honored to be able to shake hands and share his concern with those veterans who put their lives on the line for the United States of America, which he now calls home. Elidjah is managed by Tony Mercedes and recently released his single, "Fenty Beauty" a song inspired by Rihanna clothing and cosmetic line Fenty Beauty.
Media Contact
Company Name: ICT
Contact Person: Holly Davidson
Email: Send Email
Phone: 760 809 9390
City: Los Angeles
Country: United States
Website: www.iconnectyou.today