Thomas Lorenzo innovates in Contemporary Guitar Music Education with his Pivoting Techniques method and online course.
Why does this course matter? The Pivoting Techniques
It is the only online guitar course available that delivers an effective way of learning how to accompany vocals with chords and create melodies with them on the go.
The only online guitar course available that focuses what goes on behind the vocals and makes you play the guitars with an orchestral approach.
How did this course come to life?
This course came to life when I decided to put out there a guitar method that would deliver to the general public what I have been doing over the last 40 years to help bands and songwriters sound better. This includes my years of guiding Liverpool bands in the art of beatles songwriting and success stories of some of my students as Kim Manning that performs with George Clkinton and Parliament Funk.
Bands do not really care about the name of a chord, they need practical solutions to problems like when you take a new song to the band and all the accompaniment sounds like just one muddy wall of sound, where you cannot hear what you play, and need to crank up.
This guitar course will help songwriters and guitarists solve these issues and many more with structured guitar lessons.
My contemporary guitar lessons and learning methods bridge the gap between theory and craft. You learn how to apply creatively a new musical tool because you are able to understand the when, feel the why, and consequently compose reflecting upon your mature emotional intelligence. In all my online guitar courses you will work hard to understand (feel), practice and create to achieve your desired goal of composing your song with your unique message.
I invite you to join our creative guitar community and share with us all your love of music, your unique story and sound. Join a community that loves to transform emotions into professional musical stories without the constraints of social tendencies.
What are the key features
Course duration is 12 weeks and includes 12 videos for you to master, with 12 hangout sessions to participate in and 24 assignments to record and share with group members.
• Synchronous Flow. You will do your work at the same time as everyone else in the group.
• Achieve Mastery Level. You will earn to feel the new knowledge, create with it, and enjoy how your songs become more powerful.
• Participate. You will participate in live Weekly Google Hangouts sessions and regular peer review classmates assignments.
Meet Our Lead Guitar Instructor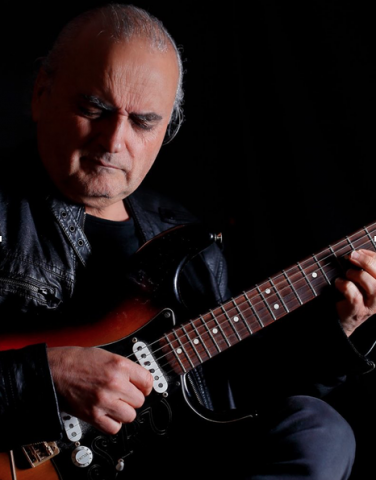 Thomas Lorenzo
Thomas has released five solo instrumental albums in contemporary Jazz, Blues and Flamenco styles. His latest release Spanish Breeze debuted at #36 on the Top 50 JazzWeek World Music Album Charts in 2010 and was #32 on the College Music Journal Jazz Chart. The album features Grammy nominee Alphonso Johnson (Weather Report, Grateful Dead) on Bass, Dave Garfield (George Benson) on Keys, and Walfredo Reyes (Chicago) on Drums, and was produced by Grammy nominee Bruce Sugar (Ringo Starr).
MUSICAL EDUCATOR – GUITAR INSTRUCTOR
Thomas has a prolific musical education background. In the early nineties he graduated from the Berklee College of Music in Boston, USA under the supervision of Grammy award winner Robert Freedman. He has taught and lectured in a number or significant musical institutions including Paul McCartney's Liverpool Institute for Performing Arts and "L' Aula de Musica Moderna i Jazz" of The Barcelona Liceo Conservatory.
In 1995 Thomas Lorenzo was commissioned by the Spanish Society of Authors to write the first Spanish text book on arranging and orchestration. The text book "El Arreglo, Un Puzzle de Expresión musical" is now in its third edition and extensively used throughout the world in Spanish language music schools, universities and conservatories.
For more information, please visit: https://www.thomaslorenzo.com.au
Media Contact
Contact Person: Thomas Lorenzo
Email: Send Email
Phone: +61 448348701
Address:10/1260 Glen Huntly Road
City: 3163 Carnegie
Country: Australia
Website: www.thomaslorenzo.com.au