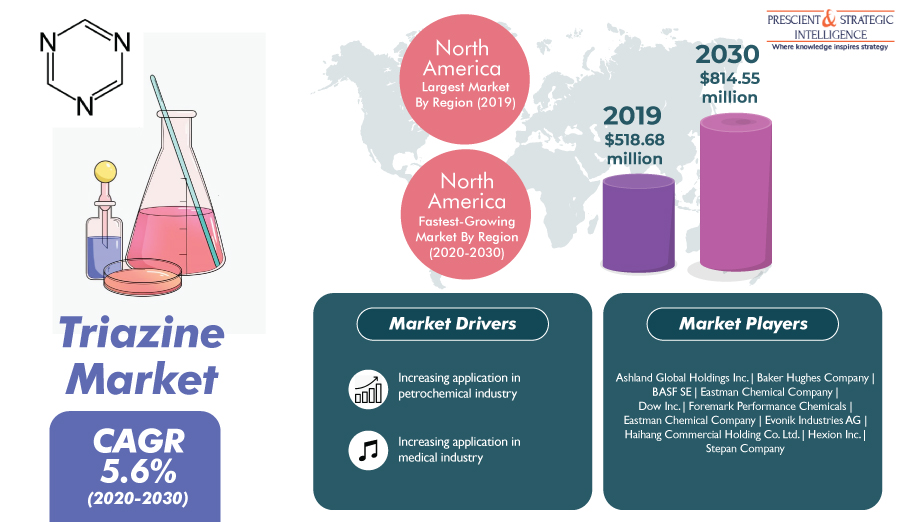 The global triazine market is projected to witness a 5.6% CAGR between 2020 and 2030 by P&S Intelligence.
Often, the crude oil extracted from the earth's surface contains excessive amounts of hydrogen sulphide (H2S), which causes souring. This can lead to corrosion and damage to underwater metallic pipelines and other equipment, which can seriously harm exploration and production (E&P) operations. As a result, the global triazine market, which generated $518.68 million in 2019, is projected to witness a 5.6% CAGR between 2020 and 2030, to reach $814.55 million in 2030.
Triazines, especially 1,3,5-triazine, is used in high volumes as an H2S scavenger, to ensure smooth E&P operations and prevent air and water pollution in the surrounding environment. In this regard, the key driver for the triazine market is the biodegradability of monomethylamine (MMA), a triazine derivative, which propels its usage in oil & gas extraction and refining and their transportation via shipping containers, pipelines, and storage tanks, apart from water treatment.
Download report sample at: https://www.psmarketresearch.com/market-analysis/triazine-market-report/report-sample
North America has been the most-productive triazine market till now, and it is expected to display the highest value CAGR, of 6.1%, in the years to come. The Energy Information Administration (EIA) mentions a 12-times increase in shale E&P activities in the U.S. over the last decade, which has propelled the consumption of triazines and their derivatives. Due to its cost-effectiveness over crude oil, shale gas is being increasingly used for the production of a variety of intermediate and commodity chemicals in the region.
The most-significant companies in the global triazine market are Baker Hughes Company, Ashland Global Holdings Inc., Foremark Performance Chemicals, BASF SE, Eastman Chemical Company, Dow Inc., Haihang Commercial Holding Co. Ltd., Evonik Industries AG, Stepan Company, and Hexion Inc.
Browse full report at: https://www.psmarketresearch.com/market-analysis/triazine-market-report
Key Findings of Global Triazine Market Report
Robust product demand seen during COVID-19 pandemic
Demand for 1,2,4-triazine to rise at highest rate in coming years
Oil & gas most profitable end use for triazine suppliers
North America to remain largest consumer of triazines and derivatives
Mergers and acquisitions key trends in market
Market partially consolidated in nature
Browse Other Reports
Metal Finishing Equipment Market – https://www.psmarketresearch.com/market-analysis/metal-finishing-equipment-market
Polyester Hot Melt Adhesives Market – https://www.psmarketresearch.com/market-analysis/polyester-hot-melt-adhesives-market
Media Contact
Company Name: P&S Intelligence
Contact Person: Abhishek
Email: Send Email
Phone: +918887787886
Address:Noida Sector 2
City: Noida
State: UP
Country: India
Website: https://www.psmarketresearch.com/market-analysis/triazine-market-report