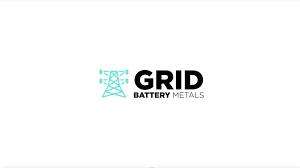 At current prices, Grid Battery Metals Inc. (OTCQB: EVKRF) stock may present a bargain too attractive to ignore. Not only because they have excellent assets in some of the world's most mining friendly jurisdictions, but also because they recently noted being fully funded to complete the entirety of its planned 2024 exploration season. Few mining sector companies, regardless of size, can make a similar claim. That's not all attracting investor interest. In fact, the biggest attraction is that in addition to being fundamentally strong and asset-rich, EVKRF is targeting sales from two booming markets- EV and battery metals.
And better still, they are timely to its opportunities, advancing an exploration mission to extract value from its 100% owned interests in Nevada and British Columbia where historical precedent supports EVKRF being in the right places to unearth considerable lithium and nickel reserves. If EVKRF can exploit that precedent, more likely than not, the trajectory of its share price will point significantly higher. That's not overzealous speculation.
Remember, sitting atop proven reserves can be added to balance sheets, evidenced by the millions, even billions, of dollars added to the market caps of miners in the precious metals sector. That's led to many junior miners becoming bigger faster from partnerships that do more than reduce overhead; they expedite getting product to market.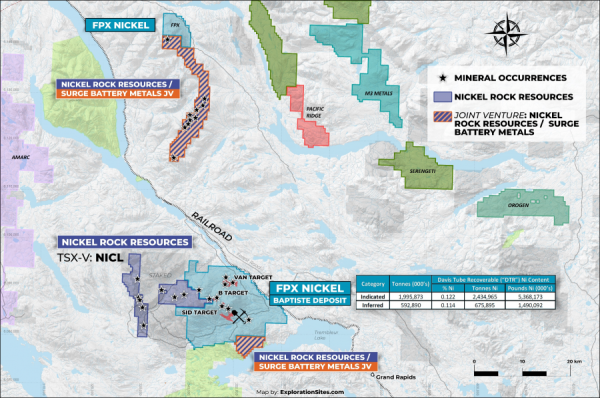 Serving Massive Demand For Lithium And Nickel
The same can happen for Grid Battery. Like others in the space, EVKRF is a speculative play. However, mining, in and of itself, presents the same proposition. But that's not to say risk can't be mitigated. It certainly can, which by owning assets near or bordering historically rich locations, EVKRF does. That's just one part of the equation, though. To be successful, companies need to earn revenues higher than expenses, an intention EVKRF has by serving EV and battery metals market clients that are expected to generate an over trillion-dollar combined revenue generating opportunity within the next decade.
Those following headlines know that Tesla (NASDAQ: TSLA) CEO Elon Musk isn't reserving his opinion about the need for lithium and nickel to fuel his products. He's hinted at his company creating its own mining program to support its critical lithium needs. Perhaps that's rhetoric but it does expose how valuable being positioned to provide these battery metals can be. In addition to having a virtually limitless near-term market potential, for small exploration companies like EVKRF, it opens doors of partnership opportunities. That makes sense. Getting the proper permits to explore can take decades. And from there, it can take years to bring lithium and other battery metals above ground.
Thus, a faster and more efficient strategy would be to partner with a company already permitted and showing potential to tap into vast reserves. Grid Battery Metals checks those boxes. And interest can come from many besides Tesla. General Motors (NYSE: GM), Ford (NYSE: F), Stellantis (NYSE: STLA), and Rivian Automotive (NASDAQ: RIVN) are other names sharing an interest in sourcing every bit of lithium and nickel they can find to power their battery-powered vehicles. And while demand is skyrocketing in 2023, it's expected to increase from here, with estimates suggesting that over 60% of cars will be battery-powered by 2030.
Simply put, near and long-term, EVKRF is in the sweet spot of opportunity. And in this instance, share price size doesn't matter; having the right assets to explore does. Grid Battery Metals checks that box as well. In fact, EVKRF has 100% interest in claims in Nevada and British Columbia, two of the world's most mining-friendly jurisdictions. That positions them well to capitalize on and maximize its revenue-generating opportunities through a go-it-alone or partnership strategy. And remember that the EV sector is just one contributor to EVKRF's mission to become grow bigger. Battery producers also need mountains of these critical metals to support their business, which opens billions more in potential dollars earned.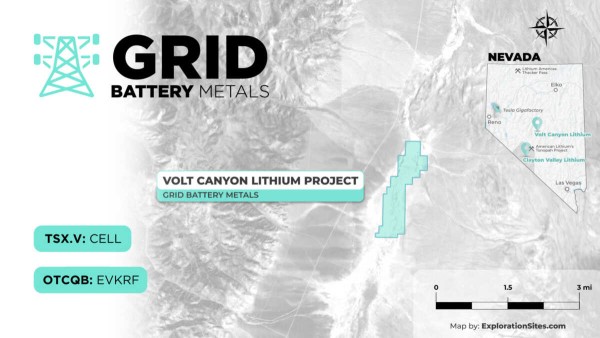 Grid Battery Is Advancing Exploration In Proven Locations
Capturing a share of that potential is certainly in the Grid Battery playbook. That's not a coincidence of being in the sector. It's an expectation able to materialize from EVKRF doing an excellent job of aligning itself with the battery metals sector's vision and mission to reduce carbon footprints and excavate in an environmentally friendly way. Grid Battery is more than supportive of those measures; it can achieve them using a low-overhead exploration strategy that replaces outdated and environmentally destructive exploration and development models.
That difference matters. In fact, embracing those values can be the difference between getting permits and clients or not. Grid Battery has created its plan to ensure scoring both. That's timely, especially ahead of undeniable global consumer trends and initiatives supporting eliminating fossil and carbon fuels as a primary power source. The auto manufacturers are the front line and are doing their part to produce more EVs for sale on a consecutive yearly basis. That production number continues to grow, compounding from the number of car and truck models designed, built, offered, and sold. And that already compounding rate is rising as governments offer EV subsidies for consumers and manufacturers, shifting an already fast pace of adoption into warp speed. Tesla alone is on a mission to produce and sell twenty million EVs annually by 2030. But know this: those vehicles are just shiny showroom models without batteries. And Tesla is only one manufacturer. The Big Three automakers and niche sellers expect to sell millions as well.
Indeed, that's excellent news for a company like Grid Battery Metals, which can equate EV sector growth with the number of batteries needed to power the products. In that respect, even the most bearish expectations for EV market penetration require upwards of 10X current battery production. It's a tall order indeed. However, to help meet that need, Canada and the US, among others, have committed to supporting the mining industry, evidenced by legislation providing financial and functional support to the mining industry as part of a more significant intention of transforming a current carbon-burning products environment into clean power technology.
Mining-Friendly Jurisdictions Expedite Exploration
Grid Battery plans to contribute to that transformation. It's a goal they can achieve through an impressive and promising asset portfolio that continues to strengthen. In 2023, the company added two highly prospective lithium properties to its Nevada portfolio, the Texas Springs Property, and the Volt Canyon Property, increasing its Nevada prospects that already included its Clayton Valley Lithium assets. Management noted that its team is exploring the Texas Springs Property, with planned summer/fall 2023 exploration underway. It comprises a CSAMT geophysical survey and a detailed soil sampling of 50 m X 100 m spacing. The CSAMT survey is used to gather information about subsurface resistivity and geology, which can help predict geological structures and locations for lithium. Results from the two exploration programs will help define and design its 2024 exploration plan, including identifying possible drilling locations for clay-based lithium targets.
EVKRF is optimistic they can extract the value associated with each site. The company noted that its Texas Springs Property adjoins the southern border of Surge Battery Metals' (TSXV: NILI, OTC: NILIF) Nevada North Lithium Project, which, in its first round of drilling, identified strongly mineralized lithium-bearing clays. Further supporting EVKRF optimism, Surge Battery recently announced the results of its most recent drilling program at this property, saying it recorded its highest grades to date, with up to 8070 ppm Lithium on the Northern Nevada Lithium project.
Grid Battery is equally optimistic about its Clayton Valley Lithium Project. There, they intend to follow the recommendations of its NI #43-101 Technical Report to continue a multi-phased exploration program. The initial phase includes building the geologic infrastructure through data compilation and initial auger sampling to collect lake-bed material below the sand dunes and alluvial cover. The second phase will help determine the sub-surface structure and topography to identify drill targets following a geophysical survey using gravity, seismic, or magnetotelluric techniques. Phase three would be to drill the best targets identified in the first two phases, including drilling, assaying, permits, and reporting.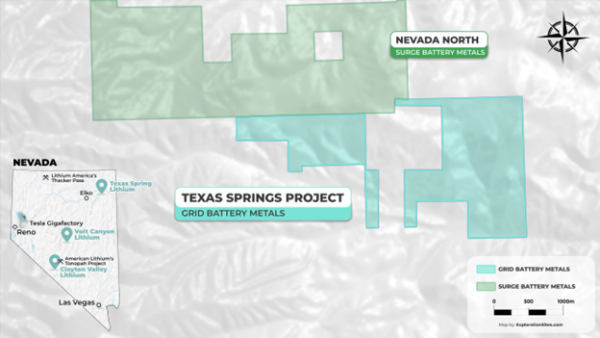 Working Toward Monetizing Assets In 2024
There is certainly a lot happening at Grid Battery heading into Q4. And combining plans with assets and the capital to explore them, EVKRF could be in its best-ever position to rally back toward its 52-week high of $0.17, over 159% higher than its current price. That bullish assessment isn't made on blind faith. Rather, it's one supported by tangibles as well as inherent potentials, including value from its 100% interest in the Texas Spring Property, its 100% interest in 113 lithium lode and placer claims covering over 640 hectares in Clayton Valley, and its 100% interest in 80 placer claims covering approximately 635 hectares of alluvial sediments and clays located 122 km northeast of Tonopah, Nevada, at its Volt Canyon Lithium project.
And those aren't the only value drivers. Grid Battery is exploring additional value drivers inherent to their British Columbia nickel projects. Its Mount Sidney Williams Group consists of three claim blocks with a total area of 10,569 hectares. Notably, those are nearby and, in some instances, adjoin the Decar project of FPX Nickel Corp. (OTC Other: FPOCF). Its Mitchell Range Group area claim consists of one claim block covering 8,659 hectares with demonstrated metallic mineralization, including nickel, cobalt, and chromium.
Hence, plenty supports the bullish thesis. But in particular, Grid Battery Metals investors can bank on impressive assets, experienced management, and evidence indicating they are on the right path to unearth significant lithium and nickel deposits to increase sustainable shareholder value. In other words, Grid Battery Metals value proposition isn't built on hype; its presented by assets owned, pace of exploration, a balance sheet that can fund operations, and, as importantly, getting nearer to the potential of delivering critical battery metals to massive global demand. Put more simply, plenty supports the bullish side of the Grid Battery Metals investment proposition.
Disclaimers: Shore Thing Media, LLC. (STM) is responsible for the production and distribution of this content. STM is not operated by a licensed broker, a dealer, or a registered investment adviser. It should be expressly understood that under no circumstances does any information published herein represent a recommendation to buy or sell a security. Our reports/releases are a commercial advertisement and are for general information purposes ONLY. We are engaged in the business of marketing and advertising companies for monetary compensation. Never invest in any stock featured on our site or emails unless you can afford to lose your entire investment. The information made available by STM is not intended to be, nor does it constitute, investment advice or recommendations. The contributors may buy and sell securities before and after any particular article, report and publication. In no event shall STM be liable to any member, guest or third party for any damages of any kind arising out of the use of any content or other material published or made available by STM, including, without limitation, any investment losses, lost profits, lost opportunity, special, incidental, indirect, consequential or punitive damages. Past performance is a poor indicator of future performance. The information in this video, article, and in its related newsletters, is not intended to be, nor does it constitute, investment advice or recommendations. STM strongly urges you conduct a complete and independent investigation of the respective companies and consideration of all pertinent risks. Readers are advised to review SEC periodic reports: Forms 10-Q, 10K, Form 8-K, insider reports, Forms 3, 4, 5 Schedule 13D. For some content, STM, its authors, contributors, or its agents, may be compensated for preparing research, video graphics, and editorial content. Shore Thing Media Group, LLC., through its digital website property, Primetime Profiles, has been compensated four-thousand-dollars cash via wire transfer to produce and syndicate content for Grid Battery Metals, Inc. for a period of two weeks ending on 10/14/23. Please read the full disclaimer at https://primetimeprofiles.com/disclaimer/ for important information about this content. This compensation is a major conflict of interest in our ability to be unbiased regarding our alerts. Therefore, this communication should be viewed as a commercial advertisement only. Any non- compensated alerts are purely for the purpose of expanding our database for the benefit of our future financially compensated investor relations efforts. As part of all content, readers, subscribers, and website viewers, are expected to read the full disclaimers and financial disclosures statement that can be found on our website. Contributors reserve the right, but are not obligated to, submit articles for fact-checking prior to publication. Contributors are under no obligation to accept revisions when not factually supported. Furthermore, because contributors are compensated, readers and viewers of this content should always assume that content provided shows only the positive side of companies, and rarely, if ever, highlights the risks associated with investment. Thus, readers and viewers should accept the content as an advertorial that highlights only the best features of a company. Never take opinion, articles presented, or content provided as a sole reason to invest in any featured company. Investors must always perform their own due diligence prior to investing in any publicly traded company and understand the risks involved, including losing their entire investment.
The Private Securities Litigation Reform Act of 1995 provides investors a safe harbor in regard to forward-looking statements. Any statements that express or involve discussions with respect to predictions, expectations, beliefs, plans, projections, objectives, goals, assumptions or future events or performance are not statements of historical fact may be forward looking statements. Forward looking statements are based on expectations, estimates, and projections at the time the statements are made that involve a number of risks and uncertainties which could cause actual results or events to differ materially from those presently anticipated. Forward looking statements in this action may be identified through use of words such as projects, foresee, expects, will, anticipates, estimates, believes, understands, or that by statements indicating certain actions & quote; may, could, or might occur. Understand there is no guarantee past performance will be indicative of future results. Investing in micro-cap and growth securities is highly speculative and carries an extremely high degree of risk. It is possible that an investors investment may be lost or impaired due to the speculative nature of the companies profiled.
Media Contact
Company Name: STM, LLC.
Contact Person: Michael Thomas
Email: contact@primetimeprofiles.com
Country: United States
Website: https://primetimeprofiles.com/