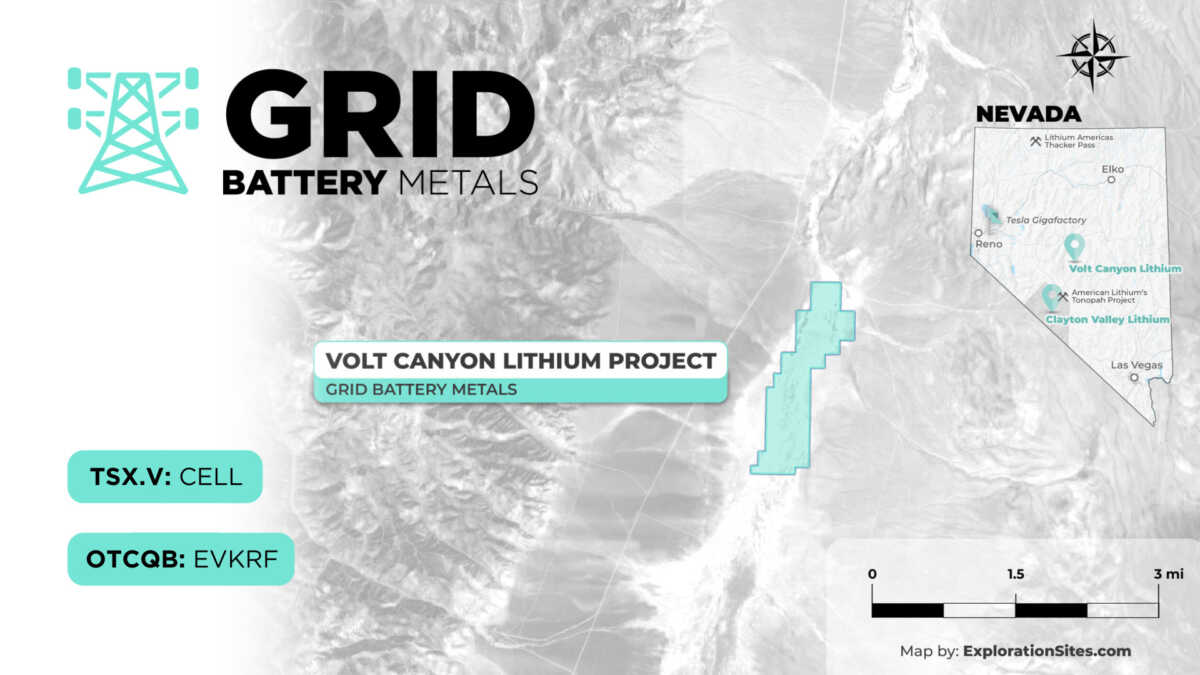 Grid Battery Metals Inc. (OTCQB: EVKRF) stock retreating from its recent 52-week high may present a value investment proposition too attractive to ignore. Score the weakness to profit-taking by those banking some of the over 124% gains in price since June. That level was reached last Friday. On Wednesday, post-retreat, buyers are bringing back support, bidding the stock higher with Grid Battery Metals shares at $0.071, representing an over 93% increase since the end of June.
Reasons justify Grid Battery Metals' move higher. Foremost is that this Canadian-based explorer is advancing an ambitious mission to become a significant player in the green energy sector, keenly focused on revenue-generating opportunities related to high-value battery metals vital to the electric vehicle (EV) market. Grid Battery Metals isn't just another startup looking to take advantage of growing demand, however. Despite its nanocap size, they are aligned with the larger battery metals sector vision, prioritizing carbon footprint reduction, environmentally friendly exploration, and a low-overhead exploration strategy that replaces outdated and environmentally destructive exploration and development models. That emphasis can make all the difference in today's market.
In fact, Grid Battery Metals' differences even serve as competitive advantages that drive significant investor interest. Aside from retail interest helping increase share prices by triple-digit percentages, accredited investors contributed to EVKRF completing a CAD $3 million private placement in June. The net proceeds from that deal strengthened an already impressive balance sheet for a company its size. Its most recent SEC filing shows a treasury balance of CAD $4.38 million, expected to be ample reserves to advance its exploration initiatives for the remainder of this year. The best news- the assets being explored are indeed impressive, historically giving up plenty of the types of metals in demand.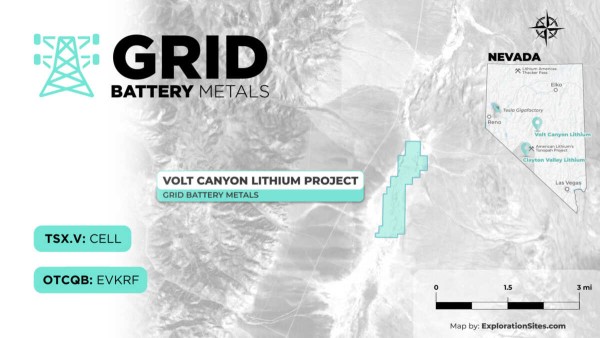 Mining-Friendly Nevada Hosts Grid Battery Metals Assets
Assets include those owned in Nevada, which, from an exploration company perspective, is a great place to work. Nevada is ranked as the 3rd best global mining jurisdiction. Specific to EVKRK, exploring there also keeps its assets well-positioned to cater to domestic and Asian market demand. It's also home to the renowned Tesla Gigafactory, which produces lithium-ion batteries for its vehicles and energy storage solutions. The Gigafactory's design centers on achieving net-zero energy consumption, predominantly through solar power. By mid-2018, the factory was the highest-volume battery plant globally. But being in Nevada is more than about Tesla; it's also an excellent place to be for Grid Battery Metals.
Lithium production in Nevada dates back to 1966 at the Silver Peak Mine. The activity has led the state to develop the most extensive mining program in the US, holding 49% of the Bureau of Land Management's active mining claims. Nevada demonstrates a clear commitment to efficient mining and reclamation practices, making it an excellent place for Grid Battery to devote its resources. A few assets are in play.
Its Texas Spring Property consists of mineral lode claims in Elko County, Nevada, with early exploration revealing a lithium clay deposit within volcanic tuff and tuffaceous sediments of the Humbolt Formation. It's located next to other proven claims, including near the southern boundary of the Nevada North Lithium Project owned by Surge Battery Metals Inc. (OTC Pink: NILIF). Initial drilling projects by Surge Battery have identified lithium-rich clay deposits with noteworthy mineralization. The Texas Spring project contains 34 full and 30 partial lode claims, showing significant potential to serve demand. Grid Battery entered into a Purchase and Sale Agreement to acquire Texas Springs Property in Nevada from Springfield Land Limited Liability on June 23, 2023, with consideration made by issuing eight million fully paid and non-assessable common shares. It officially closed the deal on July 13, 2023.
Another asset in Nevada is its Clayton Valley project, with claims adjacent to Albemarle Corporation's (NYSE: ALB) Silver Peak Lithium Project. That location matters, noting that Albemarle hosts the sole operating lithium mine in North America. The lithium reserves in Clayton Valley exist in underground aquifers as briny groundwater and in montmorillonite clays with abundant lithium content. Commencing exploration there in 2021, Grid Battery is focused on data from rock and soil sampling, trenching, and drilling programs, with concepts for a secondary lithium trap in the works. Grid Battery has noted the property has excellent potential to host Lithium brine deposits in favorable geologic horizons within the basin fill. Another possible target is lithium-enriched clay within the fill package and potentially in previous high stands of the playa. Historical data supports optimism.
Also in Nevada is Grid Battery's Volt Canyon Project, a wholly owned asset measured as a 635-hectare plot of alluvial sediments and clays positioned 122 km northeast of Tonopah, Nevada. In the regional NURE data, surface samples from this area indicated lithium concentrations up to 108 ppm Li. The lithium deposit is believed to share similarities with the clay deposits found in Clayton Valley, and importantly, the location has excellent accessibility, enabling exploration and exploitation throughout the year.
Other assets strengthen the value proposition.
Nickel Is Also A Grid Battery Metals Value Driver
That includes nickel. Grid Battery is attentive to those opportunities, aligned with automakers shifting towards using higher nickel chemistries in EV batteries to achieve a more sustainable energy delivery solution. While nickel traditionally found its primary application in stainless steel production, its significance has grown substantially in the context of EV batteries from its contribution to higher energy density, cost-effective storage, and extended driving ranges. All three measures speak for themselves, pointing to the idea that nickel could be essential to advancing the next generations of electric mobility.
Keep in mind that the number of passenger vehicles on the road utilizing lithium-ion batteries is projected to reach 10% by 2025. By 2050, it's expected to surge higher to 58%. Therefore, companies already positioned to serve that growth, like Grid Battery, should do better than others. The even better news is that demand isn't expected to diminish any time soon. Instead, the value inherent to lithium-ion battery packs has only heightened their appeal to manufacturers, creating demand forecasted to increase by 3.7x by 2050 compared to 2019. Grid Battery Metals intends to be part of that supply chain.
Exploring Its Promising Grid Nickel Group Project in BC
They very well may, considering it's exploring projects near FPX Nickel Corp.'s (OTCQB: FPOCF) Decar Project, which recently established its potentially carbon-neutral Baptiste deposit as one of the world's most robust large-scale nickel ventures. There, Grid Battery's Grid Nickel Group property shares geological similarities with FPX's Decar Project, featuring nickel, cobalt, and chromium. The claim also contains nickel as awaruite, initially discovered in the region in 1983.
The exploration strategy at this spot comprises several components. A Spring 2021 exploration program involved rock and soil sampling, trenching, and drill programs. From that, the company is evaluating its next possible steps, with contributions toward intent from reviewing historical data from systematic ground-based exploration on the property between 1987 and 2012, under the guidance of esteemed geologist Ursula Mowat. Future plans will be directed from insights inherent to a comprehensive analysis from Geoscience BC's QUEST-West project (2008-2009), which evaluated various activities, including geophysical surveys, stream sediment re-analyses, and data compilation.
Notably, FPX has invested over $25 million in its Decar Project. That supports the premise that they like what they see, potentially excellent news for Grid Battery, recognizing that its property is partially underlain by rocks like those hosting the Decar project. Exploiting its expected share of value again comes from Grid Battery exploring in mining-friendly jurisdictions. British Columbia is another ideal location, offering vast mineral discovery potentials, a proficient workforce, and dedicated resources for exploration and development. In fact, Canada ranked as the world's top overall mining destination by mining.com in 2023, hosting the world's largest concentration of exploration companies and mining professionals.
Furthermore, a natural nickel-iron alloy was first found in central British Columbia in 1983. Awaruite has multiple valuable qualities in the EV industry, specifically by containing little to no sulfides and not generating much acid mine drainage. It also does not require chemical reagents or acid leaching for processing, and its waste rock even has the capacity to absorb carbon. The potential of finding that asset could add another catalyst driving growth in Grid Battery Metals.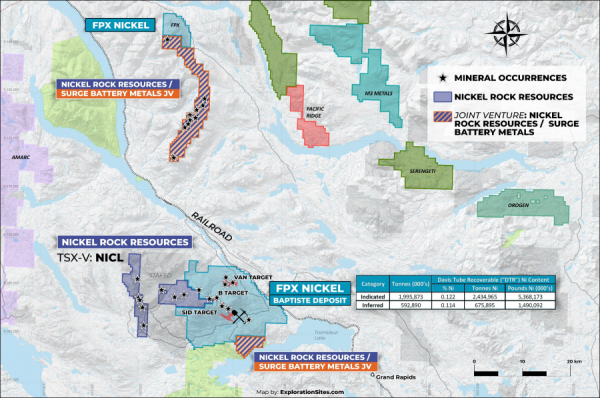 Soaring Global Demand for Battery And Green Energy Metals
Undoubtedly, EVKRF's assets put them in a sweet spot of revenue-generating opportunity. And their ability to tap into the soaring demand for battery metals from multiple sectors besides EVs, including electronics and energy storage fields, is being rewarded by market investors – evidenced by EVKRF stock holding an over 93% gain since June. Still, those gains could be the precursor to more, with investors clued into the fact that unlike many of its competitors, Grid Battery Metals is exploring the world's most mining-friendly jurisdictions that have proven to yield appreciable underground assets. While those areas are working overtime to meet demand from just the EV sector, they'll need to supply lots more to keep pace with total market needs.
That's true for lithium, nickel, and other clean energy metals vital to powering the EV and green energy storage sectors. Remember, without the batteries to run their products, everything from electronic vehicles to industrial tools would be nothing more than shiny showroom pieces. Of course, companies like Tesla (NASDAQ: TSLA), Ford (NYSE: F), and General Motors (NYSE: GM) won't let themselves get sidelined from lacking batteries for their cars. Neither will industrial behemoths that are getting billions from infrastructure-supporting legislation.
Instead, expect manufacturers across all industries to do whatever it takes to secure an ample supply of lithium, nickel, and other metals for their needs. Tesla CEO Elon Musk has publicly stated his company's intent to explore lithium independently. However, there may be an easier means of accomplishing the end goal. Establishing a partnership with companies already in the space.
That strategy could be the fastest way to ensure reliable supplies. In the USA, permitting alone can take a decade or more to start initial exploration. Thus, the better path is partnering with companies, like EVKRF, already in the advanced stages of exploration, which is the best, most efficient, and expeditious way of getting the products and metals needed. That reality of partners, instead of independently exploring, could come from many companies and put EVKRF in an enviable position.
Remember, proven underground assets are also immensely valuable. In other words, Grid Battery Metals doesn't necessarily need to excavate the assets; sitting on top of them is enough to drive share prices exponentially higher. Incidentally, lithium is one of the most essential elements for national security, which further adds to the Grid Battery Metals value proposition by giving it the potential to earn non-dilutive funding to expand its exploration and development operations.
An Impressive Rally With A Tailwind
Indeed, at $0.071 on Wednesday, Grid Battery Metals stock may present a disconnect between assets and price too wide to ignore. That assumption is justified. Remember, Grid Battery has compelling projects near historically proven locations, the cash to explore them, and a management team capable of exploiting assets to create shareholder value.
As it explores its mineral-rich claims in Nevada and British Columbia, guided by its management team's experience in mineral exploration and development, Grid Battery Metals appears better positioned than ever to capitalize on and maximize project intent. In fact, the best way to describe EVKRF stock at current levels is that it's being served through an open window of opportunity. But, like most, it can, and probably will, close sooner rather than later.
Disclaimers: Shore Thing Media, LLC. (STM) is responsible for the production and distribution of this content. STM is not operated by a licensed broker, a dealer, or a registered investment adviser. It should be expressly understood that under no circumstances does any information published herein represent a recommendation to buy or sell a security. Our reports/releases are a commercial advertisement and are for general information purposes ONLY. We are engaged in the business of marketing and advertising companies for monetary compensation. Never invest in any stock featured on our site or emails unless you can afford to lose your entire investment. The information made available by STM is not intended to be, nor does it constitute, investment advice or recommendations. The contributors may buy and sell securities before and after any particular article, report and publication. In no event shall STM be liable to any member, guest or third party for any damages of any kind arising out of the use of any content or other material published or made available by STM, including, without limitation, any investment losses, lost profits, lost opportunity, special, incidental, indirect, consequential or punitive damages. Past performance is a poor indicator of future performance. The information in this video, article, and in its related newsletters, is not intended to be, nor does it constitute, investment advice or recommendations. STM strongly urges you conduct a complete and independent investigation of the respective companies and consideration of all pertinent risks. Readers are advised to review SEC periodic reports: Forms 10-Q, 10K, Form 8-K, insider reports, Forms 3, 4, 5 Schedule 13D. For some content, STM, its authors, contributors, or its agents, may be compensated for preparing research, video graphics, and editorial content. Shore Thing Media, LLC. has been compensated up to three-thousand-five-hundred-dollars cash via wire transfer by a third party to produce and syndicate content for Grid Battery Metals Inc. for a period of two weeks ending on September 2, 2023. As part of that content, readers, subscribers, and website viewers, are expected to read the full disclaimers and financial disclosures statement that can be found on our website. Contributors reserve the right, but are not obligated to, submit articles for fact-checking prior to publication. Contributors are under no obligation to accept revisions when not factually supported. Furthermore, because contributors are compensated, readers and viewers of this content should always assume that content provided shows only the positive side of companies, and rarely, if ever, highlights the risks associated with investment. Thus, readers and viewers should accept the content as an advertorial that highlights only the best features of a company. Never take opinion, articles presented, or content provided as a sole reason to invest in any featured company. Investors must always perform their own due diligence prior to investing in any publicly traded company and understand the risks involved, including losing their entire investment. The Private Securities Litigation Reform Act of 1995 provides investors a safe harbor in regard to forward-looking statements. Any statements that express or involve discussions with respect to predictions, expectations, beliefs, plans, projections, objectives, goals, assumptions or future events or performance are not statements of historical fact may be forward looking statements. Forward looking statements are based on expectations, estimates, and projections at the time the statements are made that involve a number of risks and uncertainties which could cause actual results or events to differ materially from those presently anticipated. Forward looking statements in this action may be identified through use of words such as projects, foresee, expects, will, anticipates, estimates, believes, understands, or that by statements indicating certain actions & quote; may, could, or might occur. Understand there is no guarantee past performance will be indicative of future results. Investing in micro-cap and growth securities is highly speculative and carries an extremely high degree of risk. It is possible that an investors investment may be lost or impaired due to the speculative nature of the companies profiled.
Media Contact
Company Name: STM, LLC.
Contact Person: Michael Thomas
Email: contact@primetimeprofiles.com
Country: United States
Website: https://primetimeprofiles.com/