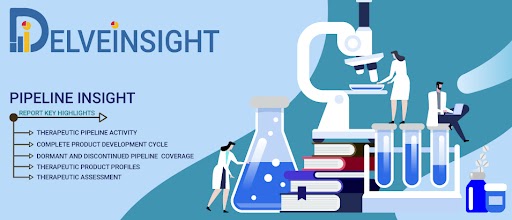 (Las Vegas, Nevada, United States) As per DelveInsight's assessment, globally, Gout pipeline constitutes 40+ key companies continuously working towards developing 40+ Gout treatment therapies, analysis of Clinical Trials, Therapies, Mechanism of Action, Route of Administration, and Developments analyzes DelveInsight.
The Gout Pipeline report embraces in-depth commercial and clinical assessment of the pipeline products from the pre-clinical developmental phase to the marketed phase. The report also covers a detailed description of the drug, including the mechanism of action of the drug, clinical studies, NDA approvals (if any), and product development activities comprising the technology, collaborations, mergers acquisition, funding, designations, and other product-related details.
"Gout Pipeline Insight, 2023" report by DelveInsight outlines comprehensive insights into the present clinical development scenario and growth prospects across the Gout Market.
Some of the key takeaways from the Gout Pipeline Report:
Companies across the globe are diligently working toward developing novel Gout treatment therapies with a considerable amount of success over the years.
Gout companies working in the treatment market are TaiwanJ Pharmaceuticals, Nippon Chemiphar, Horizon Therapeutics plc, Nippon Chemiphar, Protalix BioTherapeutics, Horizon Therapeutics plc, Arthrosi Therapeutics, Dyve Biosciences, LG Chem, Jiangsu Hengrui Medicine Co., Selecta Biosciences Inc, and others, are developing therapies for the Gout treatment
Emerging Gout therapies in the different phases of clinical trials are- TJC-0434, NC-2700, Research Program HemoShear, NC-2500, PRX-115, HZN-457, AR-882, DYV700, LC350189, SHR-4640, SEL-212, and others are expected to have a significant impact on the Gout market in the coming years.
In March 2022, The Phase 2a clinical trial of ABP-671 to treat persistent gout was randomised double-blind, placebo-controlled, and Atom Bioscience recently reported good results.
In March 2022, Colchicine tablets USP, 0.6 mg, made by Strides Pharma and used for the treatment and prevention of gout, have received approval from the US Food and Drug Administration.
In November 2020, To assess the safety and effectiveness of two different dose levels of SEL-212 to placebo, Selecta Biosciences started one of two parallel-arm, double-blind, randomised studies
Gout Overview
A typical and excruciating form of inflammatory arthritis is gout. One joint, generally the big toe joint, is affected at a time. There are periods when symptoms worsen, referred to as flares, and periods when there are none, referred to as remission.
Get a Free Sample PDF Report to know more about Gout Pipeline Therapeutic Assessment-
delveinsight.com/report-store/gouty-arthritis-gout-pipeline-insight
Emerging Gout Drugs Under Different Phases of Clinical Development Include:
TJC-0434: TaiwanJ Pharmaceuticals
NC-2700: Nippon Chemiphar
Research Program HemoShear: Horizon Therapeutics plc
NC-2500: Nippon Chemiphar
PRX-115: Protalix BioTherapeutics
HZN-457: Horizon Therapeutics plc
AR-882: Arthrosi Therapeutics
DYV700: Dyve Biosciences
LC350189: LG Chem
SHR-4640: Jiangsu Hengrui Medicine Co.
SEL-212: Selecta Biosciences Inc
Gout Route of Administration
Gout pipeline report provides the therapeutic assessment of the pipeline drugs by the Route of Administration. Products have been categorized under various ROAs, such as
Intravenous
Oral
Parenteral
Subcutaneous
Topical
Molecule Type
Gout Molecule Type
Gout Products have been categorized under various Molecule types, such as
Protein
Small interfering RNA
Small molecule
Product Type
Gout Pipeline Therapeutics Assessment
Gout Assessment by Product Type
Gout By Stage and Product Type
Gout Assessment by Route of Administration
Gout By Stage and Route of Administration
Gout Assessment by Molecule Type
Gout by Stage and Molecule Type
DelveInsight's Gout Report covers around 40+ products under different phases of clinical development like
Late-stage products (Phase III)
Mid-stage products (Phase II)
Early-stage product (Phase I)
Pre-clinical and Discovery stage candidates
Discontinued & Inactive candidates
Route of Administration
Further Gout product details are provided in the report. Download the Gout pipeline report to learn more about the emerging Gout therapies
Some of the key companies in the Gout Therapeutics Market include:
Key companies developing therapies for Gout are – Jiangsu Hengrui Medicine, Selecta Biosciences, LG Chem, Shanton Pharma, TWi Biotechnology, Olatec Therapeutics, Allena Pharmaceuticals, JW Pharmaceutical, Revive Therapeutics, Hinova pharmaceuticals, Arthrosi Therapeutics, Dyve Biosciences, Jiangsu Atom Bioscience and Pharmaceutical, Swedish Orphan Biovitrum, Allen Pharmaceuticals, Teijin Pharma, AstraZeneca, R-Pharm, InventisBio, Nippon Chemiphar, Sinovent, Shenyang Sunshine Pharmaceutical, Rigel Pharmaceuticals, Chongqing Fochon Pharmaceutical, Alnylam Pharmaceuticals, Enzychem Lifesciences, Arrowhead Pharmaceuticals, Horizon Therapeutics, and others.
Gout Pipeline Analysis:
The Gout pipeline report provides insights into
The report provides detailed insights about companies that are developing therapies for the treatment of Gout with aggregate therapies developed by each company for the same.
It accesses the Different therapeutic candidates segmented into early-stage, mid-stage, and late-stage of development for Gout Treatment.
Gout key companies are involved in targeted therapeutics development with respective active and inactive (dormant or discontinued) projects.
Gout Drugs under development based on the stage of development, route of administration, target receptor, monotherapy or combination therapy, a different mechanism of action, and molecular type.
Detailed analysis of collaborations (company-company collaborations and company-academia collaborations), licensing agreement and financing details for future advancement of the Gout market.
The report is built using data and information traced from the researcher's proprietary databases, company/university websites, clinical trial registries, conferences, SEC filings, investor presentations, and featured press releases from company/university websites and industry-specific third-party sources, etc.
Download Sample PDF Report to know more about Gout drugs and therapies
Gout Pipeline Market Drivers
The rise in the prevalence of Gout, novel urate-lowering agents are some of the important factors that are fueling the Gout Market.
Gout Pipeline Market Barriers
However, gaps in the quality of care, lack of knowledge about guidelines and evidence based gout management, lack of novel therapies in Gout pipeline and other factors are creating obstacles in the Gout Market growth.
Scope of Gout Pipeline Drug Insight
Coverage: Global
Key Gout Companies: TaiwanJ Pharmaceuticals, Nippon Chemiphar, Horizon Therapeutics plc, Nippon Chemiphar, Protalix BioTherapeutics, Horizon Therapeutics plc, Arthrosi Therapeutics, Dyve Biosciences, LG Chem, Jiangsu Hengrui Medicine Co., Selecta Biosciences Inc, and others
Key Gout Therapies: TJC-0434, NC-2700, Research Program HemoShear, NC-2500, PRX-115, HZN-457, AR-882, DYV700, LC350189, SHR-4640, SEL-212, and others
Gout Therapeutic Assessment: Gout current marketed and Gout emerging therapies
Gout Market Dynamics: Gout market drivers and Gout market barriers
Request for Sample PDF Report for Gout Pipeline Assessment and clinical trials
Table of Contents
1. Gout Report Introduction
2. Gout Executive Summary
3. Gout Overview
4. Gout- Analytical Perspective In-depth Commercial Assessment
5. Gout Pipeline Therapeutics
6. Gout Late Stage Products (Phase II/III)
7. Gout Mid Stage Products (Phase II)
8. Gout Early Stage Products (Phase I)
9. Gout Preclinical Stage Products
10. Gout Therapeutics Assessment
11. Gout Inactive Products
12. Company-University Collaborations (Licensing/Partnering) Analysis
13. Gout Key Companies
14. Gout Key Products
15. Gout Unmet Needs
16 . Gout Market Drivers and Barriers
17. Gout Future Perspectives and Conclusion
18. Gout Analyst Views
19. Appendix
20. About DelveInsight
About DelveInsight
DelveInsight is a leading Business Consultant and Market Research firm focused exclusively on life sciences. It supports Pharma companies by providing comprehensive end-to-end solutions to improve their performance. It also offers Healthcare Consulting Services, which benefits in market analysis to accelerate business growth and overcome challenges with a practical approach.
Media Contact
Company Name: DelveInsight Business Research
Contact Person: Gaurav Bora
Email: Send Email
Phone: 8774225362
Address:27 Drydock Ave S. Jones Blvd #2432
City: Boston
State: MA
Country: United States
Website: https://www.delveinsight.com/consulting/asset-prioritizaton-services