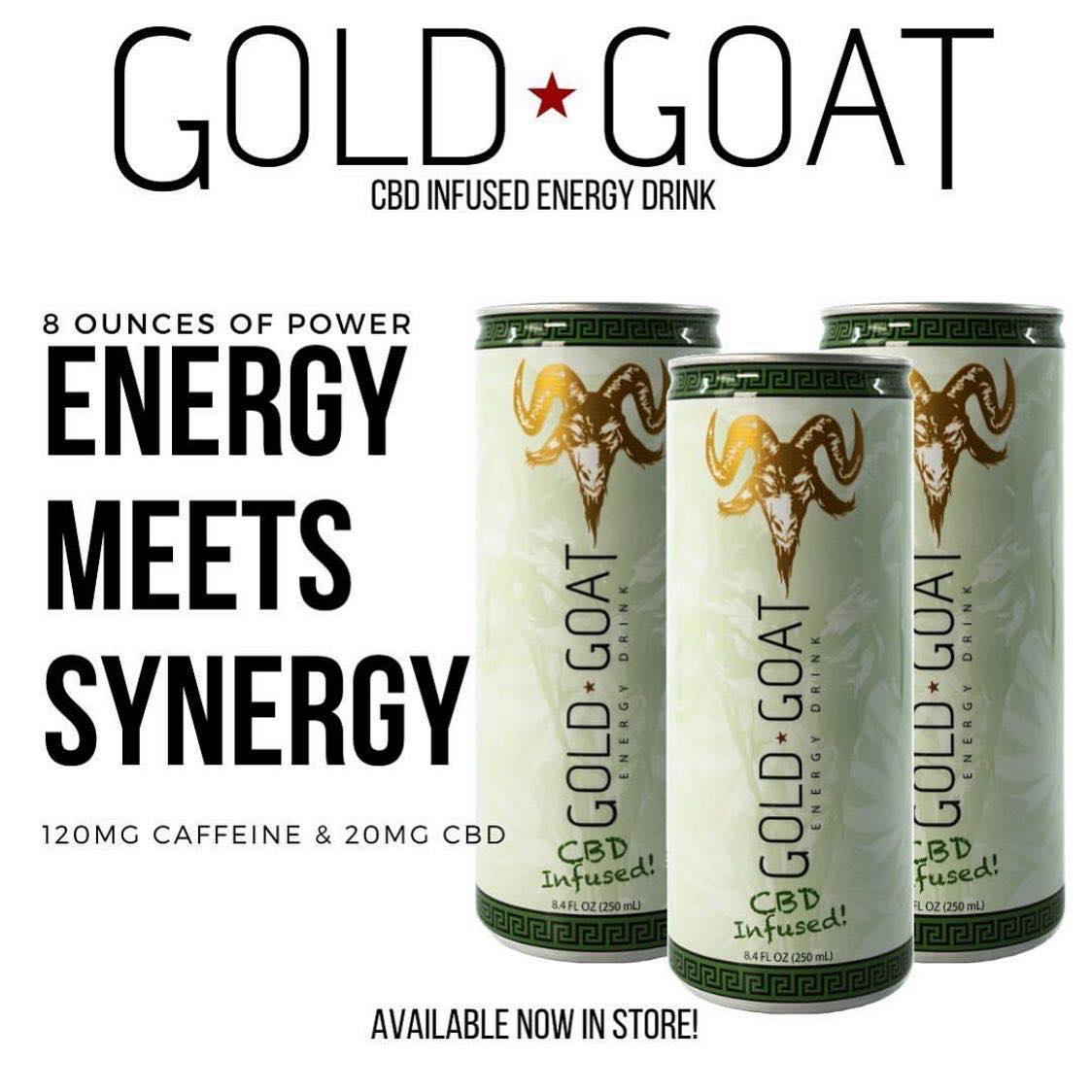 GOLD GOAT ENERGY DRINK brings together Synergy and Energy into harmony to create this truly amazing drink!
What makes GOLD GOAT special doesn't just boil down to one point. That said, the most important part of the puzzle is absolutely our flagship beverage, GOLD GOAT ENERGY DRINK CBD INFUSED! We beat the major corporations to the market with this concept! GOLD GOAT Energy Drink contains 20mg of Cannabidiol (CBD) per 8.4oz can!
GOLD GOAT ENERGY
Our product uses only the best ingredients including USA grown Hemp. We use True Full-Spectrum Water-Soluble CBD from Global Cannabinoids which is infused into the drink using a process that culminates nano-sized micro emulsion. The reason we use this process and why it's such an important part of our beverage is because it ensures the 20mg of CBD we claim to include in our 8.4oz energy drink is actually inside of it. We also only use the best CBD but also the best ingredients to create a great light tasting energy drink that stands out and can hold its own.
We take great pride at making the best possible product for our customers, and to be able to market to a broad variety of consumers. GOLD GOAT ENERGY DRINK CBD INFUSED is Vegan, Non-GMO and is Halal-Approved. The factory that makes our ONE-OF-A-KIND Energy Drink is also ISO Certified, HACCP Certified and holds an USA FDA Registration. These allow us to stand out and be different than everyone else in our segment, and we will continue to find new ways to stand out.
So you ask, What is Water-Soluble CBD?
Cannabinol which is the scientific name for CBD is an oil in its natural form found inside the Hemp plant to start with. CBD works in conjunction with the body's Endocannabinoid System to help the body maintain a state of internal balance. The process for creating most water-soluble CBD oils involves "nanoparticles" which simply means the CBD molecules have been broken down to a very tiny nano-sized making them more easy to absorb.
Currently we are only offering our Original Gold Goat Energy Drink – CBD Infused. We do have other products coming up that are currently in the research and development stage.
Media Contact
Company Name: Gold Goat Energy North East, LLC
Contact Person: Philip Oxman
Email: Send Email
Phone: 4102165233
Country: United States
Website: https://mrcheckout.net/gold-goat-energy/