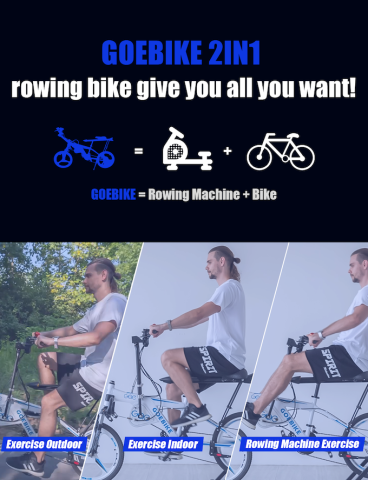 Leading fitness company GOEBIKE is proud to introduce its GOEBIKE 2IN1 Rowing Bike, the perfect walking gym with adjustable handlebar, Seat and 7-speed adjustment.
Traditional bike exercise can only exercise limited body parts, is not as comprehensive as the rowing machine, and can not work indoors like the cycling bike. Moreover, it's easy to be bored when one exercises in one action. The GOEBIKE was made to be the perfect cross-training equipment.
Cross-training is essential to prevent injury and strengthen the muscles you don't use on the bike. Rowing does this exceptionally well. The anterior body (like the chest) is hunched forward on a bike, and rowing opens these muscles up while strengthening the posterior side of the body (like the back and the back of your legs).
This is where the dual-purpose GOEBIKE comes in handy. The bike can be ridden indoors like a cycling bike or outdoors like a traditional bike. It can be converted into a rowing machine. The cycling mode of the GOEBIKE is no different from an ordinary bicycle. It mainly exercises the rear thigh muscle and calf muscle.
The main concept of the GOEBIKE rowing bike is a fitness and travel tool – it can be used as a means of transportation like a regular bicycle. It can also be used as fitness equipment like a rowing machine.
GOEBIKE has three modes: cycling mode, mixed mode (cycling + rowing), and rowing mode. These three modes you can switch without triggering gear, so your fitness options are more diverse to meet your different exercise needs.
The mixed mode of GOEBIKE combines cycling and rowing at the same time. This simultaneously exercises the arms, thighs, shoulders, neck, waist, and abdomen. While driving the vehicle forward for a full-body workout, you can also increase the vehicle's speed, making riding more fun and easier.
In the rowing mode, the arm-paddling action drives the vehicle forward. Power is provided by pulling the handlebar stem with both hands, and the handlebar stem transmits power to the bike's rear wheel through the gear and the chain.
Sports enthusiasts who tested the GOEBIKE have nothing but rave reviews for the bike. "I'm in love with this bike. It's the perfect economic and practical fitness equipment! I love the fact that the handlebar height, saddle angle, and seat bar height can be adjusted. I also tried it with the bike stand I have at home where I switched different modes as needed. Hence, I'm not restricted by the environment. I can exercise at home or outside. I'll heavily recommend the GOEBIKE to my family and friends," declared fitness enthusiast, Federico Peters.
To get an in-depth look at the fascinating GOEBIKE 2IN1 Rowing Bike, check out the company's page on Kickstarter.
Media Contact
Company Name: GOEBIKE
Contact Person: Barry
Email: Send Email
Country: China
Website: https://www.kickstarter.com/projects/goebike/goebike-2in1-rowing-bike-your-pefect-walking-gym