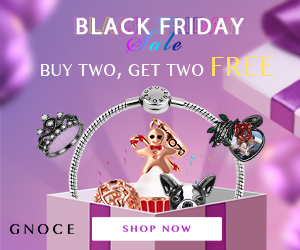 Gnoce charms and other pieces is sold with unbelievable discount, buy 2 get 2 free, shop now for gnoce charms jewelry!
Gnoce Black Friday and Cyber Monday Sales are here, which means it's time to shop the best charms jewelry collections at the best prices of the season. With a vast selection of jewelry, Gnoce is guaranteed to have something that suits your style.
At Gnoce.com, buyers can find memorable jewelry gifts for that special someone on their list. Perhaps it's charms for Christmas, earrings for New Year, or personalized jewelry for a best friend's birthday. Whoever it's for, buyers will be able to find all their jewelry needs at a reduced price during Gnoce Black Friday deals and Cyber Monday sales.
Finding the best offers on Black Friday and Cyber Monday can be challenging. There are shiny discounts everywhere. This is why Gnoce.com is making it more straightforward for buyers. Gnoce Black Friday and Cyber Monday jewelry collections are available ahead of time so that buyers can take their time to choose what they want, and no more setting their alarm clock to get the best offers. At Gnoce Black Friday and Cyber Monday Sales, buyers get two FREE jewelry pieces when they buy two jewelry pieces. Of course, stock are limited, so make sure to get those fabulous jewelry pieces before they are sold out.
"At Gnoce, customers are all about finding the latest fashion designs and popular styles. Our items are distinctive and designed by our brand," said the founder of Gnoce. "At this period, you need to prepare the gift for you or your special one, whether she or he appreciates bold statement pieces, classic, or vintage designs, Gnoce has everything you need and more to find a gift that is just as beautiful as they are," he added.
All of Gnoce pieces demonstrate years of crystal craftsmanship that will add a touch of glamour to any outfit. Check back to Gnoce Black Friday and Cyber Monday 2020 often for additional deals on the latest jewelry.
For the further information on Gnoce, please visit Gnoce's Facebook, Instagram, Pinterest, and YouTube pages.
Media Contact
Company Name: Gnoce
Contact Person: Media Relations
Email: Send Email
Country: United States
Website: Gnoce.com