The potato flakes market is likely to benefit from expansion of retail chains, both digital and physical, in combination with increasing product lines and product portfolios of established players.
The potato flakes market has been carefully analyzed through a smart research report published by Fact.MR. This assessment is a well-organized collection of data which focuses on the development of the overall potato flakes market. The study titled "Potato Flakes Market Forecast, Trend Analysis & Competition Tracking – Global Market insights 2018 to 2028", helps the readers is acquiring knowledge associated to leading companies and their expansions plans across diverse regions.
As per research findings, the retail sector is observing a robust rise at the global scale across various domains linked to consumer products, and potato flakes are indeed part of it. On the other hand, looking at the production of light-weight, high-quality potato flakes, the leading enterprises are reinforcing their online presence in order to advance their market reach and achieve higher shares. The study starts with the market overview and market analysis followed by macro-economic factors. In addition, readers can even get hold of information related to global economic outlook and opportunity analysis.
Request For Sample Report- https://www.factmr.com/connectus/sample?flag=S&rep_id=1510
The following section of the report focuses on the value chain analysis and market dynamics, which discourse prime drivers, trends and restraints that are impacting the global market for potato flakes during the forecast period. According to report specifics, the potato flakes market is likely to register an inspiring growth at 7.0% CAGR through 2028. It has been noted that continual growth linked to retail sales in the baby food industry, together with the contingency index of potato flakes acting as a key ingredient in various baby food products is projected to influence growth of the potato flakes market in the coming years.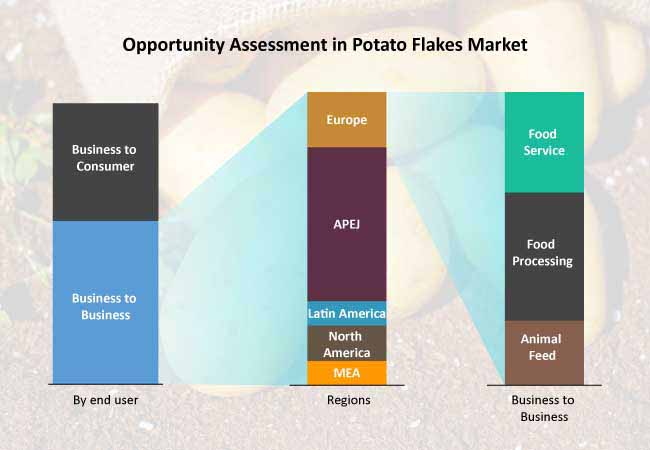 The later section of the report bifurcates the global potato flakes market on the basis of nature, end use, region and sales channel. Based on nature, the global market is divided into organic and conventional. As researched, conventional potato flakes lead the market in terms of revenues by acquiring more than 95% shares. Whereas, organic potato flakes that are still gaining pace, are expected to pick up a positive track, with growing consumer preference towards natural products which includes the use of less additives and chemicals.
The regional outlook across the global potato flakes market highlights the market share in North America, Latin America, Eastern Europe, Japan, Western Europe, APEJ, Middle East, South Africa and Sub-Saharan Africa. Among these, Asia-Pacific excluding Japan (APEJ) manages to retain its position as the dominant market for potato flakes. This is because the target region is home to some of the leading food producers in the world, including exporters and importers. Moreover, growth opportunities associated to the potato flakes market across APEJ are huge, since demand for nutrition-rich processed food, primarily from growing middle-class population is on a rise.
The final section of the report talks about the competitive analysis which highpoints the various players from the potato flakes market. Bob's Red Mill Natural Foods, Inc., Nestle S.A., Idahoan Foods, LLC., McCain Foods Limited, Basic American Foods, Inc., Rixona B.V., Patwary Potato Flakes Ltd., Agrarfrost GmbH & Co. KG, Goodrich Cereals and Clarebout Potatoes NV, are some of the major companies that are operating in the global market for potato flakes.
Browse Full Report with TOC- https://www.factmr.com/report/1510/potato-flakes-market
About Fact.MR
Fact.MR is a fast-growing market research firm that offers the most comprehensive suite of syndicated and customized market research reports. We believe transformative intelligence can educate and inspire businesses to make smarter decisions. We know the limitations of the one-size-fits-all approach; that's why we publish multi-industry global, regional, and country-specific research reports.
Contact Us
Fact.MR
11140 Rockville Pike
Suite 400
Rockville, MD 20852
United States
Email: sales@factmr.com
Media Contact
Company Name: Fact.MR
Contact Person: Nicholas Maze
Email: Send Email
Phone: +353-1-6111-593
Country: Ireland
Website: www.factmr.com/report/1510/potato-flakes-market