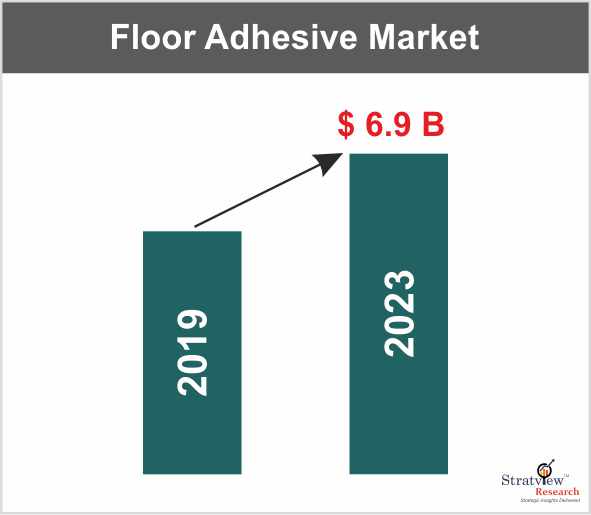 Stratview Research has provided an estimation that the Floor Adhesive Market should rise up to US$ 6.9 Billion by the year 2023.
Floor adhesives offer great support in creating beautiful flooring designs in various buildings. Stratview Research experts have done an extensive study of data from different sources and have analyzed them to come up with the Floor Adhesive Market report.
Modern buildings are built with different flooring options such as wooden, tiles, stones, and laminated for the purpose of beautification and also based on factors such as heat resistance, footfall, and others. Different flooring is installed through different methods such as mechanical fastening systems, cementitious products, and adhesives.
Adhesives are known to be the most popular and dominating segment of all three due to its various benefits such as strong adhesion, an ability to bond dissimilar materials, moisture resistance, longer life, and ease of installation.
Go through the Table of Contents:
https://www.stratviewresearch.com/toc/333/Floor-Adhesives-Market.html
Different adhesives are used in different places such as commercial areas, shopping malls, hospitals, and others based on a number of properties such as its response to chemical, water and heat resistance, UV resistance, adhesion strength, and other mechanical and electrical properties.
Stratview report assumes the global floor adhesive market to grow to reach a market size of around US$7 billion by 2023. The top five manufacturing players of the current market stated by the Stratview report are Henkel AG and Co. KGaA, Arkema Inc., Sika AG, Mapei Corporation, and H.B. Fuller.
Region-wise, Asia-Pacific is the dominant region in the market of global floor adhesives due to the countries China, Japan, and India. Apart from these three countries, the USA and Germany also hold good capture.
Read complete report description:
https://www.stratviewresearch.com/333/Floor-Adhesives-Market.html#tab_default_1
The major floor adhesives used are acrylic, polyurethane, epoxy, and vinyl. Among these, the acrylic adhesives have the largest market share and have properties such as resistant to fire, bonding dissimilar materials, faster curing, and unique designs. Also, polyurethane adhesives are the second largest growing segment and are known for its properties like long-lasting surface finish, scratch-resistant, fast-drying, and UV resistant.
The Stratview report also shows the increasing use of water-based adhesives discouraging the use of solvent-based adhesives due to the environment and work safety regulations on VOC emissions.
Request a free sample:
https://www.stratviewresearch.com/Request-Sample/333/Floor-Adhesives-Market.html
The growing market of the global construction industry has also led to an increase in the market of global floor adhesive market. This is because due to the amazing properties of the adhesives, they are consistently replacing other traditional options such as mechanical fasteners, and have already replaced other options such as glue and conventional cement.
The growing market has also led to a number of mergers and acquisitions, and product launches such as Bona R851, Greenforce, and many others about which the Stratview reports talks in detail.
Rapid innovations are making the floor adhesives even perfect so that they can replace the traditional forms completely. With this, the global market is sure to see healthy growth in the segment in the coming few years.
Subscribe to the Stratview report and get detailed research about the floor adhesives.
Salient Features of the Report
The Stratview Report will offer you a detail view about the need of the FR resins, the growth of the FR resin market and the future prospects of the market. Here are the key features of the report:
Strategic Segmentation
Competitive Analysis
Strategic Growth Opportunities
Swot Analysis
Key Players
Forecast Analysis & Future Growth
Custom Research:
Custom research reports are the specialized area of the global market research company Stratview Research. If you have a requirement in market research, target screening, or others in sectors of automotive, aerospace, construction, advanced material, consumer goods, healthcare, and oil & gas, get in touch at sales@stratviewresearch.com to get an answer.
About Stratview Research:
The global market research company, Stratview Research has been dealing with different market research reports in different sectors such as Advanced Materials, Aerospace & Defense, Automotive & Mass Transportation, Consumer Goods, Construction & Equipment, Electronics and Semiconductors, Energy & Utility, Healthcare & Life Sciences, and Oil & Gas. The team consists of the best experts who are known to offer the best assessments and screenings so that the interested companies can afford to rely upon and take corrective decisions ahead.
Media Contact
Company Name: Stratview Research
Contact Person: Ritesh Gandecha
Email: Send Email
Phone: +1-313-307-4176
Address:400 Renaissance Center, Suite 2600
City: Detroit
State: Michigan
Country: United States
Website: www.stratviewresearch.com