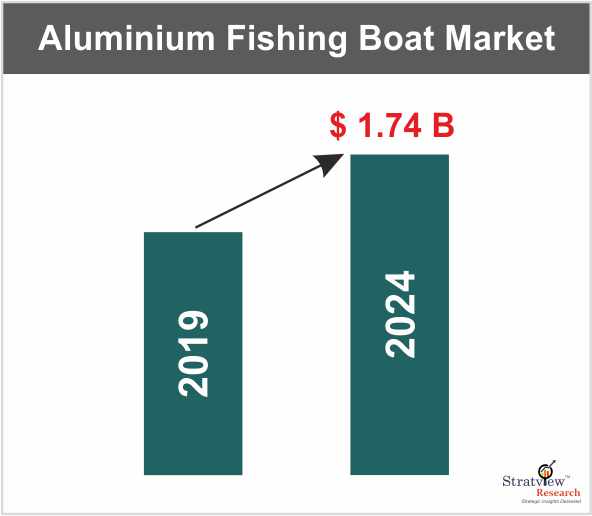 Stratview Research report states growth in the Aluminum Fishing Boat Market to reach US$ 1.74 Billion by 2024.
Aluminum fishing boats are beneficial for their eminent features of lightweight, durability, and easy maintenance, Stratview Research report on Global Aluminum Fishing Boat Market analyses the current market data and also highlights the estimations for the forecast period of 2019 – 2024.
Involvement in leisure-time outdoor activities like fishing has been noted to be quite high in countries like the USA and Canada. This has led to a growth in the demand for options such as aluminum fishing boats. Stratview Research has published a report on global aluminum fishing boat market that explains in detail about the current market and the future prospects.
Aluminum fishing boats are known for their various benefits over fiberglass boats such as lightweight, durability, and also easy to maintain feature.
Click here to have a look at the Table of Contents:
https://www.stratviewresearch.com/toc/466/aluminum-fishing-boat-market.html
Deep-V boat, Bass Boat, multi-species Boat, and others are some of the types of aluminum fishing boats available among which the number of Deep-V boats is much higher globally, especially in the USA.
They are available in different sizes and have been segregated as lesser than 14 feet, 14 – 16 feet and higher than 16 feet. The domination of the boat types more than 16 feet is much higher globally.
Stratview Research report also states about the engine types used in the aluminum fishing boats and these are categorized as lesser than 200 HP, 200-300 HP and higher than 300 HP. The market for the boats with lesser than 200 HP is much high globally as per the report analysis.
The complete Report Description can be viewed at:
https://www.stratviewresearch.com/466/aluminum-fishing-boat-market.html
As per the analysis of Stratview experts, varied reasons such as increasing new boat sales, preference of aluminum fishing boats, increasing number of fishing participants, and affordability has led the global aluminum fishing market to grow at a good CAGR by 2024.
The report further states that in the year 2018, North America held more than three-fourth of the share in the global market, followed by Europe and Asia-Pacific.
Click here to request a sample of the report:
https://www.stratviewresearch.com/Request-Sample/466/aluminum-fishing-boat-market.html
Brunswick Corporation, White River Marine Group, Bombardier Recreational Product Inc., and Yamaha Motor Company Ltd are known to be the top four manufacturing players that together hold more than half the share of the global aluminum boat fishing market.
The Stratview report has illustrated some of the emerging trends that can lead to further growth of the market and also about different new products such as New Angler V Series Outfitter V177T and many others.
Wish to get more insights? Subscribe to the Stratview Research report on the Global Aluminum Fishing Boat Market.
Salient Features of the Report
Stratview report on Global Aluminum Fishing Boat Market discusses the current trends in the said market and also the future forecasts. The key features of the report are:
Strategic Segmentation
Competitive Analysis
Strategic Growth Opportunities
Swot Analysis
Key Players
Forecast Analysis & Future Growth
Custom Research:
Stratview Research also specializes in custom research reports. Contact at sales@stratviewresearch.com to get more details about such custom reports.
About Stratview Research:
Stratview Research has gained expertise in offering market reports, custom reports, etc for a wide number of sectors such as Advanced Materials, Aerospace & Defense, Automotive & Mass Transportation, Consumer Goods, Construction & Equipment, Electronics and Semiconductors, Energy & Utility, Healthcare & Life Sciences, and Oil & Gas The global market research company has a team of professional researchers and experts and believe in offering the best-authenticated reports and screenings to the companies interested in such reports.
Media Contact
Company Name: Stratview Research
Contact Person: Ritesh Gandecha
Email: Send Email
Phone: +1-313-307-4176
Address:400 Renaissance Center, Suite 2600
City: Detroit
State: Michigan
Country: United States
Website: www.stratviewresearch.com