Giftoin Blockchain-based Platform Enables Online Retailers, Corporations and Crypto Exchanges to Easily Enter eCommerce 3.0
Giftoin has developed a unique blockchain-based, end-to-end solution that opens up Web3 eCommerce and virtual gifting to online retailers, corporations, gamers, exchanges and more. Giftoin's solution is based on the revolutionary Decentralized eCommerce 3.0 Stack.
The Decentralized eCommerce Stack contains four tiers: At the foundation is the blockchain infrastructure and protocols which underpin the technology. The second tier – infrastructure and bridges – includes practical applications such as inventory storage, smart contract solutions, performance platforms, and more. The third tier contains platforms for Web3 enablers, enabling rapid management of a wide variety of functions including payment processing, authentication, customer services and more. The top tier features infrastructure services such as inventory storage, smart contract solutions, performance platforms and more.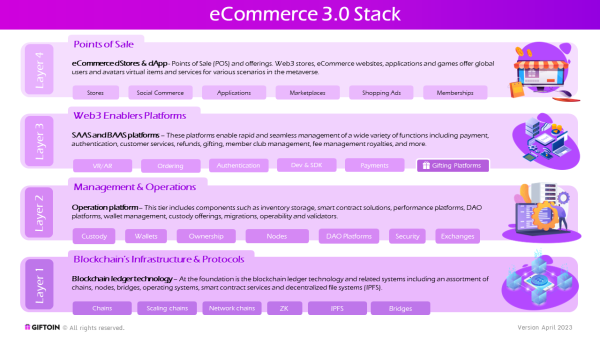 For the full article: https://giftoin.com/meet-de-com-the-decentralized-e-commerce-3-0-stack
Giftoin is currently pioneering in the utilization of tier 2 tools following the development of its innovative A to Z Web3 gifting solution, which manages every stage of the virtual gifting process including payments, transactions, creation, wrapping, dispatching, and crypto wallets. Web3 gifting enables corporations, online retailers, exchanges, and other interested parties to increase revenues, attract new geographies and audiences, reduce cross-border payments, cut third-party fees, and more.
"At Giftoin, we believe that decentralized eCommerce 3.0 (DeCom) is the natural course that the online economy will take in the near future. Blockchain-based and metaverse-based eCommerce will enable greater transparency, increased security and trust, a deeper sense of community, and enhanced privacy for a wide variety of users," notes Giftoin Founder and CEO Aviv Katz.
Media Contact
Company Name: Giftoin ltd
Email: Send Email
Country: Israel
Website: Giftoin.com