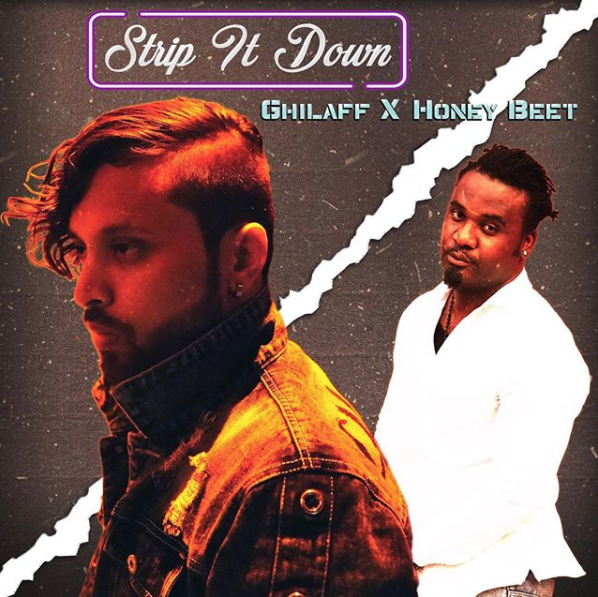 May 1, 2020 – When two creative head come together, the outcome is creativity at its sublime best. The new single by recording artist Ghilaff featuring Honey Beet, 'Strip It Down' will mesmerize listeners with its cool, enchanting vibes, and an equally enchanting visual depiction in the video.
Youthful, romantic, sensual. 'Strip It Down' is like a dream that plays out before the eyes, and the lively beats and soothing sounds take the listener further down into a world where they are alone with their fantasy partner.
'Strip it Down' ft. Honey Beet has just been released on Ghilaff's official YouTube channel and is available on all major streaming platforms.
Ghilaff is an emerging recording artist whose debut EP was released last year, called 'Before you'. Ghilaff is busy working on a sequel version called 'WithU', which will feature six tracks, all carrying different moods and based on real life situations, exploring the different shades of love life. The first single from the album (Devil) can be heard on Ghilaff's YouTube channel.
'Strip it Down' was borne in one such session, when Honey Beet visited Ghilaff to record one of his songs. When he heard Ghilaff's 'Strip It Down', he did a freestyle version on the beat. His impression was conveyed in just one line, "Damn Ghilaff, you can make any song on any topic". The vibes and composition were simply great, and so Honey Beet wrote down the lyrics on his phone, and the entire song was then recorded in just a few minutes.
"Strip it Down is one of my all-time favorite tracks. This song is all about showing love to your partner in a very clear way without using the 'F' word!" says Ghilaff.
Rapper and singer Honey beet is the next star in the making. Of late, both Ghilaff and Honey Beet have been jamming together making songs, and the future will reveal what new musical creations they have to share with the world.
For more information, please visit: www.ghilaffrecordings.com
Connect with Ghilaff:
Instagram: https://www.instagram.com/ghilaff
Spotify: http://bit.ly/Ghilaffonspotify
Connect with Honey Beet:
Instagram: https://www.instagram.com/h_beet
Spotify: https://spoti.fi/2zABIIk
Media Contact
Company Name: Ghilaff Recordings
Contact Person: Mark Henny
Email: Send Email
Country: United States
Website: https://www.ghilaffrecordings.com/