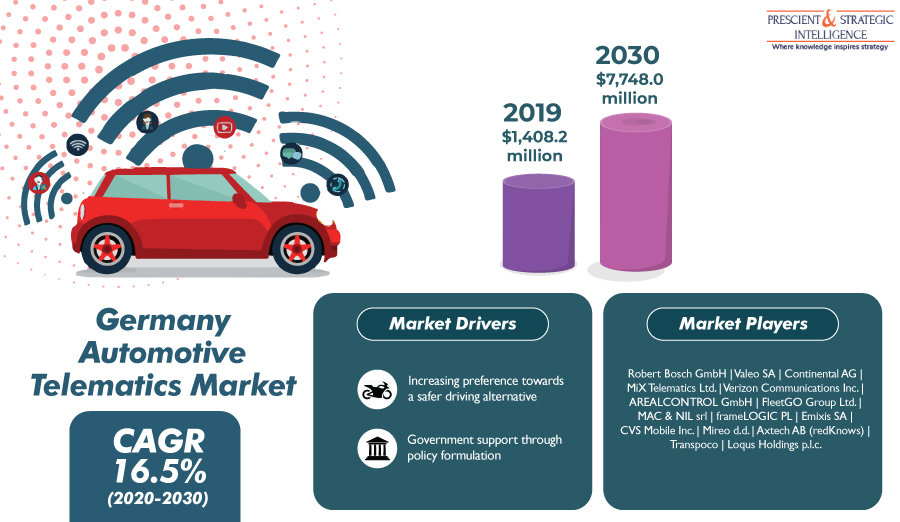 The German automotive telematics market size is projected to advance with a CAGR of 16.5% during 2020–2030.
In the first half of 2020, Germany saw over 1,281 road crash fatalities, according to the Federal Statistical Office (Destatis). Unfortunately, humans themselves are responsible for most road accidents, which is why the need for a system that can help people while driving has been felt. Automotive telematics systems have emerged as a solution to this problem as they help automobiles communicate with other automobiles, the surrounding infrastructure, and the consumer electronics of those inside.
P&S Intelligence expects the German automotive telematics market value to increase to $7,748.0 million by 2030 from $1,408.2 million in 2019, at a 16.5% CAGR between 2020 and 2030. This will mainly be because of the combined efforts of the Deutsche government and the European Union (EU) to make roads safer. For instance, the EU has made the installation of the eCall system mandatory; this system autonomously contacts emergency services in case of a severe vehicle crash. As per the EU, this system could potentially save 2,500 people from dying on the road every year. However, vehicle and people safety and security are not the only purposes of having the telematics technology in automobiles; it is also being used for infotainment and navigation, fleet/asset management, remote diagnostics, insurance telematics, and vehicle-to-pedestrian (V2P), vehicle-to-everything (V2X), and vehicle-to-network (V2N) communication. Among these, the most-used automotive telematics service in the country in the coming years will be fleet/asset management due to the growing fleet of commercial vehicles.
Request for sample copy of this report: https://www.psmarketresearch.com/market-analysis/germany-automotive-telematics-market/report-sample
Such solutions help commercial vehicle drivers/fleet owners reduce their operational expenses, by sending vehicle condition and service reminders and enabling vehicle tracking and diagnostics, vehicle financing, transfer of usage data, and vehicle maintenance alerts. However, till now, automotive telematics solutions in the country have been majorly used for infotainment and navigation. Such solutions sync the vehicles' internet connection and infotainment systems with passengers' smartphones, laptops, and tablets, thus allowing them to stay connected to the outside world.
The deployment and efficient functioning of such systems is dependent on the internet speed, which is why the widening 5G network will act as a key German automotive telematics market growth factor. For the vehicle to communicate with passengers' smartphones and tablets, traffic lights, and other pieces of outside infrastructure, and other vehicles, the internet connectivity needs to be robust. In this regard, the 5G Action Plan drafted by the EU in 2016 will play a vital role, as its main aim is to launch 5G services in Germany and other member states. Under this, uninterrupted 5G connectivity is to be ensured along main transportation arteries and urban areas in the region by 2025.
Browse report with detailed COVID-19 impact analysis on Germany Automotive Telematics Market Size and Growth Forecast to 2030
This will also allow for the mass uptake of autonomous vehicles, where the telematics technology takes the center stage. As level 5 autonomous vehicles will steer themselves without the need for a human driver, their ability to communicate with their surrounding infrastructure needs to be impeccable. If the EU is able to deliver on its 5G Action Plan, it will coincide with the launch of level 4 and level 5 autonomous vehicles in 2023 and 2025, respectively, which might benefit the entire transportation sector and the human society at large.
Hence, with the government of Germany and EU taking concrete efforts to make roads safer, the demand for automotive telematics solutions is bound to skyrocket in the country.
Market Size Breakdown by Segment
By Product Type
Embedded
Tethered
Integrated
By Service
Safety and Security
Infotainment and Navigation
Remote Diagnostics
Fleet/Asset Management
Insurance Telematics
Vehicle to Everything (V2X)
By Channel
Original Equipment Manufacturers (OEMs)
Aftermarket
By Vehicle Type
Two-Wheeler
Passenger Car
Commercial Vehicle
Construction Machines
By Verticals
Transportation and Logistics
Government and Utilities
Travel and Tourism
Construction
Education
Healthcare
Media and Entertainment
By Offerings
Hardware
Software
Services
Browse Other Related Reports
Automotive Telematics Market Report
The automotive telematics market is being driven by the soaring requirement for greater vehicle safety and more efficient road traffic, mushrooming deployment of connected vehicles, and the implementation of favorable government regulations regarding the adoption of automotive telematics systems across the world.
Micromobility Telematics Market Report
Till now, Asia-Pacific has generated the highest revenue for micromobility telematics market players on account of the heavy investments being received by regional technology start-ups and micromobility companies.
Media Contact
Company Name: P&S Intelligence
Contact Person: Abhishek
Email: Send Email
Phone: +918887787886
Address:Noida Sector 2
City: Noida
State: UP
Country: India
Website: https://www.psmarketresearch.com/market-analysis/germany-automotive-telematics-market