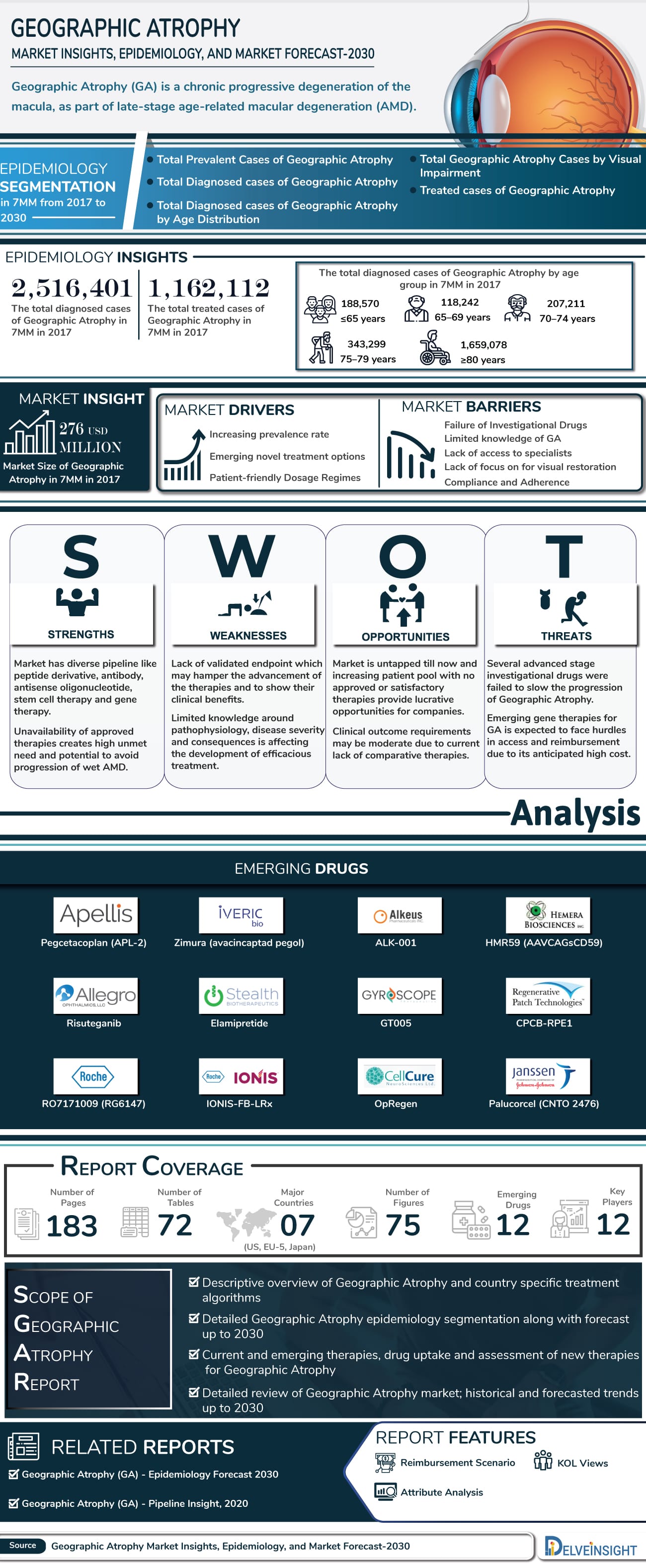 DelveInsight has introduced a new market device report of Geographic Atrophy Market
Geographic Atrophy Overview
Geographic atrophy (GA) is a chronic progressive degeneration of the macula, as part of late-stage age-related macular degeneration (AMD). The disease is characterized by localized sharply demarcated atrophy of outer retinal tissue, retinal pigment epithelium, and choriocapillaris. It starts typically in the perifoveal region and expands to involve the fovea with time, leading to central scotomas and permanent loss of visual acuity. It is bilateral in most cases.
DelveInsight's "Geographic Atrophy (GA) – Market Insights, Epidemiology, and Market Forecast-2030" report delivers an in-depth understanding of the Geographic Atrophy (GA) , historical and forecasted epidemiology as well as the Geographic Atrophy (GA) market trends in the United States, EU5 (Germany, Spain, Italy, France, and United Kingdom) and Japan.
Request for sample- Geographic Atrophy Market Report
Some of the key highlights of the Geographic Atrophy market report
Globally, more than 5 million people are affected by GA. Also, as per the published study by GER group, the global prevalence of GA is 0.66% in all ages, but it occurs in 0.34% for 65–74 years old, 1.3% for 75–84, and 4.4% over 85 years old.
Over 8 million people are affected worldwide with GA, approximately 20% of all individuals with AMD.
The overall prevalence rate of geographic atrophy of the US population 40 years and older was 0.81 per 100 people.
Geographic Atrophy Market Companies
Hemera Biosciences
Alkeus Pharmaceuticals
Iveric Bio (formerly Ophthotech Corporation)
Apellis Pharmaceuticals
Geographic Atrophy Market Insights
Unfortunately, there is no treatment for this condition. However, several pathways have been implicated in the pathogenesis of dry AMD (d-AMD), and many drugs are under evaluation. Trials of novel interventions have been conducted in participants with significant areas of GA already present. It is currently the most pragmatic approach to determine efficacy, as the endpoints are well-validated and approved by the US Food and Drug Administration (US FDA).
Geographic Atrophy Diagnosis
The development of imaging technologies has contributed to the understanding of the genesis and pathophysiological mechanisms of GA secondary to AMD. At present, to distinguish GA from other forms of dry AMD, color fundus photography and biomicroscopy FA examination are used. In addition to this, modern in vivo imaging technology, such as spectral-domain optical coherence tomography (SD-OCT) and fundus autofluorescence (FAF) allows for non-invasive and rapid quantitative morphological assessment of GA in the clinical setting also being used for GA.
Currently, there are no approved treatments present for GA. The AREDS study suggested that supplementing the diet of patients with vitamin C, vitamin E, beta-carotene and zinc could significantly reduce the risk of progressing to advanced AMD and sometimes low visual aids and counseling is also helpful. Several therapies which reached in advanced stage of development are already failed, however currently several therapies are in the pipeline to prevent the progression of GA.
Geographic Atrophy Market Report Scope
The report covers the descriptive overview of Geographic Atrophy (GA) , explaining its causes, signs and symptoms, pathophysiology, diagnosis and currently available therapies
Comprehensive insight has been provided into the Geographic Atrophy (GA) epidemiology and treatment in the 7MM
Additionally, an all-inclusive account of both the current and emerging therapies for Geographic Atrophy (GA) are provided, along with the assessment of new therapies, which will have an impact on the current treatment landscape
A detailed review of Geographic Atrophy (GA) market; historical and forecasted is included in the report, covering drug outreach in the 7MM
The report provides an edge while developing business strategies, by understanding trends shaping and driving the global Geographic Atrophy (GA) market
For More Information- Geographic Atrophy Market Insights
Table of content
1. Key Insights
2. Executive Summary of Geographic Atrophy (GA)
3. KOL Views
4. SWOT Analysis of Geographic Atrophy (GA)
5. Geographic Atrophy: Market Overview at a Glance
6. Geographic Atrophy: Disease Background and Overview
7. Diagnosis/Imaging of GA
8. Epidemiology and Patient Population
9. The United States Epidemiology
10. EU-5 Epidemiology
11. Japan Epidemiology
12. Treatment of GA
13. Unmet Needs
14. Patient Journey of GA
15. Key Endpoints in Geographic Atrophy (GA) Clinical Trials
16. Emerging Therapies
17. Conjoint Analysis of Geographic Atrophy (GA)
18. Geographic Atrophy (GA): Seven Major Market Analysis
19. 7MM Market Size
20. Market Access and Reimbursement of Geographic Atrophy (GA) Therapies
21. Market Drivers of GA
22. Market Barriers of GA
23. Appendix
24. DelveInsight Capabilities
25. Disclaimer
26. About DelveInsight
About DelveInsight
DelveInsight is a leading Business Consultant, and Market Research firm focused exclusively on life sciences. It supports Pharma companies by providing comprehensive end-to-end solutions to improve their performance. It also offers Healthcare Consulting Services, which benefits in market analysis to accelerate the business growth and overcome challenges with a practical approach.
Contact Us
Yash
info@delveinsight.com
Media Contact
Company Name: DelveInsight Business Research LLP
Contact Person: Yash Bhardwaj
Email: Send Email
Phone: +919650213330
Address:304 S. Jones Blvd #2432
City: Las Vegas
State: NV
Country: United States
Website: https://www.delveinsight.com/