GBRI's International Sustainability Program is Growing
NEW YORK CITY, NY – March 31, 2021 – GBRI's international sustainability program has been steadily growing as more students join.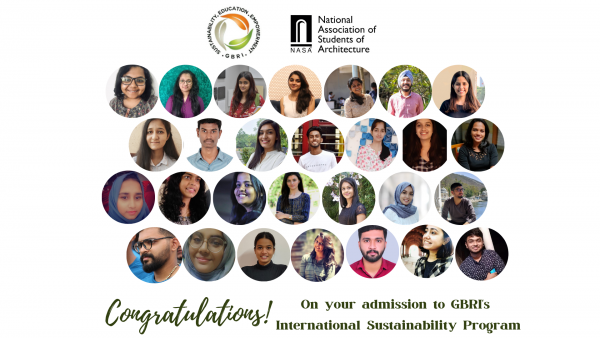 GBRI's International sustainability program was revitalized earlier this year after a new partnership agreement was signed with National Association of Students in Architecture (NASA) in India. Following an online sustainability assessment and a virtual phone interview, 28 individuals were admitted to this program that was kickstarted in early March.
The mix of candidates represent students and graduates in Architecture and Engineering (Civil, Mechanical and Electrical). The 3-and-a-half-month program allows participants to research, learn, and apply sustainability practices by creating educational content for GBRI. Participants will take many sustainability courses during this term including preparing for LEED Green Associate or WELL accreditation. Participants join as sustainability Rookies, become champions mid-way, and graduate as Sustainability ambassadors.
GBRI President and Director of Sustainability Jeslin Varghese hopes to expand this program to accommodate more Universities, Colleges, and students from across the globe.
The main outcomes of this program are to empower students through scholarship programs for students in architecture, introduction of sustainability and career webinars, and various talks. We hope to allow students the opportunity to learn and grow through this program. We also believe it will strengthen GBRI as a company through this partnership.
Part of the sustainability program will focus on prep materials for the National Aptitude Test in Architecture (NATA) exam. These test materials will be made by both GBRI and NASA. Exam prep tools will consist of, a road map, video lessons, practice questions, sketching videos, and simulated mock exams.
GBRI's Learning Management System will be hosting the NATA prep exam, which is free for all students of the course. Beyond the course, a discussion group page will also offer students a chance to interact with each other on the topic of sustainability, questions about applying for the exam, prep tips for the exam, and selecting the right architectural college.
Together, NASA and GBRI hope to help aspiring future architecture students get into the college of their dreams and reach their goals. We believe that prep measures like courses, exam prep, and more are what will ensure a bright future and success in the architectural world. We also believe that for a greener future, greener buildings must be discussed in the same equation. We hope to have a more sustainability-minded group of students working in the architecture world because of this program.
We're excited about the growth of this program that we've already seen and the growth we expect to see in the future for not only this program, but sustainability.
Media Contact
Company Name: GBRI
Contact Person: Michelle Crawford
Email: Send Email
Phone: +1 210-858-7783
Address:1732 1st Ave
City: New York
State: NY 20278
Country: United States
Website: https://www.gbrionline.org