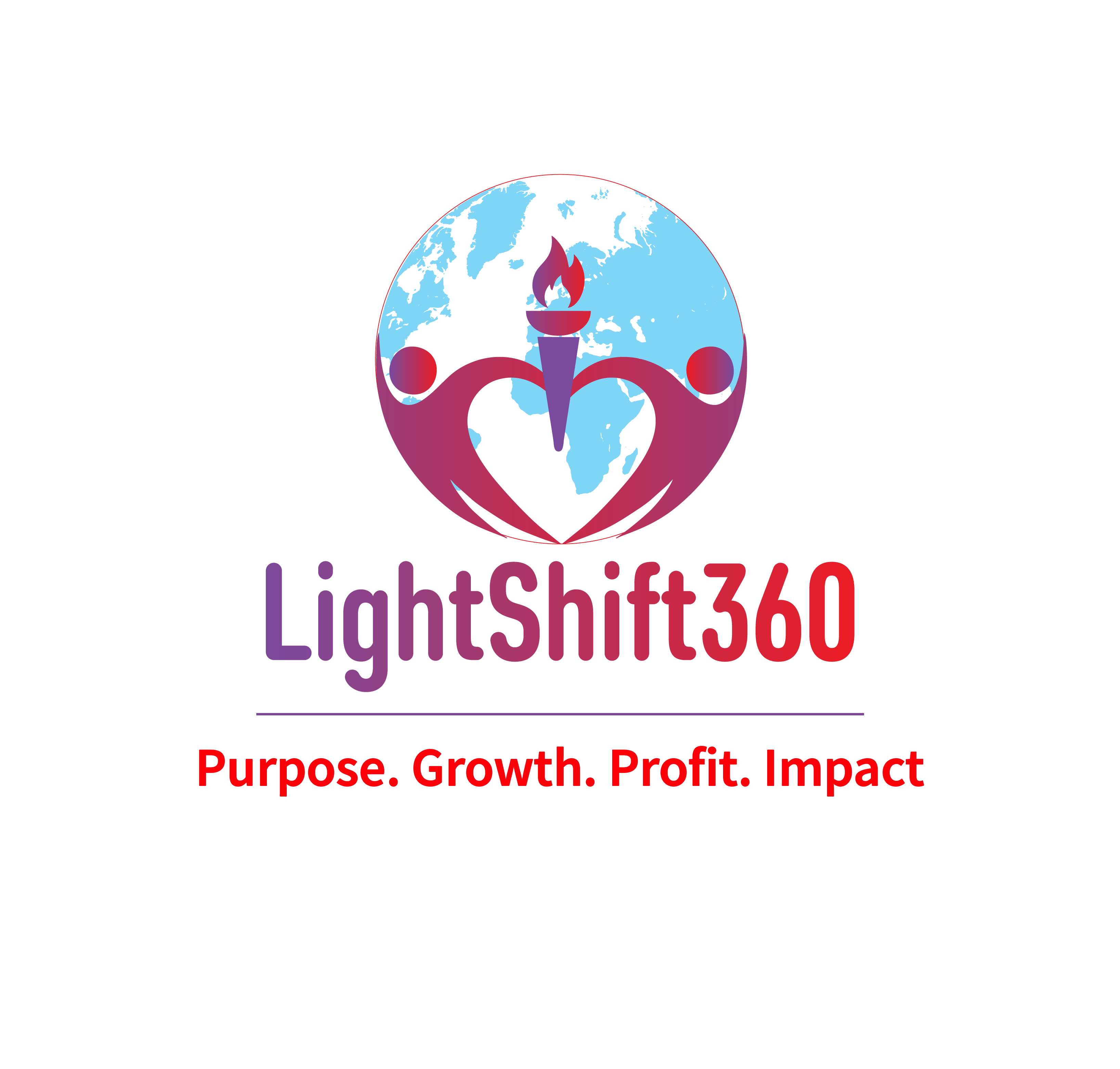 April 15, 2021 – LightShift360, LLC CEO and Founder Gail M. Carter celebrated this year's International Women's Day in the company of many successful women in a roundtable live stream that was based in Australia.
The event was titled, "From Challenge Comes Change", #ChooseToChallenge. Along with other accomplished women, Gail M. Carter took a break from business to share and sensitize viewers about ways to reduce cultural bias, gender bias, and inequality in workplaces.
The theme of the event, #ChoosetoChallenge encourages individuals to take a stand against gender bias and inequality.
Gail and the team at Vanguard Australia and FEW came together on International Women's Day (IWD), not only to point out the problems but also offer solutions. The roundtable talk encouraged viewers to take responsibility by challenging events of gender bias. It pointed out the importance of adequate representation and also the role of organisations and leaders in creating cultures of inclusion.
Gail suggested that gaining cultural awareness about other people's way of life is crucial to respecting their beliefs and possibly partaking in them. In her own words, she said, "I feel that having cultural awareness and talking through issues to help people embrace other cultures is important. That's why I believe traveling around the world helps so much too because it creates empathy and it creates awareness so that people don't create false stereotypes."
"Knowing your strengths, your values and your why or why you're here, I really believe creates that authenticity in oneself". – Gail M. Carter
The International Women's Day roundtable talk was hosted by senior leaders from Vanguard Australia, Shanna C Nutter, Principal Superannuation and CFO, Johanna Platt in partnership with Alex Tulio, CEO, Financial Executive Women (FEW). Other panelists in this inspiring panel discussion included Dr. Cortina McCurry, CEO, Caía, and Gail M. Carter MBA, MA, PE, CEO and Founder of LightShift360, LLC.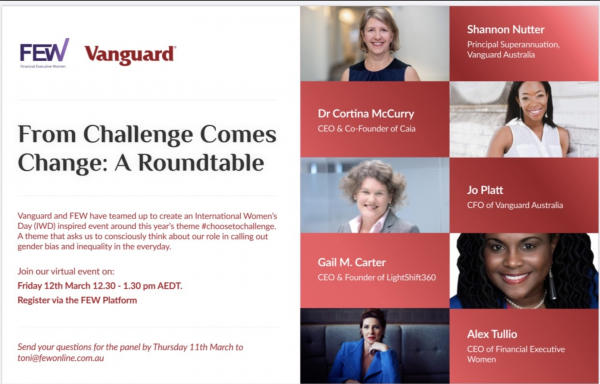 As a successful woman and leader, Gail M. Carter has come to be an inspiration for many. She leverages her extensive career in Corporate America and global nonprofits to create sustainable strategies that help clients to "Own Their Power" in various areas of their lives. She is a best-selling and 7x published author, an international speaker, a success coach and Global Philanthropist in many countries, originally from Barbados. She has traveled to over 20 countries and 4 continents. Before becoming an entrepreneur, Gail worked as a professional engineer and manager on billion-dollar projects at Fortune 300 companies in the energy and construction industries.
She earned an M.B.A., Business Administration, University of Central Florida, a Master of Arts (M.A.), degree in Sustainable International Development from the Heller School for Social Policy and Management at Brandeis University, Massachusetts, and a B.S., Civil Engineering, Florida Institute of Technology.
Gail has been recognized for her leadership, volunteerism and accomplishments by receiving the Junior League's Woman to Watch Award, the People's Choice Award and has been featured in Courageous Woman Magazine. She is also a contributing writer for WE Magazine for Women.
Gail M. Carter is the creator of the Renewal360 Encounter, the Impact360 Leadership System, and S.E.R.V.E Blueprint. As an executive life coach and strategist, her services include private and group personal development and accountability coaching, interactive online and in-person workshops and events as well as global retreats within the Impact360 Leadership Program.
LightShift360 follows an innovative success blueprint, modeled by Gail herself. The LightShift360 S.E.R.V.E. Blueprint system combines five key strategies to help professionals scale higher in their careers.
Gail enjoys inspiring individuals to grow, step out of their comfort zone, be resilient, and be more powerfully engaged leaders who create an impact in life, business, and community.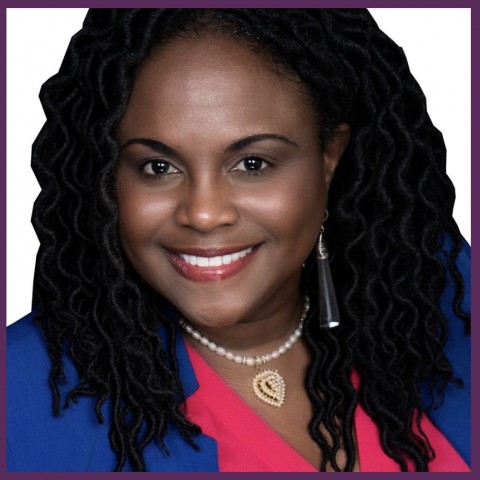 Gail revealed some exciting plans for the future. Her immediate plan is to create a fun and interactive online mastermind/workshop where people can socialize and celebrate their progress with regards to character building and self love. She poses the following questions to everyone who may not be living their dream, "Do you sometimes struggle with self-confidence, feelings of self-worth and negative self-talk that comes up every now and then? Do you find yourself constantly comparing yourself to others or do you sometimes put yourself last, feeling stuck, leaving you stressed, exhausted and not fulfilling your dreams?"
Interested participants can jump on an impactful 15 minute market research phone call with Gail: https://lightshift360.com/research
She hopes that her interactive group will help people get over the negative thoughts and feelings and reframe how great they are and how far that they can go with the right people around them.
A livestream recording of the roundtable is available at the link below where one can learn various practical tips on how to question and challenge the status quo. To get free access to it simply visit the link below:
https://lightshift360.com/podcasts
Connect with Gail M. Carter on social media, follow @LightShift360 or via her business website https://LightShift360.com
Linkedin: https://www.linkedin.com/in/gailmcarterlightshift360/
Instagram: https://www.instagram.com/gail_m_carter/
Facebook: https://www.facebook.com/lightshift360
Connect with Financial Executive Women (FEW) at https://executivewomeninfinance.com.au/
Media Contact
Company Name: LightShift360, LLC
Contact Person: Gail M. Carter (MBA, MA, P.E.)
Email: Send Email
Phone: 407-815-5071
Address:851 S. State Road 434, Suite 1070-180
City: Altamonte Springs
State: FL 32714
Country: United States
Website: https//LightShift360.com