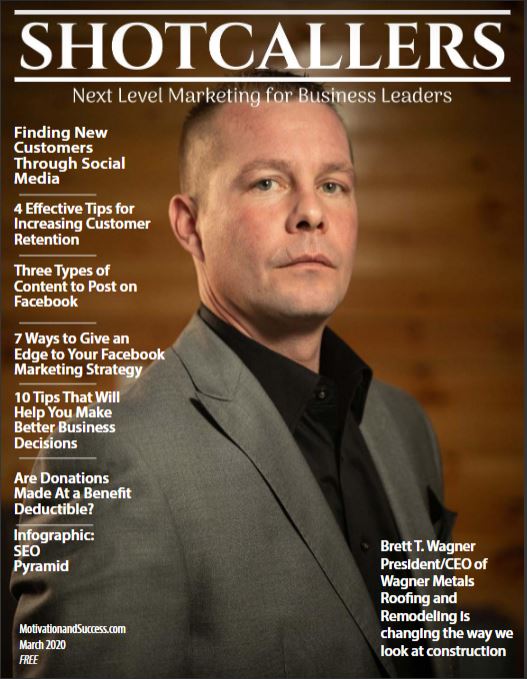 Blessed with a wife and two daughters, Brett Wagner starts his day as early as 5 a.m. He spends the first half-hour of his day to workout and the next half-hour to respond to emails. After which he helps to get his daughters to get ready for the day. By 7 a.m, Brett is at work executing tasks for the day.
Brett Wagner got his first job when he was 15 at a roofing company. It was an extremely tough job. He got his first opportunity to work with experienced hands, and he embraced it. Brett points out that that first experience helped him to develop an excellent work ethic. "I was in charge of the cleanup, and I always ended up doing the work for everybody, mostly because I was the youngest."
Brett would work at the roofing company occupying different capacities and roles as he advances his education. By the time Brett was about graduating from college, he was offered the position of Foreman by his boss. That was Brett's first experience forming and leading his team. This experience helped him to develop the leadership skills that have led him to build his roofing and remodeling company to the point where he is being featured and celebrated by Shotcallers Magazine.
Before founding Wagner Metals Roofing and Remodeling, Brett had built up a repertoire of knowledge from working at different capacities, including cleaner, Foreman, sales, etc. within the roofing industry. He places a lot of his success on his drive to be excellent. "I kept sneaking my way out there trying to learn as much as possible, and in no time, I became a pretty good roofer. I loved the job, and I continued to move up in the company until my boss gave me a call and offered me a job to be a foreman," says Brett.
"Working as a foreman worked well for me and led me into transitioning into sales. Here I discovered that I had the talent of selling. I loved sales, and I found a sense of fulfillment, knowing that I can help people solve their problems. We were in a small community where most homeowners are not educated, so, my job was not only about selling, but also mostly about educating them."
He pays homage to his former boss that helped him with opportunities and mentorship by highlighting the importance of mentorship in business success. "I just kept going at every opportunity that presented itself within the organization. The owner of the company was like a mentor to me and gave me the opportunity of spending a lot of time with him, which fast-tracked my learning."
Brett Wagner's philosophy about selling is a bit surprising for someone at the helms of a prominent company. He approaches sales in the form of educating his clients and prospective clients. "One thing that helps is our culture. I believe in doing business with people the way I want people to do business with my mom. I am always looking to help and educate my customers on how best to solve their problems. This way, our initial exchange already provides value for them, and all of a sudden, the sale is made."
"It has always been easy for me as I always ensure that I promote solutions that I believe in. And I also make sure that I don't give up the control over the quality of work that we provide. That high standard that I keep is what sets me apart from everyone else. We are not just out there selling people and making one-time sales. We are providing value and creating lifetime customers that trust and rely on us and also religiously recommend us to people they know."
Brett advises young entrepreneurs that are on the up and coming not to skip the steps and make sure to keep working on themselves and their businesses. "Don't think it will be all sunshine and butterflies. You have to give it a hundred and ten percent. It is a huge responsibility that needs to be taken seriously as you are responsible for the payroll of your employees and the livelihood of their families," says Brett. "After starting my company, for the first three years, 90% of everything I made was going back into the company. Right now, we are still constantly working on improving every aspect of the business and making sure that clients have a better experience every single time. You are constantly going to keep making sacrifices for your team and the business."
You can reach out to Wagner Metals through their website www.wagnermetal.com and on Instagram, YouTube and Facebook
Media Contact
Company Name: Motivation & Success
Contact Person: Dennis M. Postema
Email: Send Email
Phone: 419-782-2500
Country: United States
Website: motivationandsuccess.com