The increasing traffic jam and governmental policies encouraging green travel change people's way of travel. An increasing number of people try to find a new and environmentally-friendly way to travel. Fosjoas K3 eco-friendly electric scooter is the best replacement of automobile.
Unlike the traditional electric scooter, Fosjoas K3 sitting-posture electric scooter is equipped with saddle for users to sit on so the legs will be relaxed. This will make the users feel comfortable when traveling. The self-balancing electric scooter also uses the car steering wheel. Riders just need to turn the steering wheel to control the scooter and change directions rather than change the center of body weight which is the usual way to operate former electric scooters. As a result, riders can save more energy to go sightseeing or hiking and enjoy the beautiful natural scenery.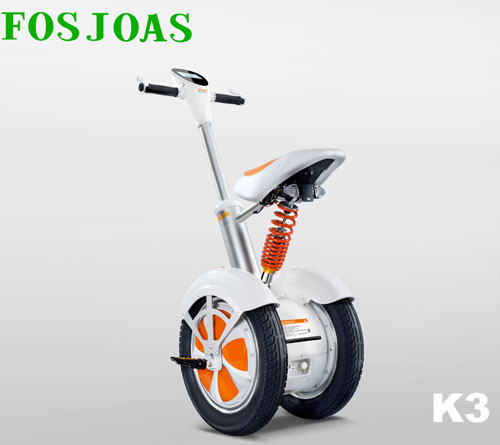 Besides, the pedal of Fosjoas K3 saddle-equipped scooter can be folding to save space and it is easier to park since the parking area is small without the worry of parking as automobiles. Therefore Fosjoas K3 is more suitable for travelers to travel around. Assume traveling by K3 freely while coming across the beautiful natural scenery, riders can stop and park it at once to enjoy the scenery. When K3 electric scooter with seat travels on bumpy path, the bossing is unavoidable. The bossing in the process of riding will do harm to the enjoyment of riding K3, as it is equipped with the hydraulic suspension.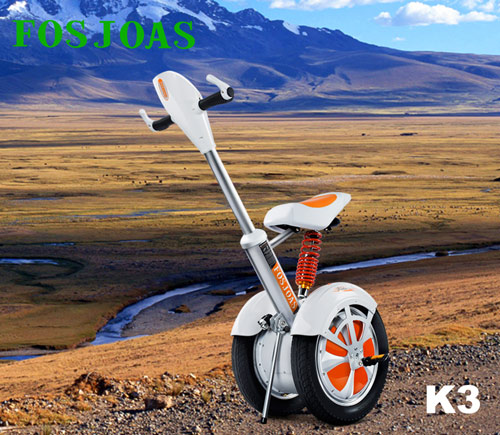 Riders may feel bored on the way to travel around, how about listening to music to relax themselves? Fosjoas K3 two wheel electric scooter is designed with built-in sound system. The sound can guarantee the tone quality of music which can keep the joy of enjoying music. Besides, the sound can be connected with the cell phone by Bluetooth so riders can enjoy music of their cell phones. Riding on the road with music is the most enjoyable way to relax and travel around. Also, K3 intelligent power scooter can be connected into the mobile phone. The user is able to manipulate K3 on App downloaded online. Maybe now, you just cannot help traveling around by Fosjoas K3 electric self-balancing scooter.
Media Contact
Company Name: Moben Intl (England) Co., Limited
Contact Person: Jason
Email: moben@fosjoas.com
Phone: +86-755-83777600
City: London
Country: United Kingdom
Website: http://www.fosjoas.com/