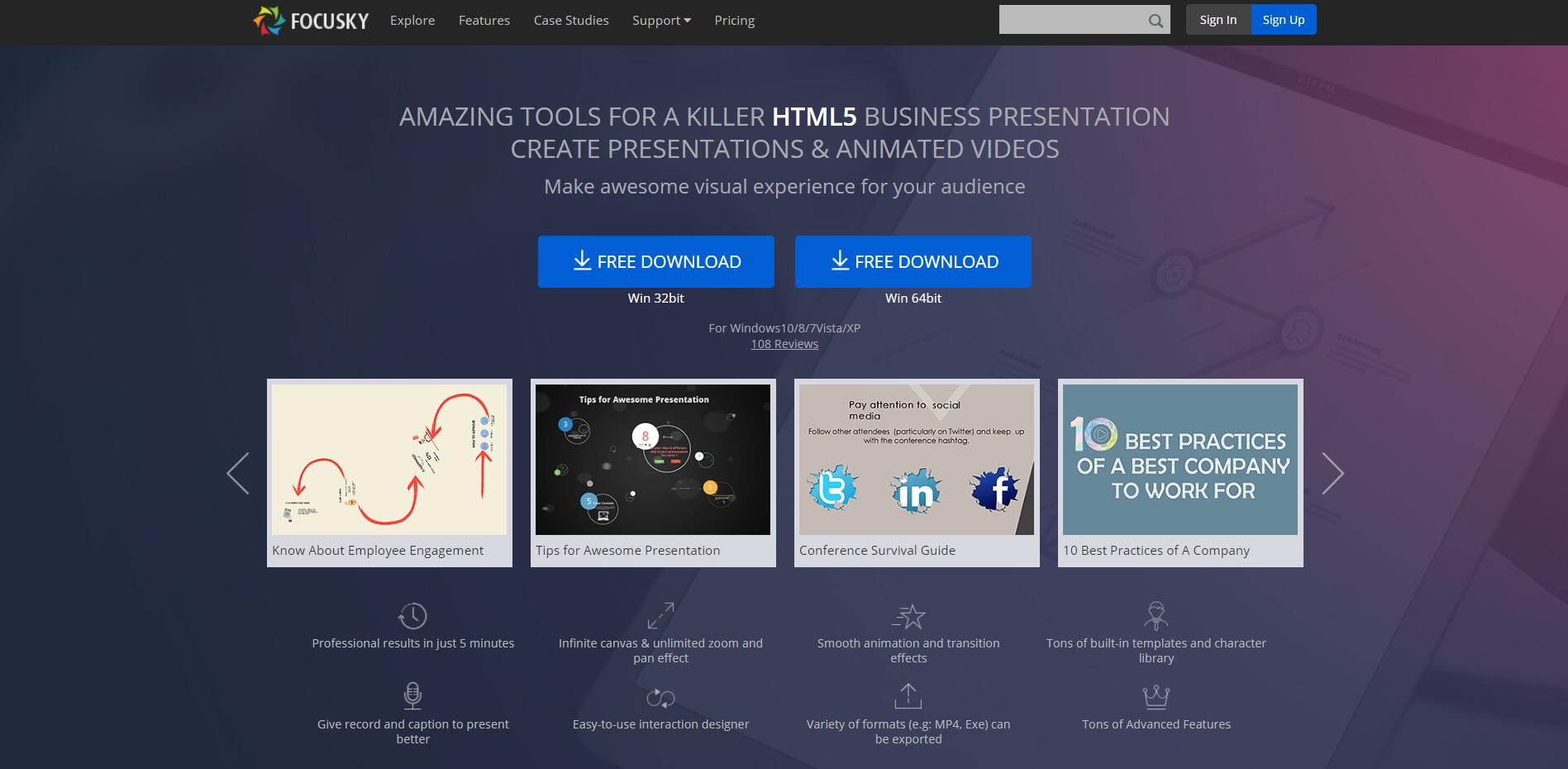 Focusky helps educators create presentations with lessons and tutorials on various topics of study.
Focusky is the ideal platform for transforming static information into dynamic, interactive, and action-filled video presentations. The presentation website can be used for online education and online study, helping students, employees, and other online audiences learn and train to expand their knowledge base. It's a platform where users can organize, share, and track their video knowledge. They use advanced features to deliver live, on-demand content embellished with critical materials for educating the audience. Focusky is reinventing the art of presentation and getting more viewers to love it.
By combining videos, text, images, audio, and questions, users can create rich lessons in vivid presentations for online education and online study. It is easy to use the Focusky platform to translate critical knowledge into interactive lessons and beautiful training presentations. Users' ideas are presented in a delightful way with amazing effects such as transitions, animations, and zooming with much flexibility in navigation to impress and impart knowledge in students at the same time.
"Our presentation maker helps teachers prepare lessons within a short time," said Jason Chen, President of Focusky. "And within that short period, they will be able to address the needs of students through various learning styles and strategies. While presenting lessons, they improve the pace of lessons by incorporating visual elements that simplify complex concepts and enable students to pay more attention and participate through collaboration. "
Focusky is designed to give presentations a facelift that will ensure viewers have an enjoyable experience. Users are allowed unlimited creativity that helps them develop stunning presentations that engage learners. They increase the ability of the students to understand and evaluate information. Online education attracts more students who are unable to enroll in physical classrooms. By providing learning materials virtually through tutorial videos, online videos, and more, students will be able to understand concepts and share them with peers.
Digital presentations created at Focusky are high profile teaching mediums that help to improve language skills, including listening, speaking, reading, and writing. They relay information to learners in a much simpler way. Learners absorb information faster after watching and listening to the presentations. Fine-tuned, professional presentations can enhance student engagement and improve their retention of learning materials. The learners will continue to access lessons outside classroom sessions for review.
For more information, please visit https://focusky.com/.
About Focusky
Focusky allows its clients to convey information to their audiences in style using their intuitive software. The company is committed to providing quality software for digital marketing. Their solutions have helped many users reach out to many audiences and address their pain points.
Media Contact
Company Name: Focusky
Contact Person: Elsa D. Arnold
Email: Send Email
Phone: +86 020-61972665
Address:G/F, Far East Consortium Building, 23 Des Voeux Road, Central
Country: HongKong
Website: https://focusky.com/