Flavored syrups have witnessed high demand among consumers, as they can be used to prepare a wide variety of food items and have a range of flavors including fruit, vanilla, and chocolate. Changing lifestyles and rising disposable income of consumers are expected to provide numerous avenues for growth to flavored syrup manufacturers in coming years.
The global flavored syrups market size is projected to reach USD 65.6 billion by the year 2025, as per a report by Grand View Research, Inc., advancing at a CAGR of 5.1% over the forecast period. Flavored syrups are composed of a simple sugar syrup (sugar substitutes may also be used in some cases), with artificial or natural flavorings also being dissolved in them. The major application of flavored syrups is as a sweetener and taste enhancer, which has gained huge traction across the food and beverage industry. These products also find use in the pharmaceutical sector. Manufacturers are moving towards innovative product offerings by developing dual-fruit syrups such as Lime-Ginger, Lime-Mint, and Raspberry-Mint, which offer a blend of sour, sweet, and bitter tastes.
Companies are developing innovative flavors to cater to the frequently changing taste preferences of the consumers, which is driving the growth of the industry. For instance, The Ági fruit syrups range introduced a new category of honey-containing products with unique flavors such as baked apples with honey, raspberry-lemon balm with honey, and elder-lime with honey, in November 2018. Similarly, Pölöskei Drink Kft is a company that offers combined fruit flavored syrup. It blends basic flavors in its fruit syrups and also develops unique varieties such as acerola-raspberry and blueberry-raspberry. The continued innovations in food processing capabilities are expected to have a very positive impact on the overall industry in the coming years. Additionally, the COVID-19 outbreak in 2020 that led to consumers being asked to keep themselves at home led to a healthy demand for flavored syrups, being mainly used in the preparation of coffee.
The flavored syrups market has been broadly segmented into type and application. With regards to syrup type, the industry is segmented into fruit, chocolate, and vanilla, among others such as cherry, peach, coconut, and peppermint. On the basis of application, the market is classified into bakery and confectionery, beverages, and dairy and frozen desserts, among others. Flavored syrups also find use in the preparation of frappes, which is a type of milkshake. This can be taken further in combination with coffee to prepare trendy beverages such as 'Frappuccino', which has been trademarked by Starbucks. Some of the major organizations in the flavored syrups industry include The Hershey Company; Kerry Group; Tate & Lyle; Monin Inc.; Fuerst Day Lawson; Torani; Archer Daniels Midland Company; Starbucks Coffee Company; Smucker's; Walden Farms; and Fox Syrups.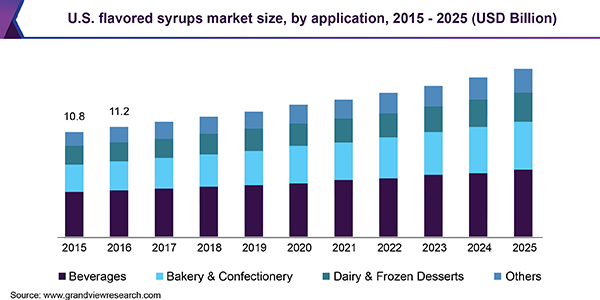 Flavored Syrups Market Report Highlights
1 To cater to the health-conscious consumer segment, industry players are introducing sugar-free or reduced sugar products in the market, which is aiding the market growth
2 Asia Pacific is estimated to register the fastest CAGR of 5.6% over the forecast period owing to the rapid rate of product launches in India and China, coupled with the high demand for fancy beverage and bakery products in the region
3 With regards to type, chocolate is expected to register the fastest CAGR of 5.7% over the forecast period, with the product finding substantial application in both hot and cold beverages such as milkshake, coffee, and smoothies, among others.
4 By application, the beverages segment accounted for the largest market share of more than 35.0% in 2018, as products such as cocktails, soft drinks, and hot and cold beverages utilizing these syrups as a taste and sweetness enhancer
5 The coronavirus outbreak led to a heavy adoption of the home cooking scenario, as the working population became confined at home, which led to healthy demand for syrups and sauces as consumers moved towards trendy food preparations
6 Additionally, there is a large online presence of food blogs which advise on how to utilize flavored syrups in the preparation of different food and beverage items, which has emboldened consumers to try these products at home
7 Market players have been mainly involved in new product launches in order to beat the competition. For example, Pölöskei Syrup launched a limited blood orange flavored syrup around Halloween, which was made available to consumers through commercial channels
8 In November 2020, Monin opened its second manufacturing facility in North America, located in Sparks, Nevada; the facility is 115,000 square foot and houses flavor processing, bottling, and warehouse distribution for Canada, Mexico and the Western United States
9 In October 2019, Torani launched the Torani Puremade Zero Sugar Syrups range, which is an extension of their Puremade line, with the added feature of having zero sugar and zero artificial sweeteners
"Would you Like/Try a Sample Report" Click the link below: https://www.grandviewresearch.com/industry-analysis/flavored-syrups-market/request/rs1
Flavored Syrups Market Segmentation
Grand View Research has segmented the global flavored syrups market on the basis of type, application, and region:
Flavored Syrups Type Outlook (Revenue, USD Million, 2015 – 2025)
Fruit

Chocolate

Vanilla

Others
Flavored Syrups Application Outlook (Revenue, USD Million, 2015 – 2025)
Bakery & Confectionery

Beverages

Dairy & Frozen Desserts

Others
Flavored Syrups Regional Outlook (Revenue, USD Million, 2015 – 2025)
North America

Europe

Asia Pacific

Central & South America

Middle East & Africa
List of Key Players of Flavored Syrups Market
• The Hershey Company
• Kerry Group
• Tate & Lyle
• Monin Inc.
• Fuerst Day Lawson
• Torani
• Archer Daniels Midland Company
• Starbucks Coffee Company
• Smucker's
• Walden Farms (Panos Brands)
• Fox Syrups.
Have Any Query? Ask Our Experts for More Details on Report: https://www.grandviewresearch.com/inquiry/6318/ibb
Browse Related Report @
Non-Alcoholic Concentrated Syrup Market – https://www.grandviewresearch.com/industry-analysis/non-alcoholic-concentrated-syrup-market
Explore the BI enabled intuitive market research database, Navigate with Grand View Compass, by Grand View Research, Inc.
About Grand View Research
Grand View Research is a market research and consulting company that offers market research reports, syndicated and customized reports. The company is headquartered in San Francisco, California. It offers client engagement for business consulting and market intelligence from various domains. The clientele is based across various countries with queries coming from more than 50 industries worldwide.
Grand View Research helps its clients to make informed decisions by helping them understand current trends and scenarios. Every year Grand View Research accomplishes more than 300 multi-country market studies to optimize consulting for clients.
Media Contact
Company Name: Grand View Research, Inc.
Contact Person: Sherry James, Corporate Sales Specialist – U.S.A.
Email: Send Email
Phone: 1888202951
Address:Grand View Research, Inc. 201 Spear Street 1100 San Francisco, CA 94105, United States
City: San Francisco
State: California
Country: United States
Website: https://www.grandviewresearch.com/industry-analysis/flavored-syrups-market