Chepstow, UK – 4th November, 2021 – The British are well-known as a nation of animal lovers and recent figures from Pet Food Manufacturers' Association (PFMA) show that during the past year 59 percent of households had a pet, the highest figure ever recorded. Whilst cats and dogs are the most popular pets in the UK, it is surprising to find that fish are the next most popular, with indoor fish coming third and outdoor fish fourth. According to PFMA there are over 5 million indoor fish tank and over 4 million outdoor fish ponds in the UK.
The recent lockdowns have been a huge contributory factor to the increase in pet ownership. Spending more time at home has given many the chance to acquire the animal companionship they always longed for. In return, a study by the University of York and the University of Lincoln found that having a pet helped maintain better mental health and reduced loneliness. Interestingly, their research showed that "in this study, the strength of the emotional bond with pets did not statistically differ by animal species."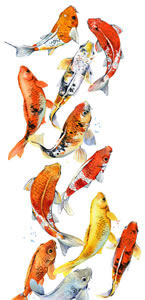 Choosing a fish as a pet might not at first seem to be the most companionable of animals. However, keeping fish can be very rewarding and they contribute tranquillity and peace to their owners lives, something not many other pets can claim. One of the most popular species to own are Koi carp. Originally bred in Japan more than 200 years ago, there are now over a 100 different varieties of Koi carp and they are found in fish ponds all around the world.
It is easy to see the appeal of Koi carp. They come in a wide range of bright colours and sizes and they are hardy and adaptable to most conditions. They are also very social creatures. Jonathan Williams of Keruto Koi tell us that "Koi are extremely friendly. They will recognise their owners and they will follow your every move." Unusually for fish, Koi carp like to be touched. "Once your Koi get to know you they will come to the surface to say hello," says Jonathan. "They will swim into your outstretched hand and let you lightly pet them and stroke their bellies." Not only does this friendliness make Koi carp great pets but it also means that they don't become stressed if they need to be physically handled. "Stress is fatal for fish," Jonathan warns, "but Koi are tame and sociable so they can be gently handled without any adverse reactions."
If you are wondering what Koi carp look like, Keruto Koi have videos on their website. "We usually have over 400 Koi available and we individually photograph each fish and take a video so you know exactly what they look like," Jonathan tells us. "Each Koi has its own individual markings that make its appearance unique." If you are tempted by the idea of having Koi carp as pets then this would be a good time to buy some. "We have a Black Friday sale coming up at the end of the month. Everyone loves a bargain so come take a look at what we have available."
Once you have invested in the necessary setup and equipment, fish make cheap and undemanding pets. They don't require walking or brushing and you don't have to worry about them running away! It is easy to see why there is a large, ever-growing community of fish-owners in the UK and they are always happy to welcome new members. So if you are tempted to get a pet it would be worth considering getting fish.
Media Contact
Company Name: Keruto Koi
Contact Person: Jonathan Williams
Email: Send Email
Phone: 07970 465241
Address:Shirenewton
City: Chepstow
State: Monmouthshire
Country: United Kingdom
Website: https://www.kerutokoi.com