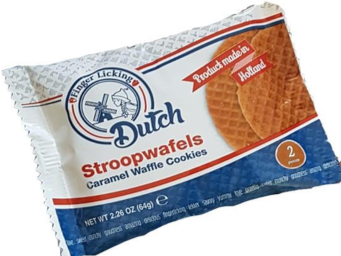 National Waffle Day is almost here and, Finger Licking Dutch is in celebration mood. Finger Licking Dutch and its participating coffee shops are giving away FREE stroopwafels (caramel waffle cookies) to customers. Helping customers experience the great taste of Finger Licking Dutch stroopwafels matched with great coffee/tea providing the Stroopwafel Cookie-Coffee/Tea Experience.
Philadelphia, Pennsylvania, U.S.A – Finger Licking Dutch, a stroopwafel company, is proud to announce they will be having "Free Stroopwafel Day" on August 24th, from 8am-11am (local time zone), with participating (coffee) shops. In celebration of the National Waffle Day, over 50 shops nationally will participate in the giveaway, to appreciate our esteemed customers.
"This is a great opportunity for customers and "to-be" customers, to sample our stroopwafels and eat them along with their favorite coffee or tea," said John Bronson, Former NFL Player and Co-Founder of Finger Licking Dutch.
A stroopwafel is a caramel waffle cookie made from thin layers of baked dough with caramel syrup in between. It's already gaining popularity in the U.S, as many customers can't stop demanding for more due to its unique taste.
For waffle eaters who also love great coffee and tea, this is a match made in heaven. Place the stroopwafel on top of your mug, leave it there for one minute or until it starts to soften, turn it over and eat it warm. Finger Licking Dutch provides authentic Dutch Stroopwafels from The Netherlands, for customers to enjoy anytime time of the day. You can eat for breakfast, lunch, a snack, or dinner dessert.
To find out where you can get Finger Licking Dutch stroopwafels near you on Free Stroopwafel Day visit: www.FingerLickingDutch.com and click on "Store Locator."
Shops who are participating will be able to introduce Finger Licking Dutch stroopwafels to their customers complimentary. "Once people taste our stroopwafels they will be hooked," remarked Femke Veelenturf, Dutch Native and Co-Founder of Finger Licking Dutch.
Follow Finger Licking Dutch on Instagram, Facebook and Linkedin
Media Contact
Company Name: Finger Licking Dutch, LLC
Contact Person: John Bronson
Email: Send Email
Phone: 1-877-230-9233
Country: United States
Website: http://www.fingerlickingdutch.com/