Be it iPhone or any other smartphone, the charm of buying a new phone fade away pretty quickly. Then you get bored but you can't buy a new phone every time you get bored.
This is the reason behind about 57% of iPhone users, in the 18-34 age group, using a case for enhancing the aesthetic appeal of the phone, not the protection.
While this is the case, we, at Casetic, want your phone cases to protect your phone and portray your personality at the same time.
Let's introduce you to some of the best cases for iPhone 12 Pro Max.
Casetic Electroplating Silver Heart Case for iPhone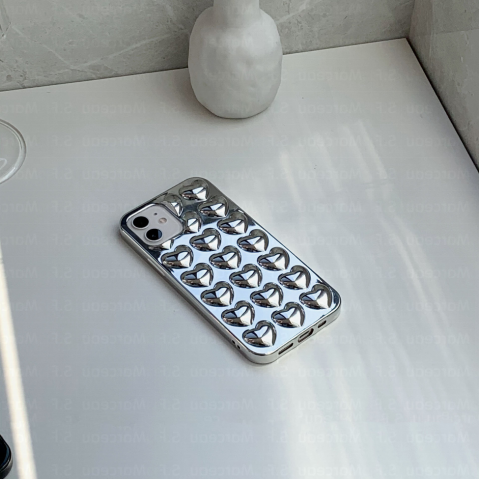 Key Features:
Gives complete protection to the back and the sides.
Made of Thermoplastic Polyurethane (TPU), so very lightweight.
Makes your phone stand out.
Heart-shaped bumps increase grip, so you will drop it less.
Cutouts are very precise.
This bunch of hearts will portray a very charming and loving personality of yours. You will love the shine of this TPU case and the shine will sustain for quite a while.
With a weight of just 80g, it doesn't look or feel bulky at all. The slick design of the case will impress you, from all sides.
Whether you buy iPhone 12 cases or iPhone 12 Pro cases, each of them has a unique design that will make you stand out from the crowd while declaring your unique presence.
Each cutout is made very precisely so that other accessories of the phone fit perfectly. You will never feel the slightest inconvenience with this case.
Its reflective glossy design will draw attention instantly and make it recognizable. Casetic emphasizes putting modern arts and trends into their cases so they match contemporary minds.
The grip on this cover is better than other covers even at Casetic. Those rounded bumps will keep the phone in your hand while not putting any extra stress.
This can be a great gift item too if your partner also has an iPhone 12 Pro Max. Whether on a special occasion or no occasion, you can convey the message of your heart to them through this affordable case.
Give it a try and see how your old iPhone transforms into a new one.
Product Link: https://casetic.com/collections/iphone-12-pro-max-cases/products/electroplating-silver-heart-phone-case
Casetic Cowboy Collage Case for iPhone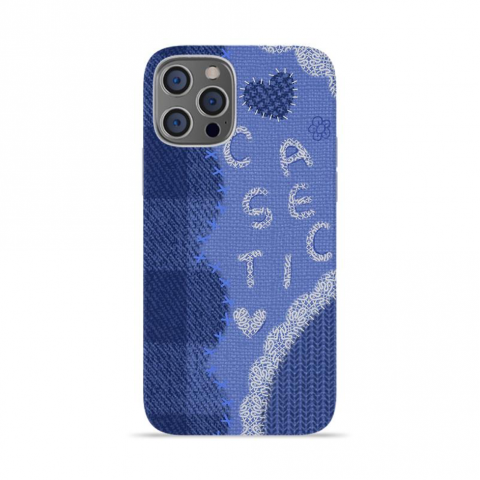 Key Features:
Enhanced protection to both the back and the sides.
Very lightweight but never compromises protection.
Extremely cool colors with classic stitches.
Feels softer to the touches.
Improves grip and aesthetics of the phone.
If you prefer matte over gloss, this iPhone 12 Pro Max case is just the right one. Its not-so-striking colors will bring peace to your eyes. That steel blue background or deep patterns gives this case a unique look that's just awesome.
This cover stands far from the crowd of modern-looking iPhone 12 Pro cases with sharp edges or aggressive designs. It soothes your eyes and mind at the same time, your pocket too!
Not this cover is great because you get it at a more affordable price, the soft denim with classic stitches everywhere makes this a great combination of modern manufacturing and age-old tradition.
Nothing could scream so much character than this TPU cover. Those letters making the brand name lies in an irregular pattern that kinds of creates a more relaxed look to the phone.
At the same time, you will have the contrast of regular patterns that is a very bold move. This combination of calm and chaos is the thing that works for most users out there, hope it works for you too.
Other features like cutouts or build quality match the brand. Everything is done with ultimate precision and care so that the customers get the best experience while using the case. Casetic never settles for less.
With this case on, you will feel your iPhone is not only a gadget but also a medium of expressing your personality.
Product Link: https://casetic.com/collections/iphone-12-pro-max-cases/products/casetic-cowboy-collage-case-for-iphone
Casetic Berry Party Case for iPhone
Key Features:
Very mild color and sober design.
Matches very well with bold and dominating personalities.
Extremely durable and sturdy with a soft feel to the touches.
Combination of classic pattern and modern color.
This case will wrap your iPhone 12 or iPhone 12 Pro Max in an array of colors from a wisely chosen palette. And this is the reason the case doesn't look screaming.
Some cases do have a really odd color combination. But this case has a perfect contrast of light and deep colors to make a great classic pattern that will not only suit your personality but also your dress too, especially if you wear a patterned suit or something.
The mild colors will be a treat for your eyes. They also compliment the pattern that sort of brings everything into regularity.
If you are a person who loves dominating the surroundings and want everything to be done perfectly in line with plans, then this case might amaze you. It creates such a vibe in any environment.
As all cutouts are made precisely on all Casetic iPhone cases, your fingers will reach all the buttons effortlessly. Attaching different accessories is also easy. What else can you expect from such a case!
It's made of TPU, so the protection level is just right for the budget. As the back will feel softer, it will increase the grip of the phone. So, you are less likely to drop it.
Even if you have dropped it, the edges and corners of the phone will be protected. And each time you pick the phone up, that satisfaction you get through the case is mesmerizing.
Product Link: https://casetic.com/collections/iphone-12-pro-max-cases/products/casetic-berry-party-case-for-iphone
Casetic Pink Gradient Love Case for iPhone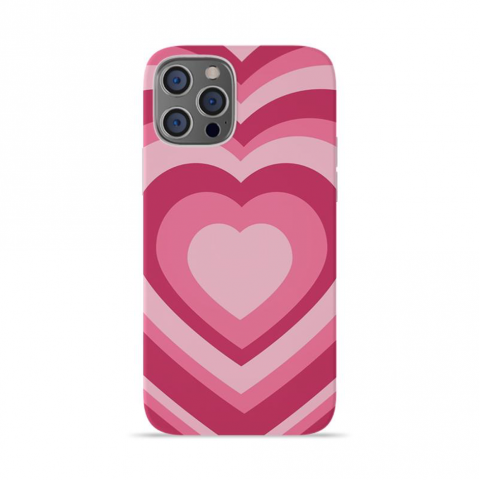 Key Features:
Great combination of subtle colors.
High-grade TPU cover for better protection.
Precise cutouts made on a slim and elegant design.
Perfectly fits your iPhone 12/12 Pro/12 Pro Max.
One common aspect about love-themed iPhone 12 Pro Max cases is people often think those are only for gifting to close ones. But such a case can really be your style icon in day-to-day use.
This gradient love case has also been developed keeping this in mind. Casetic wants you to reflect your choices through cases and they offer a wide variety of designs so that you can choose what exactly suits you.
The gradient love case will probably attract female users more than males. Even if you are not that fond of pinkish colors, you will love how these colors blend together to create these modern-looking layers of hearts.
From the lightest shade to the darkest, it will caress you and make you fall in love with the case soon after you buy it. Though these colors are very mild, they really come together to create a stunning presence anywhere, any time.
This is a case to be praised by your fellows in colleges, friends in parties, or partners in solitude.
What a beautiful case to look at. Even if you have other cases to use with your phone, this will just look fine as a showpiece on your desk. And once the phone is inside the case, you can expect great beauty with greater protection.
Live a life where each of your activities emits the rays of your personality. What could be better than this case to do that?
Product Link: https://casetic.com/collections/iphone-12-pro-max-cases/products/casetic-pink-gradient-love-case-for-iphone
Casetic Electroplating Chain Case for iPhone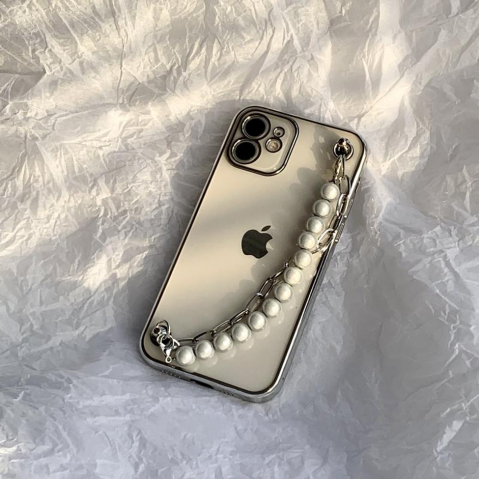 Key Features:
Bead chain makes holding the phone easier and adds character to it.
Crystal-clear back and sides emphasize the look of the phone.
Dark borders highlight the edge and cameras of the phone.
Modern and elegant.
If you are in the group of people who loves to use cases but keep the back transparent, this might be the right case for you. Most iPhone 12 or iPhone 12 Pro Max cases this brand makes aren't transparent where this case is quite different.
Other than the transparency, a metal chain and a bead chain will draw your attention in the first place. They are just like extra securities that will surround your hands to make the phone less prone to dropping.
In a transparent background, the original color of the phone shines even better. And the dark tone of camera lenses really comes out to make the whole thing look a lot sharper than many other colored cases.
What if you like the back of the case but not the chains? You can simply remove them to make the case look cleaner. That distinct and bold look will give the phone a completely different character from just the phone.
This cover also has the same kind of cutouts and build quality as other iPhone 12 cases from Casetic. One more important thing. Many transparent covers yellow over time but that won't happen with this case, so you can keep using for longer periods.
Product Link: https://casetic.com/collections/iphone-12-pro-max-cases/products/electroplating-chain-phone-case
Closure
These are some of the best cases for iPhone 12 Pro Max from a wide collection at Casetic. The brand is promised to provide you with the best personalized iPhone cases possible within your budget.
Media Contact
Company Name: CASETIC
Contact Person: Media Relations
Email: Send Email
Country: United States
Website: https://www.casetic.com