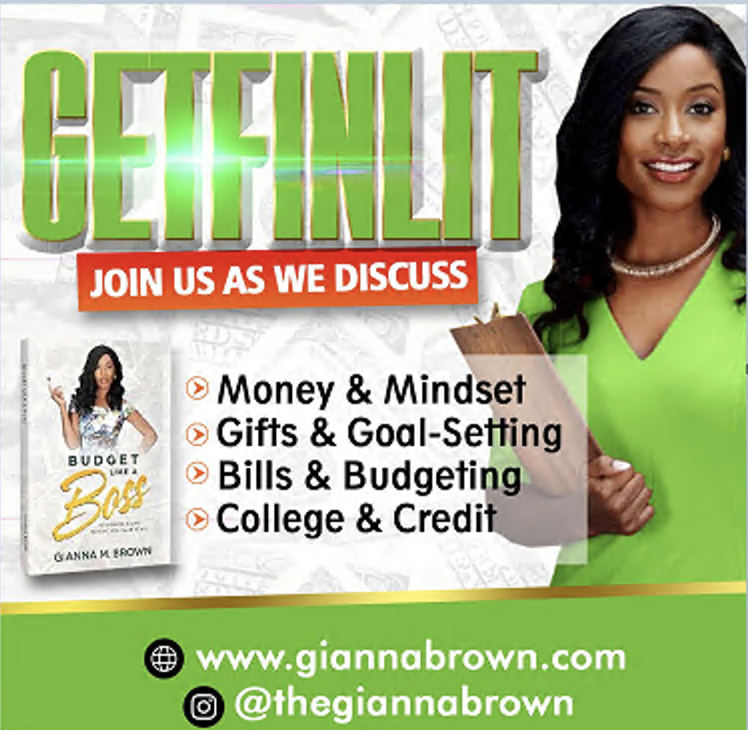 Gianna Brown to touch thousands of life with her new financial literacy books and her tailored courses
Internationally known as the Money Cheerleader, Gianna Brown released her second personal and financial development book, 'Just Rise Up' via Kickstarter. In this book, she gives a fresh perspective on the art of being resilient and intentional amidst chaotic times. Created to be a thought-provoking piece, the book highlights the R.O.I that comes from living on purpose and conquering obstacles. Known for her coined motto, "Give each dollar a goal; boss up and build your life" Gianna leads people up the staircase to a more fulfilled life and worthwhile legacy.
Gianna Brown is a passionate Spelman and Auburn graduate delivering financial literacy and leadership workshops across the country. As a licensed consultant, she partners with people regardless of age to upgrade their mindset, execution and financial understanding. She teaches people how to develop a goal-oriented, realistic, energizing, action-based, and time-aligned life plan. Gianna believes and proves daily that with the right leadership, the right level of cheer, and the right budget, every person can achieve life-changing transformations.
Moved by her passion to change lives, Gianna has a range of educational materials and merchandise to propel people to the next level. Her two programs, Get Fin Lit and Go Big, Get Better (GB2) are making ground across the nation. Get Fin Lit programming engages, educates, and enriches both scholars and parents on topics that range from financial literacy and leadership to entrepreneurship and social/emotional health. The GB2 signature program is designed for go-getters who are ready to level up in their thinking, income, and happiness. From building budgets to designing business plans, Gianna Brown and her team partner with individuals who know they want and deserve more.
Apart from producing highly educative books and programs, Gianna is a revolutionary speaker and she designs a tailored "goal-based budget'' for her clients. In turn, clients become more confident and financially literate as noted by confidence peaks, credit score growth, asset accumulation, life insurance, and investments. According to Co-founder of Journey Pillow, Candace Williams, "Gianna unveils the true beauty of a budget, a financial plan, and even entrepreneurship." With the educational tools and economic platforms, Gianna's clients and business partners achieve a 4G Legacy.
Following the words of Oprah Winfrey, "To move forward, you must give back," Gianna and the MCs partner with colleges, corporations, churches, and families to deliver ground-breaking workshops. To date, her impact has reached over ten thousand people. According to her, ''Giving back is a year-long practice that we hold at our core. We realize the importance of sewing positive seed into the community we serve, both in Georgia and across the nation.''
About Gianna Brown
Gianna Brown is a global powerhouse. She debunks inhibiting stereotypes while propelling people to design a healthy and wealthy life. Partnering with businesses and individuals, from age 8 to 88, Gianna shows each person how to leverage their voice, vote, and dollars.
She is highly committed to helping people build sustainable and global empires. From the age of 12, Gianna formed community-based enterprises profiting thousands each year. Coupled with her unwavering passion to educate and empower individuals, families, and businesses, Gianna yields transformative results for each client.
To book Gianna & The Money Cheerleader Team for a speaking engagement or workshop, visit www.giannabrown.com
Media Contact
Company Name: The Money Cheerleader Team
Contact Person: Gianna Brown
Email: Send Email
Phone: 404.850.0508
Country: United States
Website: http://www.giannabrown.com/