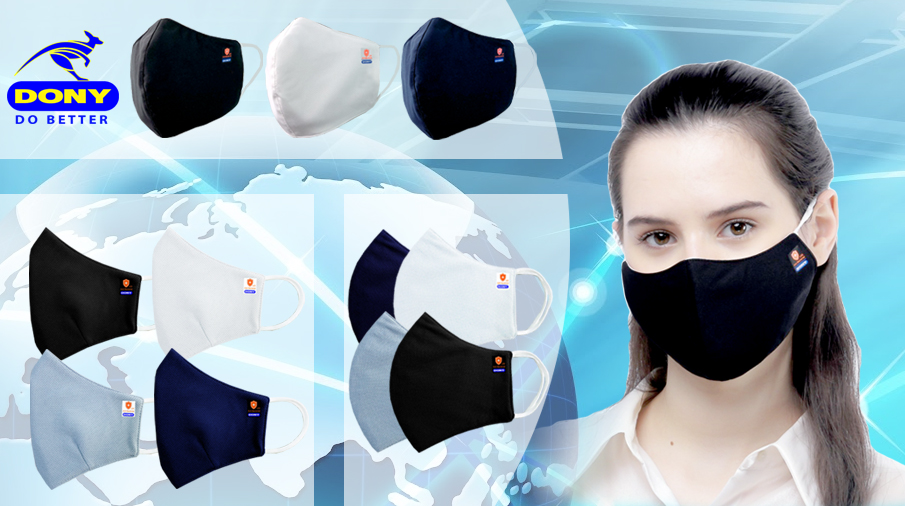 • FDA Certification: This is about safety standards for allowance to export products to the U.S. market.
• ISO 9001: 2015 Certificate for the production quality management process of masks in particular
• C.E. Certification (Conformité Européenne) for meeting all quality safety standards and are allowed to export to European markets.
• Certification of chemical safety (TUV Reach): it is for not containing any toxic chemicals and allergens and being safe for long-term use.
DONY MASK – premium antibacterial cloth face mask (washable, reusable) with CE, FDA, TUV Reach Certification. Dony antibacterial cloth mask quality has passed the stringent standards in the world to export to difficult markets like the U.S. and Europe. There are seven certificates that Dony antibacterial cloth masks have been granted so far.
Don't Start a Face Mask Business without Reading This!
Many used to resist wearing a face mask, which truly put them and others in danger of being injected with Covid-19.
Fortunately, people are aware of the case now and start wearing a face mask when they are out. This gives the world a significant opportunity to control and get over the Covid-19.
Also, it gives you a chance to start a business of selling face masks.
However, it is not just easy like buying face masks then re-selling them to others at a higher price. In contrast, you must plan carefully.
The following advice will help!
Advices to Start Selling Face Masks
Understand the qualifications
For people's sake, please start your business with thorough research, especially when it comes to face masks.
Not all masks are the same. The technology behind manufacturing the face mask is more complicated than you might ever think. Different masks provide different levels of protection against pollutants and viruses.
Without choosing carefully, you will end up with a scam that exposes your customers to more harm than good.
So, what makes a good face mask to buy and sell? – Here are some highlights from the Ministry of Health.
There are two types of face masks to consider: Medical mask and non-medical masks.

The earlier is certified to be used by health workers to filter at least 95% droplets and be breathable for hours. They are made of three or four layers of non-woven materials such as polypropylene, cellulose, or polyethylene.

The latter is a non-medical mask. It is made of various fabrics to offer different filtration efficiency and breathability. However, the requirements are lower than those of medical masks.
Find a reliable supplier
Because of the sophisticated technologies and strict standards, the hand-made face masks seem not protective enough. Thus, you had better go for professional suppliers, better those you already use their face masks daily.
Besides quality, take the price into account. You should contact the manufacturer to negotiate for a favorable bulk price. Plus, discuss the shipping and payment.
Dony Masks exports masks to all US states such as California, Texas, New York, Florida, Illinois, Pennsylvania, Ohio, Georgia, Michigan, North Carolina, New Jersey, Virginia, Washington, Massachusetts, Arizona, Indiana, Tennessee, Missouri, Maryland, Wisconsin, Minnesota, Colorado, Alabama, South Carolina, Louisiana, Kentucky, Oregon, Oklahoma, Puerto Rico, Connecticut, Iowa, Mississippi, Arkansas, Kansas, Utah, Nevada, New Mexico, Nebraska, West Virginia, Idaho, Hawaii, Maine, New Hampshire, Rhode Island, Montana, Delaware, South Dakota, Alaska, North Dakota, District of Columbia, Vermont, Wyoming, Guam, Mariana securely and quickly.
Choose a sale channel
Because of the social distance, you had better sell online rather than offline. Thanks to technological advances, there are a dozen places to sell stuff like face masks.
The simplest way is to sell on Facebook, Twitter, or other social media to reach people around you, such as friends, relatives, or neighbors, etc.
If you want to expand your business, you can build an online website on Shopify or sell on marketplaces like Amazon or Esty.
Decide on the price strategy
Now that face masks become a coveted commodity; many sellers offer them at an unreasonably high price.
Do not do that!
It used to be the expensiveness that partly prevented consumers from buying the face masks and caused the virus's uncontrollable spread.
Thus, it is both a social norm and regulation to charge the face masks at an affordable price while still guaranteeing your margin cost and profit.
To do so, finding a suitable supplier is the most critical factor.
4 Reasons Why We Recommend Importing Face Masks from Dony
We all know that medical masks are in short. Thus, it would help if you sold non-medical masks instead. However, it means you have to pay more attention to their quality.
Fortunately, we know a supplier in Vietnam that exporting bulk quality face masks at a surprisingly favorable price.
Certified face masks
Although being manufactured in Vietnam, Dony's cloth masks strictly meet international standards such as the U.S FAD certification, ISO 9001, CE Certification, FREE Export Certification, Chemical Safety Certification, and Aseptic Inspection Certification, and Global Intertek Certification.
Comfortable and ready-to-use mask
Notably, Dony cloth face masks are ready to use out of the box without washing in advance.
Even better, they are comfortable and breathable thanks to the unique design and quality materials.
Your customers will love Dony cloth masks and keep coming back for more orders.
Experienced to work with US and European partners. So far, Dony has exported tens of millions of Dony Mask anti-drop cloth antibacterial masks to: South Africa, China, African, Los Angeles, USA, Australia, California, Canada, UK, Dubai, Europe, Kenya, Ireland, New York, Arabic, Belgium, Germany, France, United Kingdom, Netherlands, Luxembourg, Bahrain, Cyprus, Egypt, Jordan, Kuwait, Lebanon, Oman, Saudi Arabia, Qatar, Syria, Turkey, United Arab Emirates (UAE), Yemen, Italy, Spain, Ukraine, Poland, Romania, Kazakhstan, Greece, Czech Republic, Portugal, Sweden, Hungary, Belarus, Switzerland, Bulgaria, Serbia, Denmark, Slovakia, Norway, KSA, Persian, Brazil, Kypros, Iraq, Israel, Liban, Argentina, Palestine, Liberia, Zimbabwe, Uganda, Uzbekistan, South Korea, Japan, Russia, Indonesia, Singapore, Philippines, Mexico, India, Peru, Chile, Colombia, Ecuador, Dominican Republic, Panama, Bolivia, Armenia, Austria, etc.
For that reason, their supply chain is flexible and professional.
Favorable prices and incentives for its agencies
Especially, Dony is willing to support its agencies and business to get mutual benefits. Accordingly, you are granted advantages as follows:
Becoming the exclusive distributor of Dony masks in the region;

Given incentives in prices and prioritized in production;

Protected by Dony under the exclusive protection policy;

Supported in PR and marketing activities in Dony websites and other channels, both domestically and internationally;

Taking charge of all existing customers in the region of the agencies;

Providing with FREE product samples and certifications for customers, etc.
CONTACT Dony now for more information!
In a nutshell, Dony antibacterial cloth masks come with the following features:
Meet the most stringent standards exported worldwide
After 60 times of wash, they remain antibacterial to 99.9% (currently no masks have been comparable with)
High-quality three layers are better than some 5-ply masks in the market
Use right after opening the package
Available for those who are sensitive, easy to allergic
Comfortable and breathable when wearing for a long time