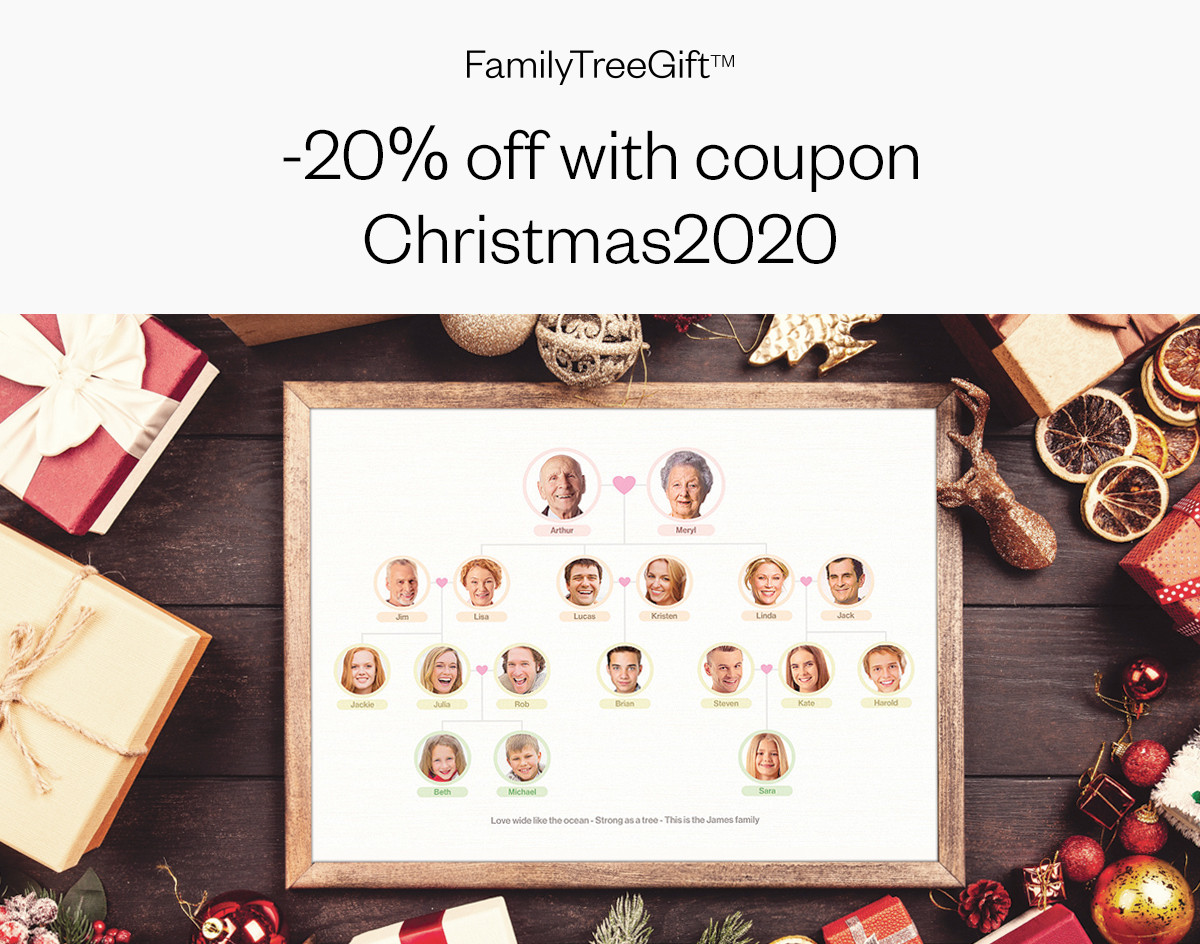 The coupon "Christmas2020" is valid until December 31st 2020 and can be redeemed while ordering online.
Everyone's favourite Christmas season is just around the corner and no one knows better than Family Tree Gifts that a unique Christmas present can make the difference. That's why they are offering a 20% discount coupon code for both new and previous customers.
The year 2020 has been a roller coaster of emotions and economic uncertainty for people around the globe. The whole COVID-19 pandemic has caused difficulties for many families whose lifestyle has changed completely. The year has passed way too quickly for everyone; so fast, that Christmas is just 1 month away! And while this beloved Holiday is meant to represent warmth and joy with the family, this time will definitely be a new experience for all.
Family Tree Gifts is aware of all this situation and firmly believes that people should be all in this together. For this same reason, they are offering a generous 20% discount coupon for all of their customers, especially those who cannot meet everyday circumstances or have a small budget for Christmas presents.
The company Family Tree Gifts takes pride into considering the customers their #1 priority. That's why each and every one of their products is thoughtfully created and will bring a lot of joy to the lives of loved ones. Their unique products will bring back many nice memories and create a warm atmosphere during the family Christmas celebration.
The fan-favourite Family Tree Gifts product is hands down their amazing version of the classic Family Tree. The best part of this product is that it can be created in 3 easy steps, without ever leaving cozy and comfortable home. It's really fast to create it and works as a very original present.
Now more than ever, their Family Tree present can mean so much for the entire family, because of the current lockdowns and limited gatherings. So, all those family members that can't make it to Christmas dinner because of current limitations can still be remembered individually and be there in a way or another. It's a beautiful gesture, and on top of everything, it's fully customizable and can be chosen with various templates or frames.
Last but not least, Family Tree Gifts introduced their newest addition to their catalogue quite recently. It's called Your Cover Gift, and luckily for everyone, it also serves as a present for any occasion, including Christmas! It consists of a realistic mock magazine cover that is also fully customizable by choosing the headlines and "news" that are closely related to the person on the magazine cover, like inside jokes. Your Cover Gift is the best present to create a fun and memorable experience, especially for those who have felt under the weather because of the pandemic. And just like the Family Tree, it can be also ordered and customized from home. This option is perfect for those who have any underlying medical conditions and want to keep as much social distancing as possible.
The coupon "Christmas2020" is valid until December 31st 2020 and can be redeemed while ordering on www.family-tree-gift.com in the Cart section.
Media Contact
Company Name: Family Tree Gift
Contact Person: Anna Janovsky
Email: Send Email
Phone: +44 7487 763 518
Country: United Kingdom
Website: www.family-tree-gift.com