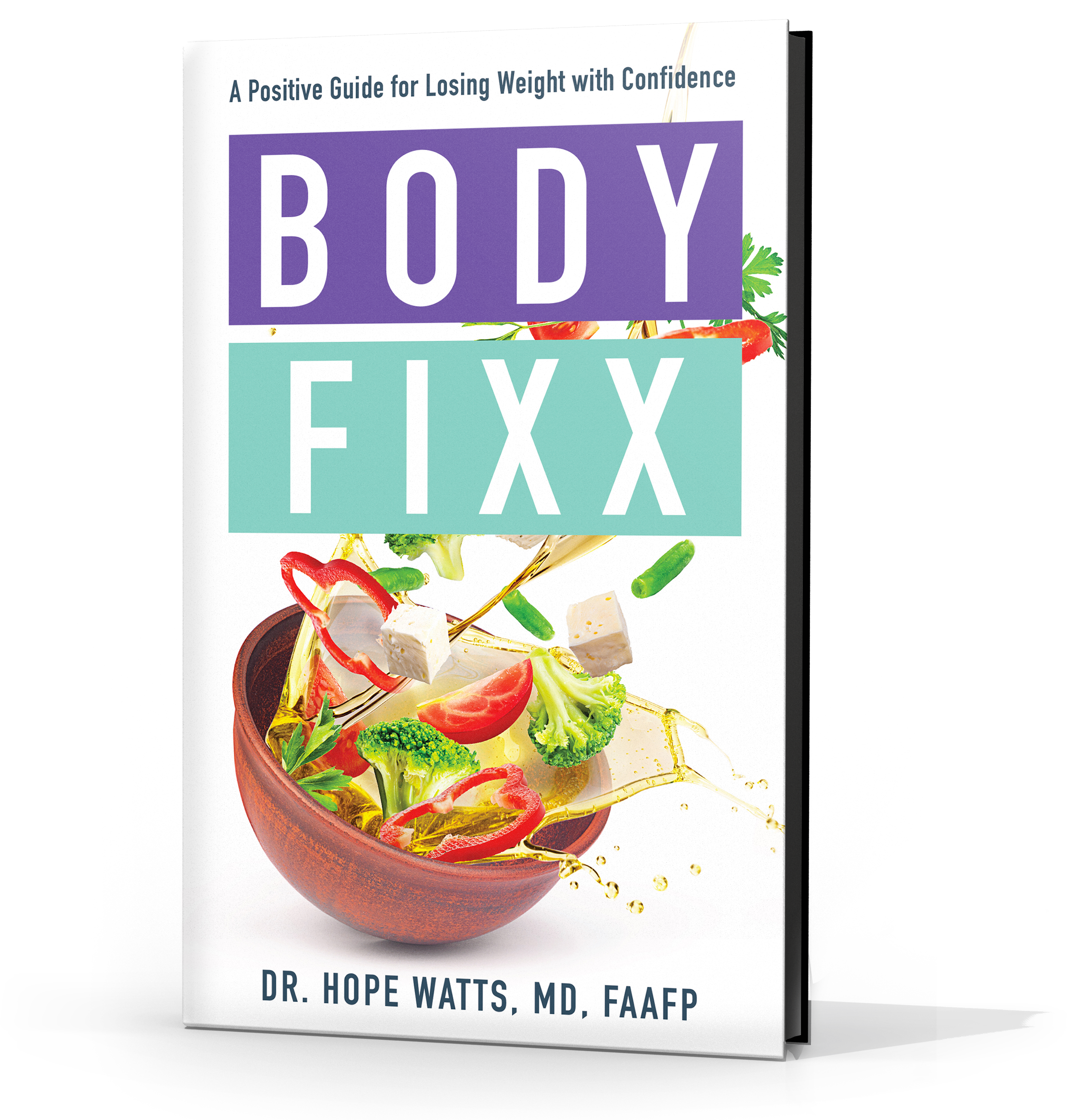 Studies have shown that although millions of people have tried a variety of diets, a high percentage of them still find that they aren't losing weight. Those setbacks cause them to wrongly determine that they're always destined to fail or fall back into their old lifestyle. To provide a navigation guide to diet and exercise, Dr. Hope Watts, MD, FAAFP has released Body Fixx: A Positive Guide for Losing Weight with Confidence.
MATTHEWS, NC – August 6, 2021 – In Body Fixx, bestselling author and family physician, Dr. Hope, tackles the old attitude that all there is to losing weight is restricted eating and lots of exercise. Inspired and informed by years of experience coaching patients and clients, Dr. Watts helps readers to create a winning plan for themselves with the understanding that there is no singular lifestyle change for reaching every weight loss goal.
"Your lifestyle changes will take time for you to adjust to them. Remember to give yourself time to reevaluate challenges so that you can make accurate corrections. Some lifestyle changes are easier than others. Remember to be kind to yourself. It takes constant practice to create a new habit," says Dr. Hope.
The topics covered in Body Fixx, such as the art of recharging, diets that bring about permanent changes, the benefits of exercise, how to maintain your lifestyle habits, food additives and preservatives, and much more are intended to show readers that with the right approach, including food choices and fitness, weight loss can be achieved. In this valuable guide, Dr. Hope delves into various diets and exercises that can accommodate different lifestyles and preferences. She also debunks common weight loss myths and hones in on the one barrier to success that is often overlooked: mindset.
Body Fixx shows how a positive attitude can determine one's altitude while providing the tools necessary for readers to attain the healthy lifestyle they are capable of achieving. "If we do not have a positive mindset, we hinder many of the goals we have set out for ourselves including weight loss."
Dr. Hope Watts is a board-certified family physician who is passionate about bringing insight to weight loss struggles. In her many years of practice, she has helped women achieve their lifestyle goals through positive proper diet, exercise, and mindset. She earned her undergraduate degree at Temple University and her medical degree from the Medical College of Pennsylvania. Both schools are in Philadelphia, Pennsylvania. She completed her residency at Saint Francis Hospital in Wilmington, Delaware. Dr. Watts is a Fellow of the American Academy of Family Physicians.
Published by Publish Your Gift®, Body Fixx: A Positive Guide for Losing Weight with Confidence is now available for purchase at drhopewatts.com.
Media Contact
Company Name: Purposely Created Publishing Group
Contact Person: Shani McIlwain
Email: Send Email
Phone: (888) 949-6228
Country: United States
Website: www.publishyourgift.com