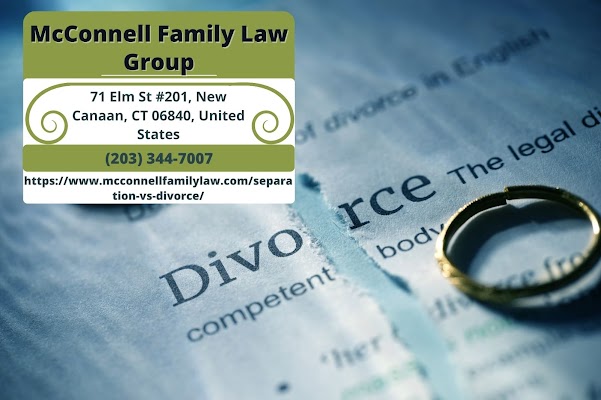 Family Law Attorney Paul McConnell Unveils Comprehensive Article on Connecticut Family Law
Paul McConnell, a renowned family law attorney, has recently published an enlightening article about family law in Connecticut. The new piece from the McConnell Family Law Group provides an in-depth look at the legal landscape of family law matters in the state, offering valuable insights to those in need of such information.
The first section of the article highlights the crucial role family law attorneys play in the legal system. Family law attorney Paul McConnell emphasizes that a family law attorney navigates the complexities of legal matters, such as child custody, divorce, child support, and others, all while balancing professionalism and compassion. He underscores the unique blend of legal acumen and empathetic resolve that attorneys in this field possess.
"Family law practitioners," family law attorney Paul McConnell states, "can be steadfast allies who advocate for their clients' rights and best interests. In a field that demands both legal acumen and compassionate resolve, our Connecticut family law attorneys bring clarity to our clients' concerns, help them explore alternative resolutions, and equip them to make informed decisions for their future."
The article further delves into the specifics of Connecticut's family law, discussing key areas such as marriage and divorce, child custody and support, property division, and spousal support or alimony. McConnell, the family law attorney, explains that family law's primary objective is to establish a legal structure that promotes the well-being of family members, particularly children.
McConnell also sheds light on the importance of a prenuptial agreement, pointing out that it is a legal tool that couples may utilize before marriage to determine their financial rights and responsibilities in the event of a divorce. This legally binding agreement can protect individual assets, address spousal support, and simplify the divorce process if it happens.
The piece includes an exhaustive discussion on Connecticut divorce laws, detailing their characteristics, types, and how a family law attorney can help navigate through the process. McConnell points out the differences between contested and uncontested divorces, alongside other options like legal separation and collaborative divorce.
In discussing child custody, McConnell introduces the concepts of legal custody and physical custody, underlining the importance of considering the best interests of the child. He also touches upon co-parenting strategies after divorce or separation and how a family law attorney can aid in establishing a beneficial custody arrangement.
On the topic of child support, McConnell emphasizes the role of the court in determining the financial responsibility of each parent. He underscores the importance of understanding how child support payments are calculated and the factors the court considers in making its decision.
McConnell also discusses adoptions and paternity issues, explaining how family law attorneys can help clients navigate these often complex processes.
In discussing the value of family law attorneys, Paul McConnell emphasizes their role in providing legal guidance, objective and compassionate support, strategic advocacy, negotiation and mediation skills, court representation, and an understanding of local laws and procedures.
About McConnell Family Law Group:
The McConnell Family Law Group, based in New Canaan, Connecticut, is a team of experienced family law attorneys dedicated to providing quality legal assistance and representation. Over the years, they have tirelessly served families across the state, handling a variety of cases with efficiency, empathy, and a deep understanding of their clients' priorities and goals. Their commitment to upholding their clients' rights and interests while navigating complex legal matters is evident in their work and reputation in the field. Their team of experienced attorneys and lawyers excel in various aspects of family law, including child custody, divorce, child support, adoptions, paternity cases, and more.
Embeds:
Youtube Video: https://www.youtube.com/watch?v=MxaNdkMQPK0
GMB: https://goo.gl/maps/eSadxv3KBEM4CxMk6
Email and website
Email: intake@mcconnellfamilylaw.com
Website: https://www.mcconnellfamilylaw.com/
Media Contact
Company Name: McConnell Family Law Group
Contact Person: Paul McConnell
Email: Send Email
Phone: (203) 344-7007
Address:71 Elm St #201
City: New Canaan
State: Connecticut 06840
Country: United States
Website: https://www.mcconnellfamilylaw.com/