Letters of Healing on a Quest for the Truth' by Len Prazych.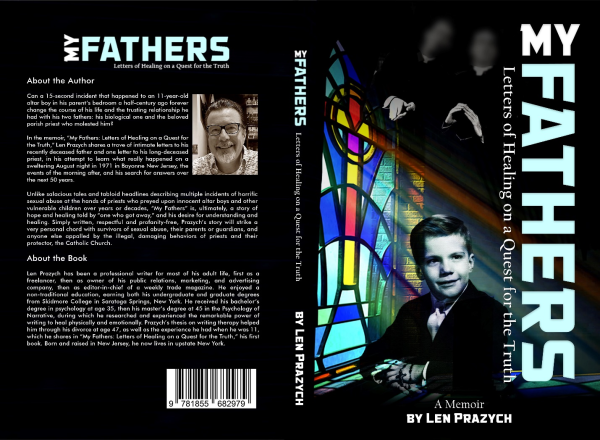 Today, we invite you to embark on the emotional odyssey described in the pages of 'My Fathers: Letters of Healing on a Quest for the Truth,' a memoir by the gifted author Len Prazych. This compelling memoir offers readers a chance to explore love, loss, betrayal, and the determined pursuit of getting answers to unanswered questions in an intimate and engaging way.
Prazych's memoir is a literary gem that delves into the complexities of family relationships while weaving a tale of deep-rooted emotions, self-discovery, and the unbreakable bond between generations. This gripping narrative opens a window into the author's life through a series of heartfelt letters and a 50-year quest for the elusive truth about what happened after a one-time incident of abuse by a beloved Catholic priest when Prazych was 11 years old.
At the heart of 'My Fathers' is the exploration of a son's journey to understand, forgive, and love his father. The memoir, comprised of deeply touching letters and stories, resonates with readers as they join Prazych on his quest to unravel the mysteries that gripped his family after the "incident" and subsequent disappearance of the family's beloved priest. With eloquence, Prazych shares his story of curiosity, healing and understanding, creating a powerful narrative that's relatable to anyone who has ever faced the complexities of family dynamics, predatory priests, and the Catholic Church.
The memoir paints a vivid picture of the journey of the author's father in his final years, conveying the pain of distance during moments that needed closeness. Prazych, with remarkable clarity and sensitivity, reflects upon the challenges of caring for parents in their later years. His father's journey through hospice care, coupled with the lockdowns during the COVID-19 pandemic, strikes a poignant chord. The compelling narrative portrays the challenges faced by so many during this trying period, highlighting the significance of maintaining dignity and love in the face of adversity. Prazych's memoir reminds us that while goodbyes may be inevitable, the love we carry in our hearts endures.
With remarkable storytelling talent, Prazych shares with readers the intimate relationship with both his fathers, his biological one and his spiritual one, making it a multi-layered account that dissects the intricacies of human relationships. Throughout 'My Fathers: Letters of Healing on a Quest for the Truth,' readers will discover how love, faith, and determination can transcend generations.
As you delve into the book, be prepared to be moved by Prazych's unique perception of family bonds and the secrets upon which they are formed. His ability to capture the essence of human emotion will keep you engaged from the very first page. This isn't just a memoir; it's a heartfelt glimpse into the author's psyche as he bares his soul through a trove of letters to his recently deceased father.
About the Author:
Len Prazych is a first-time author whose storytelling prowess shines through in 'My Fathers: Letters of Healing on a Quest for the Truth.' His memoir reflects not only a personal journey but also the universal themes of love, loss, betrayal and ultimately, healing. Prazych's memoir invites readers to reflect upon their own stories, family relationships, and the secrets hat have shaped their lives, while allowing room for personal freedom, redemption, and the capacity to heal. He lives and works in upstate, New York.
Media Contact
Company Name: AMZ Book Publishing Solutions
Contact Person: Len Prazych
Email: Send Email
Country: United States
Website: www.lenprazych.com