TPG Lighting LLC, based in Sanford, FL, is here to make your holiday season brighter and more manageable with its expert Christmas light installation service.
Sanford, FL – The holiday season is just around the corner; as we all know, it's the most beautiful time of the year. One of the most cherished traditions during this festive period is decorating our homes with beautiful Christmas lights. These twinkling lights bring joy to our hearts and light up the entire neighborhood, creating a magical atmosphere that's hard to resist.
While many of us enjoy putting up Christmas lights, there's another way to make your holidays stress-free and spectacular – by enlisting the services of professional light installers. TPG Lighting LLC, based in Sanford, FL, is here to make your holiday season brighter and more manageable with its expert Christmas light installation service.
The Magic of Christmas Lights
Before we dive into the benefits of hiring professional light installers, let's take a moment to appreciate the magic of Christmas lights. These tiny, colorful bulbs can transform ordinary streets and homes into enchanting winter wonderlands. They evoke nostalgia, warmth, and togetherness, reminding us of the joy and love of the holiday season.
Christmas lights come in various shapes, sizes, and colors, offering endless possibilities for creative decoration. From classic white lights to vibrant multicolored displays, there's a style of Christmas lights for everyone. Whether you prefer a simple, elegant look or a dazzling, over-the-top extravaganza, the right lights can bring your holiday vision to life.
The Challenges of DIY Christmas Light Installation
While the idea of adorning your home with Christmas lights might be exciting, the actual process of installation can be pretty daunting. Here are some of the common challenges faced by those who opt for a DIY approach:
Safety Concerns: Climbing ladders, balancing on rooftops, and handling electrical wiring can be hazardous. Thousands of people suffer injuries yearly while attempting to install their Christmas lights.
Time-Consuming: Hanging Christmas lights can be time-consuming, especially if you have a large property or intricate design in mind. It can take hours or even days to get everything just right.
Technical Expertise: Properly installing Christmas lights requires technical knowledge about electrical connections and safety protocols. Incorrect installations can lead to power outages, electrical fires, or damage to your home.
Storage and Maintenance: After the holiday season ends, you must take down and store your Christmas lights properly. This step must be revised to avoid tangled, damaged, or non-functioning lights the following year.
The Solution: Professional Light Installers Service
It is where TPG Lighting LLC steps in to save the day. Their professional light installers service eliminates the hassle of decorating your home for the holidays. Here's why you should consider hiring them:
Safety First: TPG Lighting LLC's team is trained and experienced in safely handling all aspects of Christmas light installation. You can avoid the risks associated with DIY installations and enjoy peace of mind.
Time-Saving: By enlisting their services, you can reclaim valuable time during the busy holiday season. Spend more moments with your loved ones and less time wrestling with tangled lights and extension cords.
Expertise: Their technicians have the technical knowledge to install Christmas lights efficiently and effectively. They'll ensure that your display looks stunning and functions flawlessly throughout the season.
Customization: TPG Lighting LLC offers a range of design options to suit your preferences. Whether you want a classic display or something more unique, their experts can bring your vision to life.
Storage and Maintenance: After the holidays, their team will carefully remove and store your lights, ensuring they remain in excellent condition for the next season.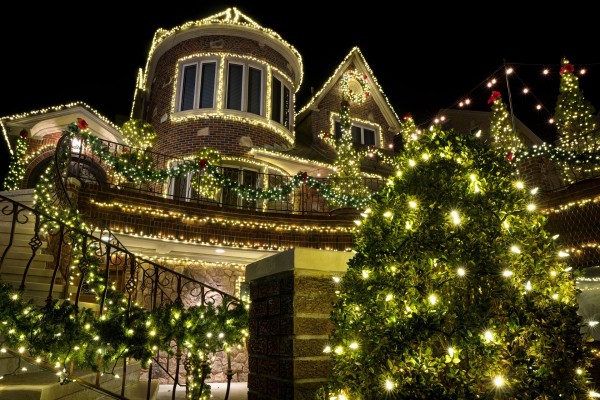 Why Choose TPG Lighting LLC?
TPG Lighting LLC is not just another lighting installation company; they are your partners in creating unforgettable holiday memories. Here are some reasons why they stand out:
Local Expertise: Being based in Sanford, FL, they understand the local community's unique preferences and requirements, ensuring your display is a perfect fit for the neighborhood.
Quality Products: TPG Lighting LLC uses high-quality Christmas lights built to last, so you won't have to worry about constant replacements or repairs.
Outstanding Customer Service: Their commitment to excellent customer service means they are always ready to promptly address your questions, concerns, or special requests.
Competitive Pricing: While professional installation might sound expensive, TPG Lighting LLC offers competitive pricing packages that make it an affordable and worthwhile investment.
How It Works
Getting your home adorned with beautiful Christmas lights by TPG Lighting LLC is a breeze. Here's how it works:
Consultation: Contact TPG Lighting LLC to discuss your ideas and preferences. Their team will work with you to create a customized design that fits your vision and budget.
Installation: Once the design is finalized, their skilled technicians will arrive at your home conveniently to install the lights. They handle everything, from setting up the electrical connections to securing the lights.
Enjoy the Magic: Sit back, relax, and watch your home transform into a holiday masterpiece. You can trust that TPG Lighting LLC will make your Christmas dreams come true.
Post-Holiday Service: After the holiday season, they will carefully remove the lights, ensuring they are stored safely for the following year.
Don't let the stress of DIY Christmas light installation this holiday season dim your festive spirit. Experience the holidays in a new light by enlisting the services of professional light installers. TPG Lighting LLC in Sanford, FL, is your trusted partner in creating a dazzling and safe holiday display that will leave your neighbors in awe. Let them handle the lights while you make precious memories with your loved ones. Make this holiday season magical with TPG Lighting LLC's expert Christmas lights installation service.
Media Contact
Company Name: TPG Lighting LLC
Contact Person: TPG Lighting LLC Support
Email: Send Email
Phone: 407-917-7748
Address:4150 Incubator Ct
City: Sanford
State: FL
Country: United States
Website: http://www.orlandochristmaslights.net/