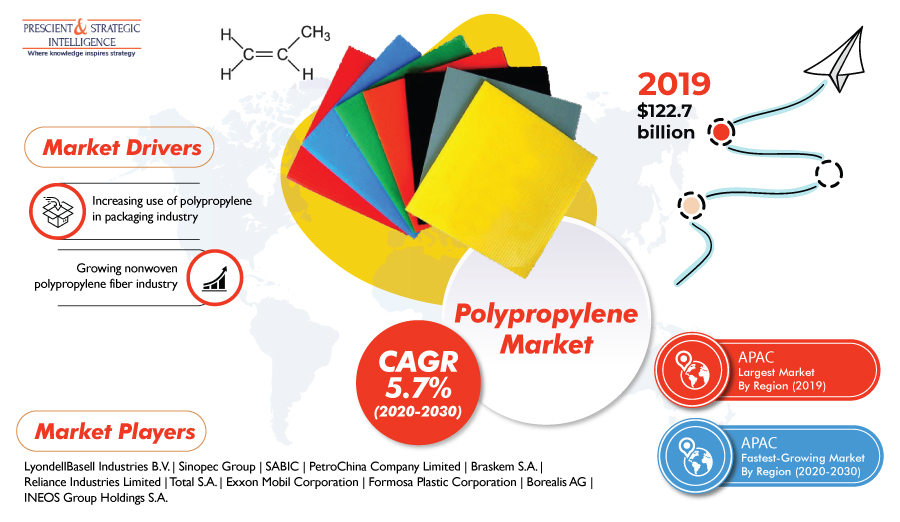 The global polypropylene market revenue is expected to increase from $122.7 billion in 2019 to $226.8 billion in 2030 by P&S Intelligence.
PlasticsEurope estimates the global plastic production in 2018 at 359 million tons, of which polypropylene (PP) accounted for 19.3%, the largest share. This highly versatile plastic is used for manufacturing lightweight sports equipment, tote bags, cold- and hot-weather clothing, flip-flops, surgical sutures, medical tools, containers, and equipment; domestic-use products, toys, and even furniture. Such a wide application base of PP is owed to its wear & tear, heat, oil & solvent, microbe, and water resistance and a high melting point.
The polypropylene market will likely grow from $122.7 billion in 2019 to $226.8 billion in 2030, at a 5.7% CAGR during forecast period. Apart from those mentioned above, a prominent application area of PP is in flexible and rigid packaging, the demand for which is growing with the booming population. In addition, the increasing number of one-person households, rapid urbanization, busy schedules, and rising demand for wellness and health products is pushing up the demand for packaging.
Download report sample at: https://www.psmarketresearch.com/market-analysis/polypropylene-market-report/report-sample
Other than as a plastic, the usage of PP for the production of nonwoven fibers is also surging. According to the International Fiber Journal, 14.9 million tons of nonwoven roll goods were consumed in 2018, of which 59% consumption was of staple fiber. Further, of this 59%, PP fibers accounted for an 11%, or 1 million-ton, consumption. This was because of the increasing demand for PP stable fibers for the production of needle punch durables, which are important in the vehicle component, geotextile, indoor & outdoor carpeting, coating substrate, upholstered furnishing, blanket, and bedding sectors.
Copolymer and homopolymer are the bifurcations when the polypropylene market is segmented on the basis of type. Of these, the homopolymer bifurcation generated the higher revenue during the historical period (2014–2019) as a result of the higher rigidity, chemical and temperature stability, thermoforming performance, and weldability of homopolymers than copolymers. This is why PP homopolymers are widely used for manufacturing plating & anodizing process equipment, orthotic & prosthetic devices, pump components, plenums & manifolds, storage tanks, secondary containment, valve bodies, medical devices, and washers.
Browse full report at: https://www.psmarketresearch.com/market-analysis/polypropylene-market-report
In 2019, Asia-Pacific dominated the polypropylene market, and it is also expected to witness the fastest growth during the forecast period. This is attributed to the increasing number of manufacturing plants and advancements in rigid and flexible packaging materials. Due to the expanding end-use industries, such as consumer & institutional, packaging, furniture & furnishings, transportation, machinery, building & construction, and electrical & electronics, regional PP producers, including Reliance Industries Limited, China Petroleum & Chemical Corporation, and PetroChina Company Limited, are prospering.
Market Size Breakdown by Segment
By Type
By Application
Homopolymer
Injection Molding
Film & Sheet
Raffia
Fiber
Blow Molding
By End Use
Packaging
Electrical
Medical
Consumer Goods
Automotive
Construction
Geographical Analysis
North America
Europe

Germany
Italy
France
U.K.
Spain
Poland
Belgium & Luxembourg
Netherlands
Russia

Asia-Pacific

China
India
Korea
Japan
Thailand

Latin America
Middle East and Africa

Saudi Arabia
Turkey
U.A.E.
Iran
Africa
Browse Other Related Reports
Polymer Market – https://www.psmarketresearch.com/market-analysis/polymer-market
Polytetrafluoroethylene Market – https://www.psmarketresearch.com/market-analysis/ptfe-market
Media Contact
Company Name: P&S Intelligence
Contact Person: Abhishek
Email: Send Email
Phone: +918887787886
Address:Noida Sector 2
City: Noida
State: UP
Country: India
Website: https://www.psmarketresearch.com/market-analysis/polypropylene-market-report