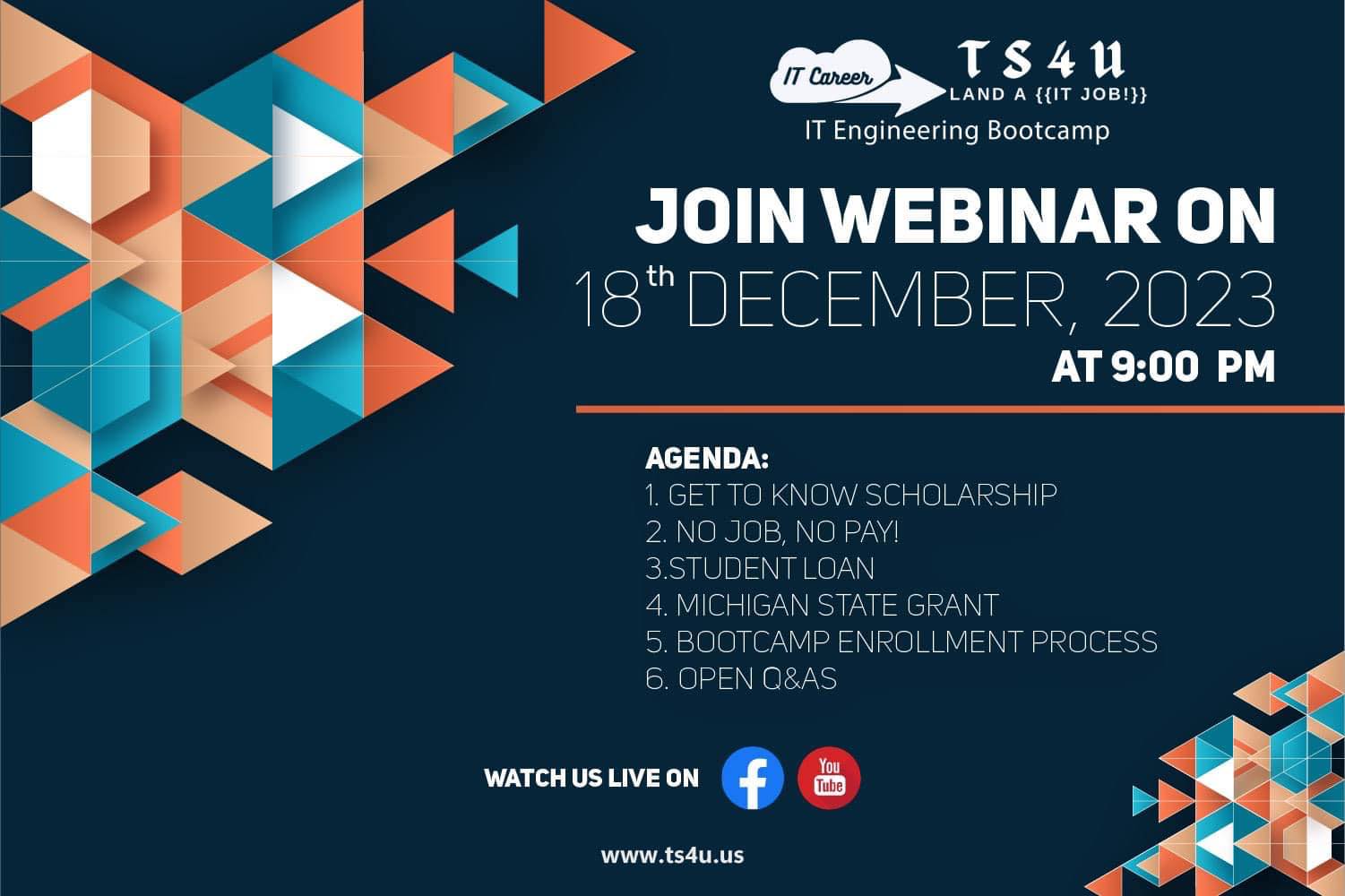 TS4U IT Engineering Bootcamp provides scholarship up to 25% of any boot camp fees, no Bootcamp fees until a student gets a job and make over six figures after completing the boot camp. TS4U is one the most unique and innovative BootCamp in the USA.
Recent Computer science or computer science-related graduate + one year of experience can get up to 25% scholarship from our Bootcamp! Join our webinar to learn more details!
TS4U IT Engineering Bootcamp is a Michigan state-licensed IT Bootcamp.
We are happy to share the following:
TS4U IT Engineering Bootcamp is happy to announce for Computer Science students with recent graduate and one-year experience an amazing up to 25% of scholarship for any BootCamp that TS4U Provides. In addition, we are also collecting International students for their CPT application through our Bootcamp.
Host: Shiblu Ahmad, Principal of TS4U IT Engineering Bootcamp
When is the next webinar?
December 18, 2022
Time: 9:00 pm EST
Duration: 1 hour
How to register and participate in the webinar?
https://ts4u.us/link/nojobnopay
When does the next IT BootCamp start?
February 04, 2023
When is the enrollment start?
December 19, 2022
When is the enrollment end?
January 31, 2022
Can anyone join? Who is serious but has no IT background?
Yes, if you are committed and severe, you are welcome to apply and evaluate.
How can I speak with the enrollment agent?
Please complete the following form so we can set up a call with you.
https://www.ts4u.us/enrollment-inquiry
Some of the benefits of our IT Engineering Bootcamp:
1. Anyone can join for FREE Trial
2. Students from Michigan can get FREE Tuition from the state of Michigan up to $9500
3. Easy and Interest-FREE student loan option from our partner ClimbCredit
4. Income Share (NO Pay NO JOB) means paying only a small deposit and completing the boot camp. You start after you get a job; if you do not get a job, you will not have to pay. It is a fantastic service from the TS4U.
5. Over 85% of success rate after completing our boot camp
6. 24/7 assistance and engagement to every student through our transformation platform
7. Students are challenged daily and weekly
8. Students are held accountable for their performance and progress
9. Many more
How does the TS4U IT Engineering Bootcamp provide and prepare a student from ZERO to Join a corporate job to make over Six Figures?
1- We have exclusive learning contents
2- Digital transformation web portal for students, mobile app, desktop app for students to get connected, get engaged and get the best outcome daily and weekly throughout the Bootcamp
3- Provide abilities to students to grow their technical and communication skills
4- Presentation skills through. our weekly YouTube Show N Tell, where a student prepares and presents a specialized topic that has been covered in the workshop
5- Provide 35 to 40 interview questions for every student individually to solve based on the workshop contents; this is helpful for a student to get ready for the job market while in the Bootcamp
6- Provide Monthly progress and performance report
7- Set up a 1:1 meeting with students to talk about their performance and progress and also offer assistance in specific areas where students are behind
8- Provide internship opportunities to every student to work with a group of people, development team, or cross-functional team to gain work experience
9- Provide exclusive and unique interview audio and video to every student to learn and prepare technical interviews that include recruiter, hiring manager, account manager, behavior, and all types of interview format
10- Every student gets FREE agile Scrum training and our internal Agilealm.cloud platform access where they follow sprint, daily scrum on call and text update, and retrospective meeting that is not found in any BootCamp.
11- Resume preparation, group interview, mock interview, profile preparation, interview assistance, interview guidance, assistance during the interview, providing consistent feedback during the interview to improve student competency, help with offer letter to get extra money through professional negotiation, background checks, first two weeks assistance, and guide to become successful in their job.
12- Guide for students' following career path and success
Some of our Bootcamp platforms are:
https://www.ts4u.us/
www.affiliate.ts4u.us/
www.automation.ts4u.us/
www.itinterviewready.com/
www.agilelam.cloud/
Media Contact
Company Name: TS4U IT Engineering Bootcamp
Contact Person: Shiblu Ahmad
Email: Send Email
Phone: 586-276-7347
Address:28751 Ryan Road
City: Warren
State: MI
Country: United States
Website: https://ts4u.us/link/nojobnopay