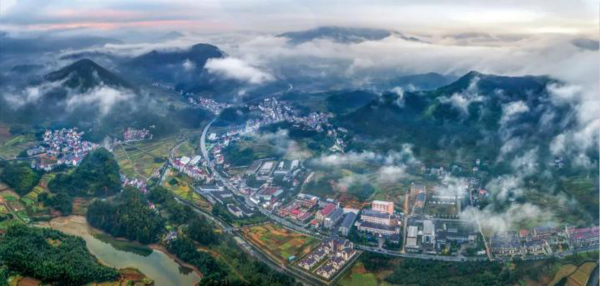 An aerial view of the Eshan She Ethnic township in Tonglu county, Hangzhou, capital of East China's Zhejiang province. [Photo/zj.zjol.com.cn]
The Eshan She Ethnic town in Tonglu county, Hangzhou was listed among the top 10 5G application cases in China, according to the 2021 World 5G Convention held in Beijing on Aug 31.
In 2020, Eshan, the only town in Hangzhou primarily inhabited by ethnic minorities, started the construction of the first demonstration ethnic town for 5G application in the country.
5G applications can be found in Eshan's agriculture, daily life, and social governance.
Shenguan village, which is located in the township, stood out from the town's other villages due to its successful efforts to pilot digital technology and make agricultural management smarter.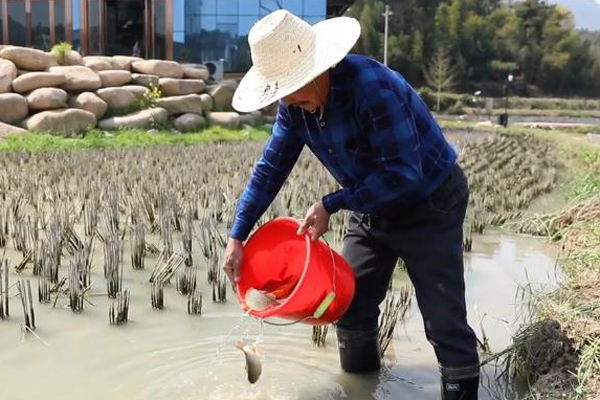 A farmer from Shenguan village in Tonglu county farms fish in a rice fields. [Photo/zjol.com.cn]
The village established a 5G-powered digital management center, allowing technical workers to view real-time data related to the growth status of rice.
The center also allows workers to monitor the temperature and water quality and helps farmers determine when to eliminate pests and treat plant diseases. The smart digital system helps manage 33 hectares of farmland.
In addition, 5G technology has been used in livestreaming, education, homecare, greenways, as well as the monitoring of water quality and scenic areas.
In the Minzu Primary School of Eshan, 5G and virtual reality technology have enriched the lives of students by allowing them to experience places such as the Xisha Islands in the South China Sea and even the moon.
Media Contact
Company Name: The Information Office of Hangzhou Municipal Government
Contact Person: Cai Jingwen
Email: Send Email
Phone: 0510-68559077
Country: China
Website: http://www.ehangzhou.gov.cn/