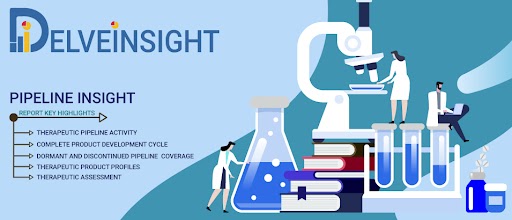 (Las Vegas, Nevada, United States) As per DelveInsight's assessment, globally, Epilepsy pipeline constitutes 74+ key companies continuously working towards developing 90+ Epilepsy treatment therapies, analysis of Clinical Trials, Therapies, Mechanism of Action, Route of Administration, and Developments analyzes DelveInsight.
The Epilepsy Pipeline report embraces in-depth commercial and clinical assessment of the pipeline products from the pre-clinical developmental phase to the marketed phase. The report also covers a detailed description of the drug, including the mechanism of action of the drug, clinical studies, NDA approvals (if any), and product development activities comprising the technology, collaborations, mergers acquisition, funding, designations, and other product-related details.
"Epilepsy Pipeline Insight, 2023" report by DelveInsight outlines comprehensive insights into the present clinical development scenario and growth prospects across the Epilepsy Market.
Some of the key takeaways from the Epilepsy Pipeline Report:
Companies across the globe are diligently working toward developing novel Epilepsy treatment therapies with a considerable amount of success over the years.
Epilepsy companies working in the treatment market are Elium Therapeutics, CombiGene, Ovid Therapeutics, Otsuka Pharmaceutical Co.,Ltd., SK Biopharmaceuticals, Receptor Life Sciences, Cerebral Therapeutics, Equilibre Biopharmaceuticals, Cerevel Therapeutics, Engrail Therapeutics, Amzell, Xenon Pharmaceuticals Inc., Engage Therapeutics, Xenon Pharmaceuticals, Takeda Pharmaceuticals, GW Pharmaceuticals, Avicanna, and others, are developing therapies for the Epilepsy treatment
Emerging Epilepsy therapies in the different phases of clinical trials are- Kv7 Program, CG 01, OV329, OPC-214870, SKL24741, RLS103, CT-010, EQU 001, Darigabat, ENX-101, AMZ002, XEN496, Alprazolam inhalation, XEN1101, TAK-935, Cannabidivarin, AVCN-319302, and others are expected to have a significant impact on the Epilepsy market in the coming years.
In March 2023, Preclinical data supporting IAMA Therapeutics' IAMA-6 programme in focal refractory epilepsy will be presented at the 75th American Academy of Neurology (AAN) Annual Meeting, which will be held from April 22–27 in Boston, Massachusetts. IAMA Therapeutics is a preclinical-stage pharmaceutical company focused on the discovery, development, and commercialization of novel medicines to improve the lives of people suffering from brain disorders.
In February 2023, The Phase 2 clinical study of ADX71149 (JNJ-40411813) for the treatment of epilepsy was completed, according to an announcement from Addex Therapeutics. Metabotropic glutamate type 2 (mGlu2) receptor-positive allosteric modulator (PAM) ADX71149 is selective. The experiment is being run by Janssen Pharmaceuticals, Inc., a subsidiary of Johnson & Johnson's Janssen Pharmaceutical Companies.
In January 2023, EQU-001, a novel anti-inflammatory anti-seizure drug, is administered as once-daily oral adjunctive therapy for focal seizures in adults with epilepsy. Equilibre Biopharmaceuticals Corp. reported positive topline results from the Phase 2 clinical trial evaluating the clinical safety, tolerability, and preliminary efficacy of EQU-001. The EQU-001 study's findings are positive since they show outstanding tolerability and encouraging efficacy for adult patients with focal epilepsy, particularly for those who have seizures that are challenging to manage.
In January 2023, A cutting-edge electronic diary (eDiary) data capturing technology was launched by Signant Health with the aim of streamlining the epilepsy trial participation experience for patients and research sites while assuring reliable outcome assessment data to support trial endpoints. The novel patient-reported outcome measure, which was created in partnership with The Epilepsy Study Consortium (TESC), offers clinical research sponsors and organisations a standardised way to gather common seizure data items with high-quality data.
In January 2023, In order to assess the efficacy and safety of AMZ002 in the treatment of infantile spasms, a rare form of epilepsy, Amzell started a randomised, open-label superiority study. The primary goal of this study is to compare AMZ002 and Vigabatrin for treating infantile spasms (IS) in participants who have just received a diagnosis.
In June 2022, Preclinical research from CODA Biotherapeutics, Inc.'s focal epilepsy programme showed that using the company's lead-engineered receptor and small molecule activator medication considerably decreased the frequency of focal seizures in vivo. The pharmacokinetics of the activator medication in mice models were shown to be consistent with the quick reduction in seizures, according to the results. Data also showed a strong correlation between a decrease in seizure frequency and the expression of CODA's lead receptor.
In March 2021, A randomised, double-blind, placebo-controlled, parallel-group, multicenter clinical trial was started by Xenon Pharmaceuticals to assess the effectiveness, safety, and tolerability of XEN496 administered as adjunctive treatment in roughly 40 paediatric patients with KCNQ2-DEE aged one month to less than six years.
Epilepsy Overview
A chronic neurological condition called epilepsy is characterised by frequent, recurrent convulsions that cause strange behaviour. Due to the various seizure forms, underlying conditions, and varying degrees of severity, it may qualify as a spectrum disorder. In epilepsy, abnormal or excessive electrical discharges from brain cells impair the brain's ability to operate.
Get a Free Sample PDF Report to know more about Epilepsy Pipeline Therapeutic Assessment-
https://www.delveinsight.com/report-store/epilepsy-pipeline-insight
Emerging Epilepsy Drugs Under Different Phases of Clinical Development Include:
Kv7 Program: Elium Therapeutics
CG 01: CombiGene
OV329: Ovid Therapeutics
OPC-214870: Otsuka Pharmaceutical Co.,Ltd.
SKL24741: SK Biopharmaceuticals
RLS103: Receptor Life Sciences
CT-010: Cerebral Therapeutics
EQU 001: Equilibre Biopharmaceuticals
Darigabat: Cerevel Therapeutics
ENX-101: Engrail Therapeutics
AMZ002: Amzell
XEN496: Xenon Pharmaceuticals Inc.
Alprazolam inhalation: Engage Therapeutics
XEN1101: Xenon Pharmaceuticals
TAK-935: Takeda Pharmaceuticals
Cannabidivarin: GW Pharmaceuticals
AVCN-319302: Avicanna
ZX008 (Fenfluramine Hydrochloride): UCB
Cenobamate: SK Life Science, Inc.
STK-001: Stoke Therapeutics
EPX-100: Epygenix
NRTX-1001: Neurona Therapeutics
Epilepsy Route of Administration
Epilepsy pipeline report provides the therapeutic assessment of the pipeline drugs by the Route of Administration. Products have been categorized under various ROAs, such as
Oral
Parenteral
Intravenous
Subcutaneous
Topical
Epilepsy Molecule Type
Epilepsy Products have been categorized under various Molecule types, such as
Monoclonal Antibody
Peptides
Polymer
Small molecule
Gene therapy
Epilepsy Pipeline Therapeutics Assessment
Epilepsy Assessment by Product Type
Epilepsy By Stage and Product Type
Epilepsy Assessment by Route of Administration
Epilepsy By Stage and Route of Administration
Epilepsy Assessment by Molecule Type
Epilepsy by Stage and Molecule Type
DelveInsight's Epilepsy Report covers around 90+ products under different phases of clinical development like
Late-stage products (Phase III)
Mid-stage products (Phase II)
Early-stage product (Phase I)
Pre-clinical and Discovery stage candidates
Discontinued & Inactive candidates
Route of Administration
Further Epilepsy product details are provided in the report. Download the Epilepsy pipeline report to learn more about the emerging Epilepsy therapies
Some of the key companies in the Epilepsy Therapeutics Market include:
Key companies developing therapies for Epilepsy are – Alexza Pharmaceuticals, Xenon Pharmaceuticals, GW Pharmaceuticals, Equilibre Biopharmaceuticals, Takeda Pharmaceuticals, Abide therapeutics, Otsuka pharmaceutical, H. Lundbeck A/S, Spark Therapeutics, Equilibre Biopharmaceuticals, ES Therapeutics, Supernus Pharmaceuticals, Inc., MGC Pharmaceuticals, Engrail Therapeutics INC, SK biopharmaceuticals, Longboard Pharmaceuticals, Janssen Research & Development, LLC, Equilibre Biopharmaceuticals, Cerevel Therapeutics, LLC, Neurona Therapeutics, Praxis Precision Medicines, UCB Pharma, Receptor Life Sciences, NeuroPro Therapeutics, Inc., Avicanna, Amring Pharmaceuticals Inc., Ovid Therapeutics, Addex Therapeutics, IAMA Therapeutics, CODA Biotherapeutics, Cerebral Therapeutics, Engrail Therapeutics, and others.
Epilepsy Pipeline Analysis:
The Epilepsy pipeline report provides insights into
The report provides detailed insights about companies that are developing therapies for the treatment of Epilepsy with aggregate therapies developed by each company for the same.
It accesses the Different therapeutic candidates segmented into early-stage, mid-stage, and late-stage of development for Epilepsy Treatment.
Epilepsy key companies are involved in targeted therapeutics development with respective active and inactive (dormant or discontinued) projects.
Epilepsy Drugs under development based on the stage of development, route of administration, target receptor, monotherapy or combination therapy, a different mechanism of action, and molecular type.
Detailed analysis of collaborations (company-company collaborations and company-academia collaborations), licensing agreement and financing details for future advancement of the Epilepsy market.
The report is built using data and information traced from the researcher's proprietary databases, company/university websites, clinical trial registries, conferences, SEC filings, investor presentations, and featured press releases from company/university websites and industry-specific third-party sources, etc.
Download Sample PDF Report to know more about Epilepsy drugs and therapies
Epilepsy Pipeline Market Drivers
Rising awareness and strategic alliance, increasing launch of novel drugs, high burden of epilepsy are some of the important factors that are fueling the Epilepsy Market.
Epilepsy Pipeline Market Barriers
However, loss of patent protection for branded drugs, high cost of treatment and other factors are creating obstacles in the Epilepsy Market growth.
Scope of Epilepsy Pipeline Drug Insight
Coverage: Global
Key Epilepsy Companies: Elium Therapeutics, CombiGene, Ovid Therapeutics, Otsuka Pharmaceutical Co.,Ltd., SK Biopharmaceuticals, Receptor Life Sciences, Cerebral Therapeutics, Equilibre Biopharmaceuticals, Cerevel Therapeutics, Engrail Therapeutics, Amzell, Xenon Pharmaceuticals Inc., Engage Therapeutics, Xenon Pharmaceuticals, Takeda Pharmaceuticals, GW Pharmaceuticals, Avicanna, and others
Key Epilepsy Therapies: Kv7 Program, CG 01, OV329, OPC-214870, SKL24741, RLS103, CT-010, EQU 001, Darigabat, ENX-101, AMZ002, XEN496, Alprazolam inhalation, XEN1101, TAK-935, Cannabidivarin, AVCN-319302, and others
Epilepsy Therapeutic Assessment: Epilepsy current marketed and Epilepsy emerging therapies
Epilepsy Market Dynamics: Epilepsy market drivers and Epilepsy market barriers
Request for Sample PDF Report for Epilepsy Pipeline Assessment and clinical trials
Table of Contents
1. Epilepsy Report Introduction
2. Epilepsy Executive Summary
3. Epilepsy Overview
4. Epilepsy- Analytical Perspective In-depth Commercial Assessment
5. Epilepsy Pipeline Therapeutics
6. Epilepsy Late Stage Products (Phase II/III)
7. Epilepsy Mid Stage Products (Phase II)
8. Epilepsy Early Stage Products (Phase I)
9. Epilepsy Preclinical Stage Products
10. Epilepsy Therapeutics Assessment
11. Epilepsy Inactive Products
12. Company-University Collaborations (Licensing/Partnering) Analysis
13. Epilepsy Key Companies
14. Epilepsy Key Products
15. Epilepsy Unmet Needs
16 . Epilepsy Market Drivers and Barriers
17. Epilepsy Future Perspectives and Conclusion
18. Epilepsy Analyst Views
19. Appendix
20. About DelveInsight
About DelveInsight
DelveInsight is a leading Business Consultant and Market Research firm focused exclusively on life sciences. It supports Pharma companies by providing comprehensive end-to-end solutions to improve their performance. It also offers Healthcare Consulting Services, which benefits in market analysis to accelerate business growth and overcome challenges with a practical approach.
Media Contact
Company Name: DelveInsight Business Research
Contact Person: Gaurav Bora
Email: Send Email
Phone: 8774225362
Address:27 Drydock Ave S. Jones Blvd #2432
City: Boston
State: MA
Country: United States
Website: https://www.delveinsight.com/consulting/asset-prioritizaton-services