Epay, a legal online payment processor which got Payment card industry (PCI) certificate in 2015. It has announced it is now offering customers in almost all the countries the ability to pay and get paid with 0% fee.
As china's one global online payment company provides payment service for multi-currencies including CNY and most foreign currencies, Epay offers a wide array of user-friendly services as below:
1. Pay online
Pay to another Epay account by entering Email and code, no need to enter bank card information. Bank card, credit card, Epay balance are all available to shop online, no fees for the payment.
2. Receive Money
Epay users can create and send their request to get paid faster. Fund will be deposited in the user's Epay account once the payment is done. Users can pay with their account balance or withdraw the balance to their bank accounts. It's totally free.
3. Deposit, Withdrawal
Users can directly deposit or withdraw USD, EURO, GBP, HKD, CNY via Epay with 0% fee. Debit card, international bank wire, epay exchanger are all available.
4. Epay Voucher
Epay Voucher is an innovative design, which is a special anonymous coupon. Users can create a voucher and send it to others through Email.
As a new payment processor competes with large payment company like payza, skrill, payoneer, perfect money, paypal etc., how epay hold their own place and win market share in the payment market?
To find the answer, maybe we can focus on their features:
1. Epay Obtained the Hong Kong Money Service Operators Licensing and Got Online Payment License Issued by People's Bank of China
Epay successfully obtained the Hong Kong Money Service Operators Licensing on 14th October, 2014. Further, Epay Got Online Payment License Issued by People's Bank of China and the license was publicly displayed on the official website of People's Bank of china on 24th November, 2014. Payment services provided by Epay are under supervised by the Chinese Financial Supervisory Institution.
2. Epay Obtains the PCI DSS Certificate
Epay smoothly obtained the PCI security certificate, and got the Attestation of Compliance for PCI DSS Assessment on Nov 27th, 2015. The Payment Card Industry Data Security Standard (PCI DSS) is a widely accepted set of policies and procedures intended to optimize the security of credit, debit and cash card transactions and protect cardholders against misuse of their personal information. The PCI DSS was created jointly in 2004 by four major credit-card companies: Visa, MasterCard, Discover and American Express.
3. Free To Pay And Get Paid
It's always free for Epay users to pay and get paid. Withdrawal only needs to pay the wire transfer fees.
4. Providing Global Payment Services
Epay is China's first third-party payment company that provides global payment service for multiple currencies including CNY and other foreign currencies. Almost all the countries and regions over the world can use Epay.
5. Affiliate Program
Epay offers a simple and reliable two-level referral affiliate program. Users can recommend others to sign up, and as a referrer, the user will benefit from referred users' transactions.
6. API/SCI Is Completely Open
Epay is completely open to the merchants, merchants can integrate Epay API/SCI into their website for sending and receiving money. There is no need for application, and there are no strong buyer or seller protection policies.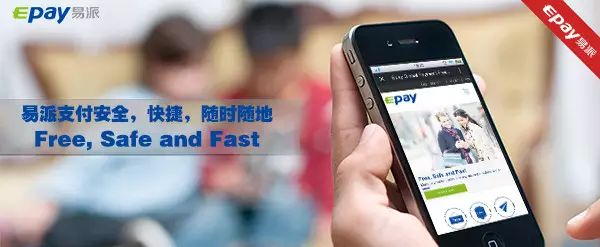 Since launching in 2014, Epay has managed to experience fast development in the past year. With their own advantages, Epay adopted a unique marketing strategy, and quickly occupied the market. Epay took to its official website to reveal the news, their awards program for new users was a complete success, which have brought large numbers of members to them. Their another new awards program for merchants will start on Feb.24th 2016–Mar.24th 2016 GMT.
Below are the details:
Time: Feb.24th 2016 –Mar.24th 2016 GMT
Details: Each Epay Merchant will be rewarded 10$, 1ST level referrer will be rewarded 5$. Both company and individual can apply for Epay Merchant as long as you have your own website that needs payment service.
More details please pay close attention to their website:
https://www.epay.com/about_activity.html
"Huge member base and more and more available money transfer options will make epay more popular to people. Let's witness the growth!" the company spokesperson said.
Media Contact
Company Name: Epay Limited
Contact Person: Sylvia
Email: service@epay.com
Phone: +86 755 22248886-805
Country: China
Website: https://www.epay.com