EternalPlanet is an Energy Technology organization manufacturing premium products for efficient energy storage and utilization.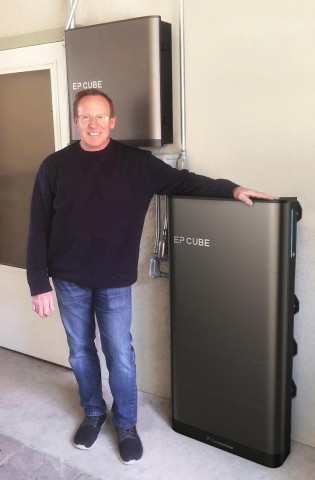 Recently energy Technology firm, EternalPlanet launched its 1st Home Energy Efficient Storage & Supply System, EP Cube, with a consummate operational & safety performance and flexible capacity expansion. After a grand launch, they successfully installed EP Cube at Mike's place, a California native who couldn't be happier with his decision to choose EP Cube.
In an interview with the media, Mike shared his experience.
Q. What do you like about EP Cube?
Mike. EP Cube has a nice clean appearance and is compact and versatile. It has four different capacities, with 9.9kWh, 13.3kWh, 16.6kWh, and 19.9kWh, which can match different families' needs.
It also supports up to 16 Amp 4 MPPT connections to quickly store free green electricity generated by a photovoltaic (PV) system.
Q. Did you have a different storage system installed before EP Cube?
Mike. Yes. I used a Solaredge's storage system previously, but it only had 2 MPPT connections, EP Cube with 4 MPPT is more sufficient for my needs. I have also known about Tesla's powerwall, however, its capacity of 13.5kWh is too big for my house.
EP Cube has many exciting features that distinguish it from similar products, so i updated the equipment at home without any hesitation.
Q. Residential energy storage systems are rapidly becoming popular in California. Some analysts believe that the sales of such products will grow rapidly in the next few years. Given your positive experience with EP Cube, do you see it gaining popularity rapidly.
Mike. Definitely yes.
A fixed-capacity battery and separate inverter compose the main part of most of the residential energy storage batteries on the market, but EP Cube innovatively adopts an integrated design, integrating hybrid inverters and installation accessories, which reduces assembly procedures and costs. Modular storage design allows users to flexibly expand their capacity by stacking battery modules easily. In addition, it can also support the connection of two 50-amp Level 2 EV chargers, which can reduce wiring modifications and save the cost of the line renovation. These breakthroughs and innovations give EP Cube a great competitive advantage.
I feel EP Cube represents the development trend of a new generation of energy storage products, so it has attracted the attention of the market. They will become increasingly needed as generating resources become less reliable and demand increases. Society is transitioning to an all electric infrastructure burning less fossil fuels, products like EP Cube are key so this transition can happen without overloading our existing electrical infrastructure. More products like EP Cube will help prevent rolling blackouts and other electrical grid constraints in the future.
About EP Cube.
EP Cube, which is a residential energy storage system launched by Eternalplanet, has already entered the US market. Some homeowners become the first mover. They are eager to expand the power storage function beyond the home photovoltaic (PV) system to make up for the intermittent shortcomings of solar power generation and to be fully prepared in the event of grid power failure.
For more information, please visit https://eternalplanetenergy.com
Phone: (833) 963-3820
Email: info.na@eternalplanetenergy.com
Media Contact
Company Name: CB Herald
Contact Person: Manish
Email: Send Email
Country: United States
Website: cbherald.com